Louis Vuitton overhauls stores with Yayoi Kusama polka-dots and life-like animatronics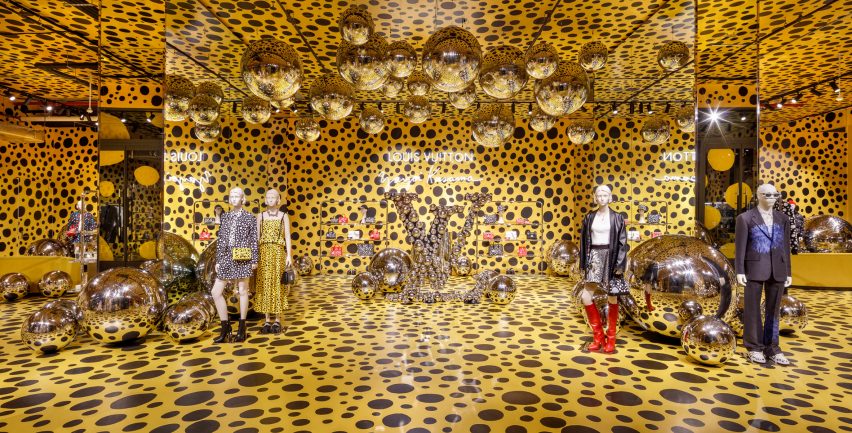 Dezeen_ Luxury brand Louis Vuitton has transformed its stores across the world for the launch of its anticipated capsule collection with Japanese contemporary artist Yayoi Kusama.
The launch of the collaboration has seen a number of key stores across the world redecorated with Kusama's signature polka-dots, life-like animatronics of Kusama painting in the windows of the stores and an inflatable replica of Kusama peering over the roof of Louis Vuitton's Champs-Élysées store.
Louis Vuitton's Champs-Élysées store, an art-deco building built in 1912, encompasses the largest of the Kusama activations. Large brush stroke polka dots were placed across the facade of the building and paired with an oversized, human-like replica of Kusama, which was tied to and peering over the roof of the building.
In New York's Meatpacking District, a Louis Vuitton pop-up location was transformed into a "canvas" for Kusama's vision. The space was blanketed in yellow and covered in black polka dots of varying sizes across its walls, floors and ceiling.
Reflective chrome spheres were organised in the shape of Louis Vuitton's logo and suspended throughout the interior of the pop-up space, endlessly reflecting the spotted motif and the capsule collection, which is exhibited throughout the space.
"Louis Vuitton celebrates its latest collaboration with Yayoi Kusama in New York with a special pop-up space in the Meatpacking District which has been transformed into a canvas for her vision and iconic art which opens to the public on January 6th," said the brand.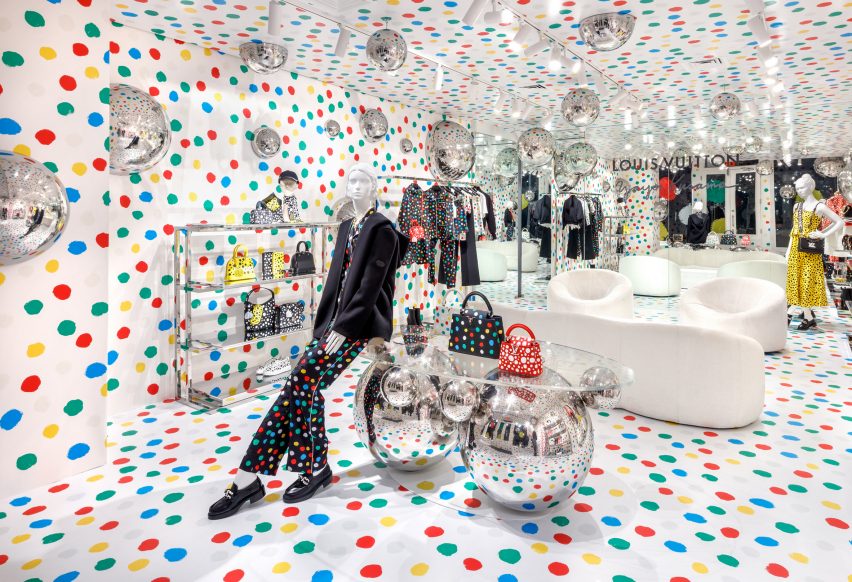 A pop-up located in Soho, New York, was similarly decorated in Kusama's spotted motif, brush stroke spots in hues of red green, white and blue covering the white-painted storefront, interior walls, ceiling and floors.
The collection is the second collaboration between Louis Vuitton and Kusama, returning a decade after the fashion house and artist first collaborated in 2012.
In 2006, Louis Vuitton's then creative director Marc Jacobs approached Kusama and met with her at her studio where she hand-painted a Louis Vuitton Ellipse bag with her famed polka dot motif – the beginning of what would be one of Vuitton's most successful artist collaboration.
Six years later, in 2012, Jacobs released a collection of Kusama-painted bags and ready-to-wear pieces to coincide with her 2012 retrospective at New York City's Whitney Museum of Modern Art.
A pop-up space in Harajuku, Tokyo continues the yellow and black theme. The ground floor of the space was lined in yellow with black spotted motifs, while the colours were inverted for the first floor, which has a black base with yellow spots across its surface.
Elsewhere across the world, select Louis Vuitton stores saw life-like and human-scale animatronics of Kusama placed in the window displays with the robotic replica of Kusama repeatedly painting polka-dots onto the surface of the glass.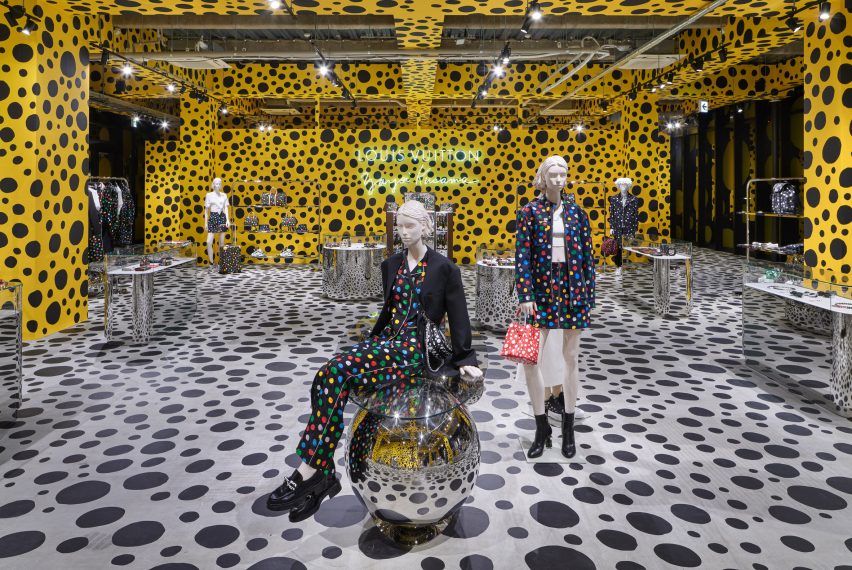 In 2020, Kusama placed over 1,000 mirrored balls on the surface of a pond and wrapped trees in polka dots at the New York Botanical Garden as part of an outdoor exhibition.
Louis Vuitton recently unveiled a collection of 200 trunks reimagined by 200 architects and designers, including Frank Gehry and Sou Fujimoto, to celebrate its founder's 200th birthday.
The photography is courtesy of Louis Vuitton.