Extreme Habitat 2022 Architecture Competition
Home is a domain that is intimate to all. For generations the core concept of a home has stayed the same however has been gradually moving far away from just being a humble shelter. A personalized space that not only protects us from the elements of nature but also from manmade threats. A space that evokes emotions of feeling protected, comforted, warmth, pleasure, nurtured, loved, and many more amongst its.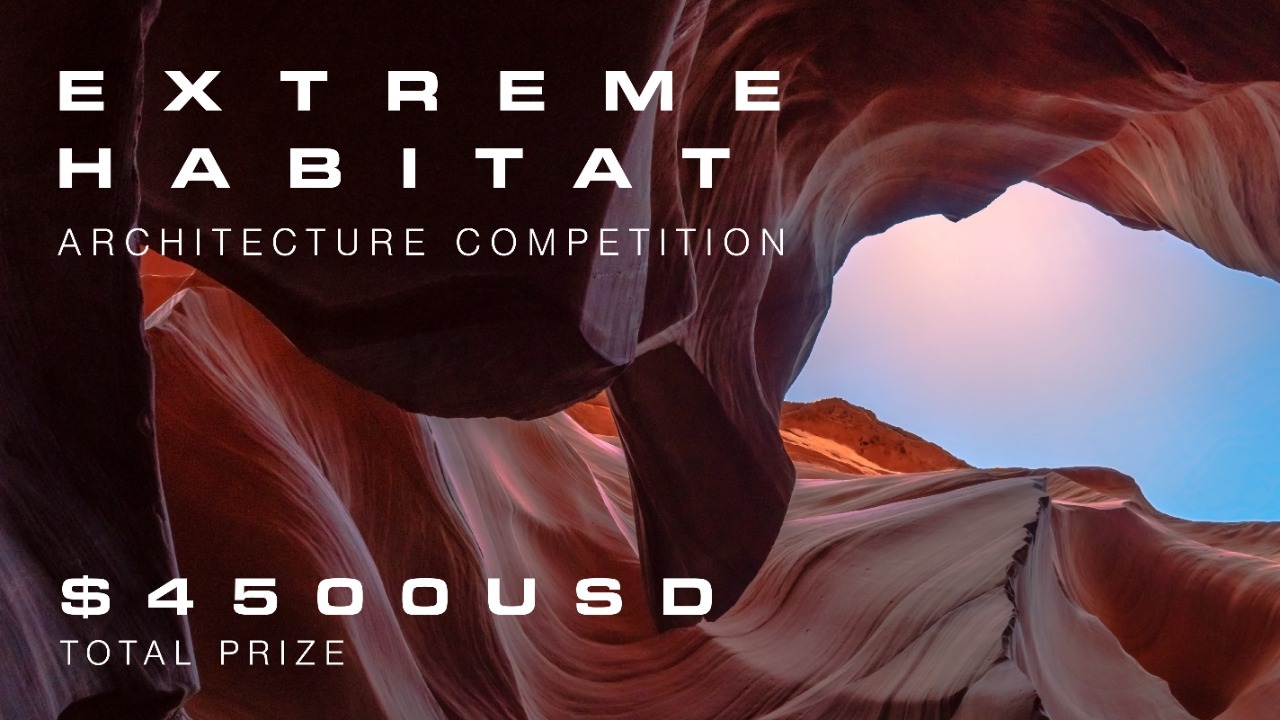 Being central to one's everyday functions, needs and future desires of an individual this archetype has much iteration across the globe owing to factors like geography, climatic conditions, user group, profession, availability of material and labor. Home typologies range from simpler forms such as cabins, igloos and tents to 21st century experimental habitats such as smart homes, floating homes, inflatable homes and the list just keeps going on.
Architecture developed amidst nature represents a certain kind of poetic exploration coupled with a renewed perspective on a human scale. In this way the association between man to nature and of architecture to landscape tends to evolve from time to time. Currently the architecture we experience in our surrounding landscape is a product of the relationship developed between humans and nature. More than ever there is an awareness created towards landscape being a precious inheritance, one that can be preserved and enhanced by architecture so as to pass it on to future generations.
Study nature, love nature, stay close to nature. It will never fail you.
Frank Lloyd Wright (American architect)
AWARDS:
Prizes of total USD 4000, broken as follows.
1st place USD 2000 + Certificate + Publication
2nd place USD 1200 + Certificate + Publication
3rd place USD 800 + Certificate + Publication
Student Award: USD 500 + Certificates+ Publication
This Award is reserved for the best student work for the competition apart from the first 3 winners
10 Honourable mentions: Certificates
Winners and Honourable Mentions will be published on Volume Zero Competitions website and several international architecture and design magazines.
To show our appreciation, all the participants would receive participation certificate.
ELIGIBILITY:
Extreme Habitat 2022 Architecture Competition is open to all. We invite architects, students, engineers, product designers, thinkers, companies, organizations and everyone interested in the mission of the competition to submit their ideas. No professional qualifications are necessary.
Price
REGISTRATION FEE: Early Bird: 18th April 2022 to 24th June 2022 Participants from India – INR 1800+18% GST = INR 2124 (per team) Participants from Other Countries - 70 + 18% GST = USD 82.6 (per team) Standard: 25th June 2022 to 29th July 2022 Participants from India - INR 2700 + 18% = 3186 (per team) Participants from Other Countries - USD 90+ 18% =USD 106.2 (per team) Student Discount- 10% Early Bird: 18th April 2022 to 24th June 2022 Participants from India – INR 1620+18% GST = INR 1911.6(per team) Participants from Other Countries - 63+ 18% GST = USD 74.34 (per team) Standard: 25th June 2022 to 29th July 2022 Participants from India – INR 2430+18% GST = INR 2867.4(per team) Participants from Other Countries - USD 81+ 18% = USD 95.58 (per team)
Registration Deadline
July 29, 2022 11:59 PM
Submission Deadline
August 05, 2022 11:59 PM