Cultivate: A Village Vision for Rathnure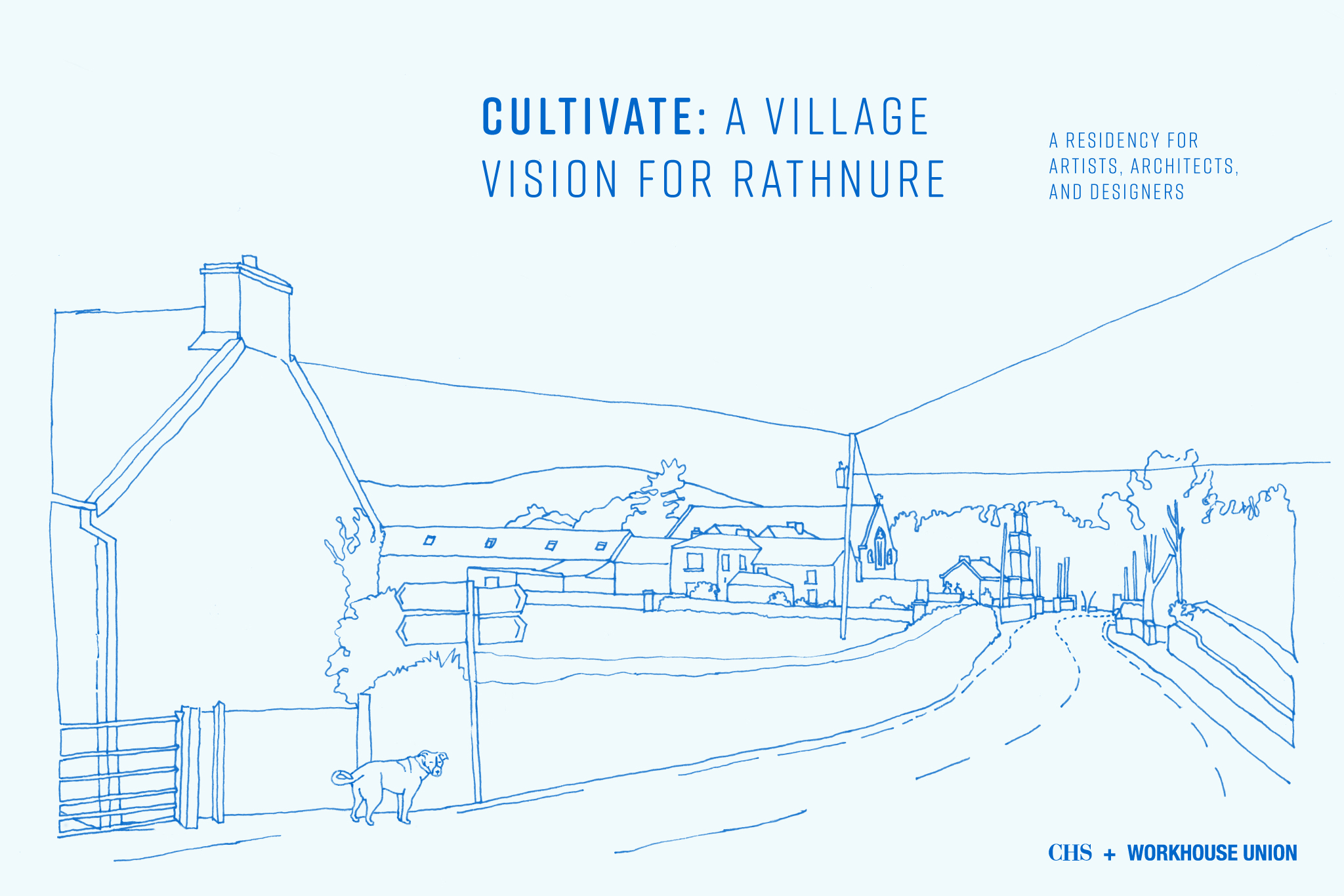 Program Description
In collaboration with Workhouse Union, we are pleased to offer Cultivate: A Village Vision for Rathnure, a two-week curated residency program from May 15th to 28th, 2023. With the support of Wexford Arts Office and The Arts Council, this opportunity will expand Cow House Studios' remit to work proactively with our local rural community in Rathnure, Co. Wexford.
This is a new departure for Cow House Studios to engage with spatial practice and open the residency to artists, architects, and designers with an explicit collaborative and locally engaged focus. Workhouse Union's team will work alongside Cow House Studios and the local community to prepare the stakeholder context and set clear expectations and support for the program.
This is a paid residency opportunity for four creative practitioners working in visual art, design, or architecture to engage with Cow House Studios and our local village of Rathnure through co-design, creative placemaking, and community engagement. This is a practical and hands-on residency experience for those interested in engaging with local community groups and stakeholders and imagining new opportunities within a small rural village.
The residency will include engagement with hard-to-reach voices, enhancing participants' capacity in co-design and inclusion. The projects will realize tangible outcomes for the communities involved and provide the selected practitioners with a unique real-life learning platform.
Creative practitioners (collective and individual) are invited to apply. The opportunity is ideal for artists, architects, and designers who wish to develop their co-design, creative placemaking, and community engagement skills and experience.
Residency Details
The selected practitioners will come to Rathnure and reside at Cow House Studios for a period of 2 weeks in spring 2023, from May 15th to 28th. While here, they will be immersed in the supportive and invigorating environment at Cow House Studios. While on residency, Cow House Studios and Workhouse Union will provide.
Documented results outlining the context and expectations for the program.
Facilitated engagements with members of the community.
A €1000 stipend for each selected practitioner or collaborative group.
A private room and studio for each selected practitioner or collaborative group.
Three delicious and healthy meals are provided daily.*
*Breakfast and lunch are self-service, while dinner is enjoyed as a group and served by Caitriona or Frank. All food is lovingly prepared in our kitchen.
Application Guidelines
Submit the following documents in PDF format to info@cowhousestudios.com by Sunday, April 2nd, 2023.
Completed application form
Recent CV/resume
A portfolio (only one pdf file). Although there is no maximum number of images that will be accepted, we advise applicants only to submit relevant materials to reduce the size of email submissions. The images should include captions or short descriptions.
Please submit electronic copies of the three attachments in ONE email under the size of 10 MB to info@cowhousestudios.com
You will be contacted by a Cow House Studios representative to confirm receipt of your application within five working days. Successful applicants will be contacted by Monday, April 17th, 2023.