Teach on the Beach: an Educational Center in Ghana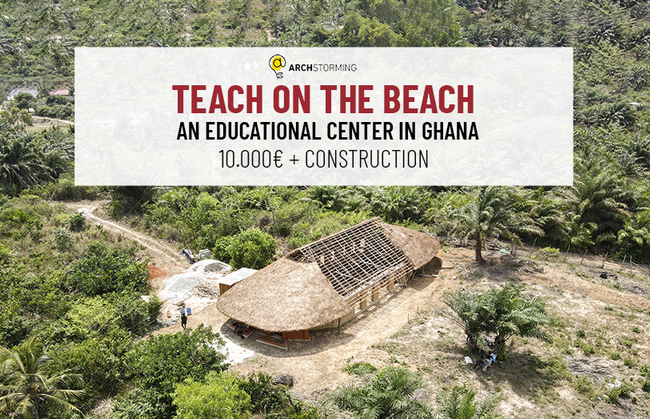 Archstorming is launching a new competition in collaboration with the local NGO "Teach on the Beach" (TOB) to create a new Educational Center in Busua, Ghana.

Teach on the Beach (TOB) enhances lives, emotional growth, and cultivates global citizenship of their students through after-school programs and volunteer opportunities.

TOB aims to build its own facilities to demonstrate its long-term dedication to the community. They acquired a plot and are currently building a classroom designed by one of their volunteers. This competition will look for designs to complete the rest of the Educational Center.


-- The challenge --

The challenge of this competition is to convert the current classroom under construction into a full Educational Center capable of hosting various activities and accommodating volunteers. Among its program, the new center will include another classroom for adults; a community space with a kitchen, dining and leisure areas; eight volunteer bedrooms, and outdoor spaces for relaxation and hands-on learning experiences.

The competition will focus on eco-friendly materials and easy-to-build construction techniques that are accessible to everyone. The Educational Center aims to exemplify sustainable construction practices for the local community and make a positive impact on the community, inspiring similar projects in the area.

TOB has organized numerous volunteer trips involving over 500 participants from around the world. Following the competition, participants will have the opportunity to volunteer in building the winning design with TOB. The construction is planned to start this August 2023, and everyone will be invited to join from that moment on.


-- Prizes --

1st place: 6,000€ + Project Construction

2nd place: 2,000€

3rd place: 1,000€

2x Special Honorable Mention: 500€

10x Honorable Mentions

Winning projects and finalists will be published in magazines, blogs, architecture websites, and Archstorming's social media and website. Digital participation certificates provided to all contestants.


-- Schedule --

April 11, 2023 – May 11, 2023: Early Registration Period

May 12, 2023 – June 1, 2023: Regular Registration Period

June 2, 2023 – June 22, 2023: Advanced Registration Period

June 23, 2023 – July 12, 2023: Late Registration Period

July 12, 2023: Submission Deadline

July 13, 2023 – July 26, 2023: Jury decision

July 27, 2023: Winners Announced


-- The Jury --

Our diverse jury board features professionals with expertise in sustainable architecture, earth construction, and social impact projects.

Arash Aliabadi (DAAZ Office), Tehran (Iran). Shortlisted for the Aga Khan Architecture Award and winner of Archdaily's 2023 Building of the Year.

Joelle Eyeson (Hive Earth), Accra (Ghana). Co-founder of Hive Earth Studio, specializing in rammed earth techniques in Ghana, Joelle is a prominent figure in sustainable construction.

Anna Schweiger + Jaap Willemsen (Archifair), Vienna (Austria). Co-founders of Archifair, they have completed two exceptional mud projects in Ghana: mudLIBRARY and mudCAFETERIA.

Beatriz Inglés (Universidad Europea de Madrid), Madrid (Spain). Founder of WEA architects and Director of the Universidad Europea's online Masters in Sustainable Architecture.

Alberto Figueroa (Alberto Figueroa Arquitectura), Madrid (Spain). Head of an architecture studio focused on sustainable projects in Europe and Africa.

William Agbo (Teach On The Beach), Busua (Ghana). Former TOB student, William, now serves as NGO Director.

Michaela Škopová (Teach On The Beach), Prague (Czech Republic). As a TOB volunteer, she designed the classroom under construction at TOB's new Educational Center.


-- Webinars --

Webinar 01. May 3, 2023 – William Agbo. "Teach On The Beach: Vision, Mission, and the construction of a Sustainable Education Center".

Webinar 02. May 10, 2023 – Joelle Eyeson. "Building with Earth".

Webinar 03. May 24, 2023 – Anna Schweiger + Jaap Willemsen. "Study Case: mudLIBRARY & mudCAFETERIA"

Webinar 04. May 30, 2023 – Alberto Figueroa. "Study Case: NKA Foundation – School in Ghana".
cash prize award: $ 11,000.00 USD