Poster Stellars 2023 Competition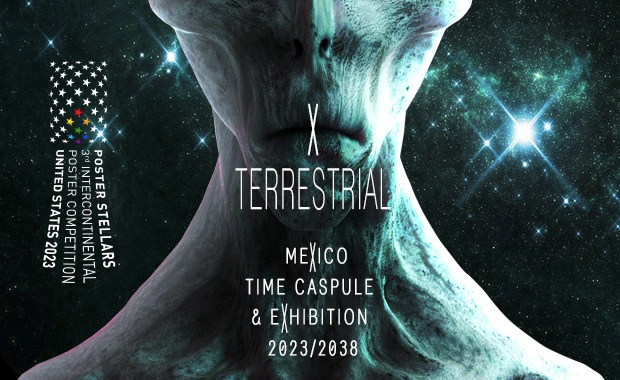 Poster Stellars is calling for entries to the 3rd Intercontinental Poster Competition United States 2023, themed: X Terrestrial.
The competition is open for all designers, illustrators, and artists 18 years of age or older anywhere in the world. Its mission is to empower new and existing designers to shine locally and globally.
All winning posters "Grand, Gold, Silver, and Bronze" from all categories will be securely stored in a Stainless Steel Capsule and buried in the ground for 15 years, and it will be opened again in 2038. All winners' and Jury members' names will be engraved on a monument stone/s that will be covering the burial location of the Time Capsule.
Best works will be awarded with trophies and certificates.
X Terrestrial
Are we alone in the universe? This farfetched question has been argued for centuries since the dawn of time. Today, the existence of extraterrestrial life is taken seriously by many.
If another unearthly civilization is trying to establish communication with us, could we interconnect with them using our own visual language? Could we as artists and designers be able to establish any kind of interaction with them using our current imagination, design knowledge, and artistic practice? What thoughts and messages we could communicate to them? How do we respond to them? By using a new linguistic, primitive/ancient language, forms, shapes, numerals, data, imagination, colors, codes, pictogram, emojis, symbols, Braille code, Sign Language?

Design a poster of your own imagination that is inspired by the theme using your understanding of the concept of communication with otherworldly lifeforms.
Each participant is allowed to submit 3 posters across all categories. The competition categories include:
Category A: Published Posters

Political
Cultural
Ecological
Advertising
Typographic

Category B: Unpublished Posters

Theme 2023: X Terrestrial

Category C: Animated Posters
Posters of any technique (painting, drawing, graphic design, typography, data visualization, digital, Illustration, mixed media, photography, and animation) are eligible.
All artworks/posters must have been created between the years 2020 to 2023 time frame. The only parameter is that the Unpublished Posters for Category B must be created during the competition dates and unpublished anywhere online and offline.
Results of the selected participants and winners will be emailed to all participating designers/artists and published on the official website in August 2023.
Please visit the official website for further details.
Entry Fees
Professional: $30 USD
Student: $15 USD
Deadline: 14 July 2023


Visit Official Website