Taipei Design Award (TDA) 2023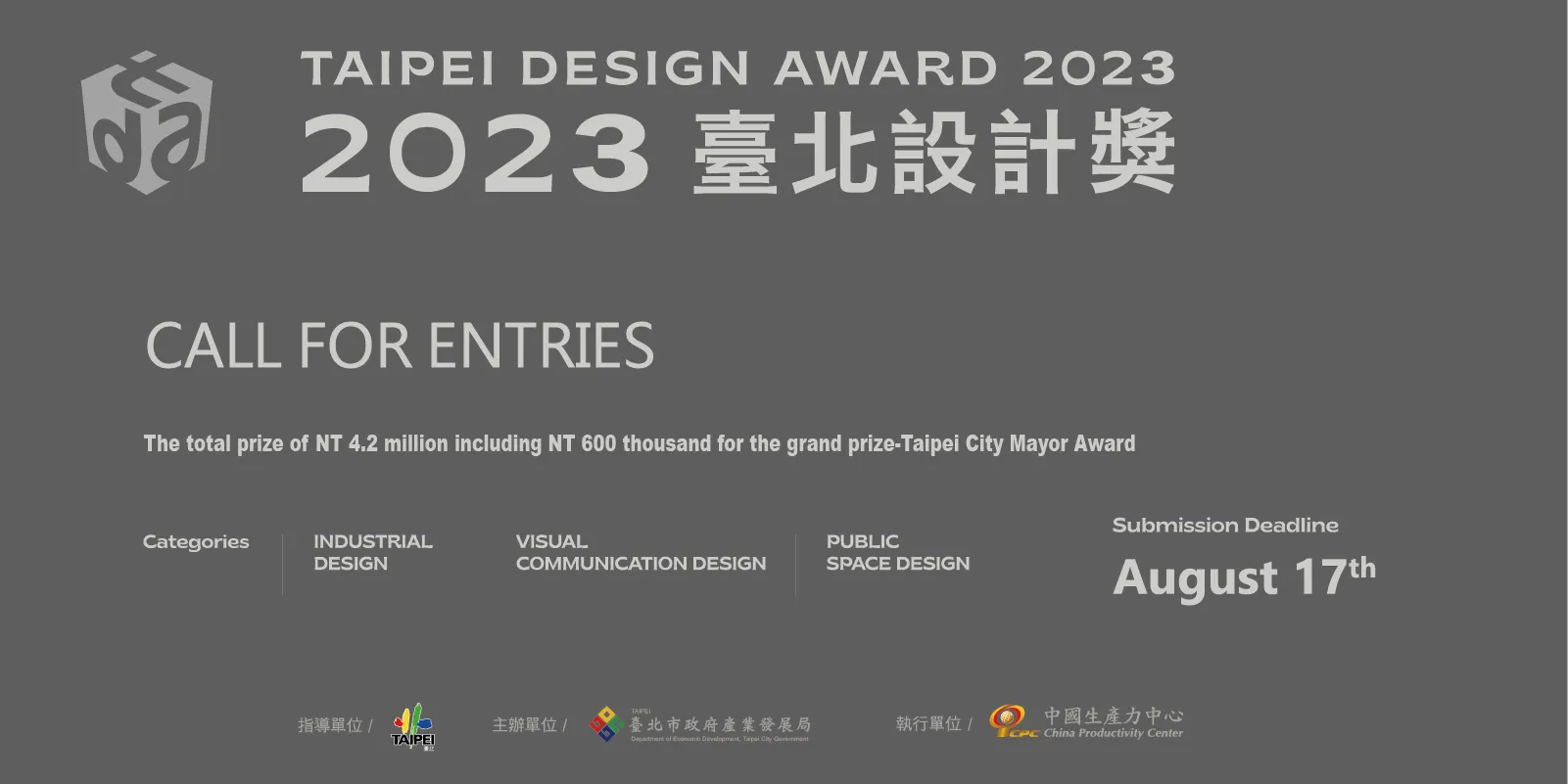 The 2023 Taipei Design Award is now calling for entries. The organizers are looking for outstanding international designs across multiple disciplines.
Taipei City Government organizes the Taipei Design Award in the ethos of "Design for Adaptive City", as an on-going gesture to the world, particularly to those with a passion for creativeness and design, a gesture in projecting the urban branding imagery of "Design Taipei; Dream Taipei".
This year's total prize money is up to NT$ 4.2 million including NT$ 600,000 for the grand prize — the Taipei City Mayor Award.
This is an open call for outstanding international designs and an effort to shape Taipei into a convergence platform for creative designs, thereby to discover creative designs with business potential, and further still, to encourage practices of social design in an advocacy that design as a medium can bring humans a better, more pleasant and convenient life.
The organizers are looking forward to receiving entries in these categories:
Industrial Design — design works that can be mass-produced, including general and digital application, transportation tools, equipment and instruments, daily utilities and household goods, IT and home appliances, etc.
Visual Communication Design — designs of digital graphic creations, identity, posters, packaging and printing
Public Space Design — Open space provided for public use, government buildings and private establishments that are partially provided for public use.
In addition to the three categories of "Industrial Design", "Visual Communication Design" and "Public Space Design", this year's awards also set up special cross-category awards, such as the "Social Innovation Award" and "Circular Design Award" to encourage epigram works of creative design, reflecting the role and responsibility of designers in urban development, and solving the urban problems facing society and its people, thus creating a sustainable cycle and innovative humanistic thinking.
Entries must be original creations completed after 1 January 2021.
This year marks the 16th edition of the Taipei Design Award (TDA) competition. TDA collaborates with three main international Design Associations, including WDO, ICoD and IFI for many years.
The competition was known as Taipei Industrial Design Award between 2008 and 2011, re-named in 2012 as Taipei International Design Award, and re-named again in 2022 as Taipei Design Award, and has been so called since.
Since the start of the competition, a total of 128 countries and regions, as many as 53,508 works have been registered for the Taipei Design Awards, regarding it as a collection of design ideas and exchanging platform. This year, it has been recognized and certified by the World Design Organization (WDO), the International Council of Design (ICoD) and the International Federation of Interior Architects / Designers (IFI). Moreover, it has cooperated with the German iF Design Award to promote and recognize excellent design on the international stage.
It's free to enter.
Deadline: 17 August 2023


Visit Official Website