AI x BIOMIMICRY: COMPETITION + COURSE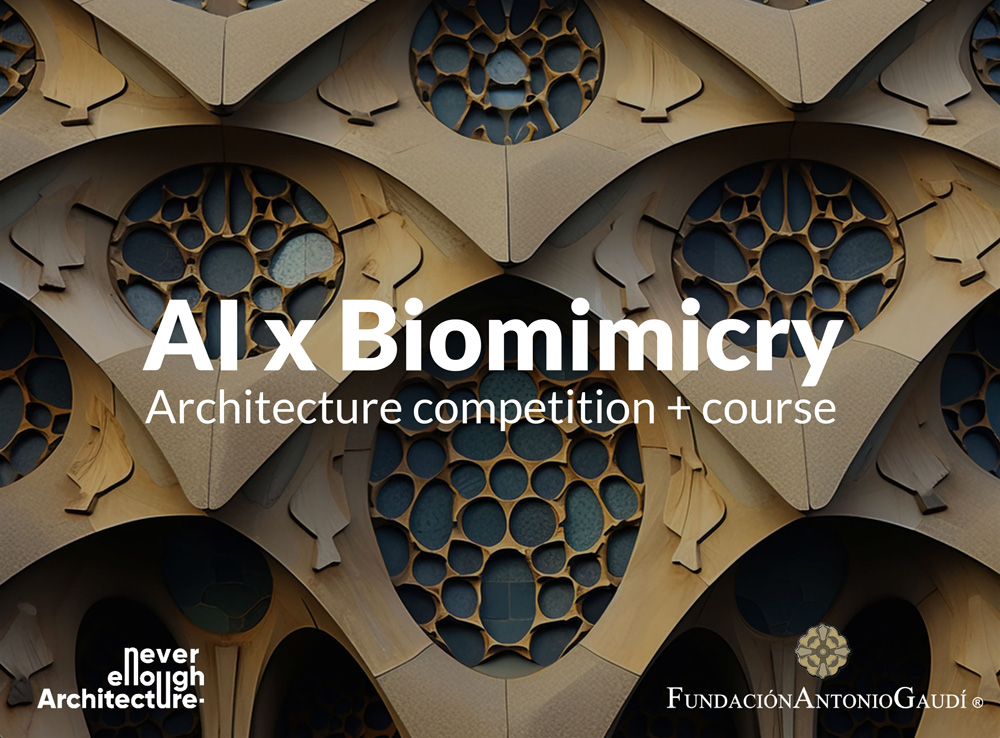 Never Enough Architecture (NEA) is launching a new initiative that joins education and contests. The initiative combines traditional architecture competitions with free expert-led courses, giving participants a comprehensive understanding of the contests' central topics.
For their first competition + course, NEA, in partnership with the Antonio Gaudí Foundation, invites participants to explore the potential of biomimicry and artificial intelligence in design, a forward-thinking intersection that promises to reshape architectural practices.
The competition:
Since the dawn of time, humans have been inspired by nature, from our ancestors' cave dwellings to the bird-influenced designs of early flying machines, and this inspiration continues to shape today's architectural marvels, such as Gaudi's ingenious use of nature's functional forms to solve structural issues and designs that mimic the ventilation system of sea sponges and corals. This longstanding practice of biomimicry in architecture signifies our unbroken connection with the natural world and marks a natural progression in our design evolution.
Besides that, we are currently on the cusp of another transformative era - the advent of artificial intelligence (AI), a revolutionary technology with the potential to reshape various domains, especially architecture, enriching it with increased efficiency, innovation, and sustainability.
This competition thus offers a unique exploration into the convergence of biomimicry and AI, inviting you to create a project that marries a robust biomimetic concept with AI software as a key component of the creative process, with the goal of crafting a future where architecture is not only aesthetically appealing but inherently sustainable.
The course:
With the firm belief that an architecture competition is not just about the end result, but also about the journey of discovery and growth that leads to it, this new concept of competition offers a free online course led by experts in the field, that delves deep into the applications of AI and the principles of biomimicry in architecture. The program includes:
- Lesson 1 and 2 (2h + 2h): effectively using Midjourney, taught by Jennifer Durand, an AI specialist.
- Lesson 3 (1h): A tour of Gaudi's nature-inspired architecture, led by Mario Andruet, President from the Antonio Gaudí Foundation.
- Lesson 4 (1h): An exploration of biodigital architecture, taught by Dr. Alberto T. Estévez from the Institute for Biodigital Architecture & Genetics.
- Lesson 5 (1h): Insights into the integration of AI in biomimetic design, led by Diego Castro, MONOMO founder and Midjourney expert.
- Lesson 6 (1h): Application of biomimicry in real projects, covered by Louise Browne, Principal at Grimshaw Architects.
The jury panel set to decide the wining projects includes:
1. Bibiana Sciortino, the Director at Antonio Gaudí Foundation,
2. Louise Browne, Principal at Grimshaw Architects,
3. Pablo Zamorano, the Head of Geometry and Computational Design at Heatherwick,
4. Jennifer Durand, a Designer at Zaha Hadid Architects,
5. Diego Castro, the Founder of MONOMO,
6. Stefan Van Nederpelt, Senior Architect at Herzog & de Meuron.
The competition offers a prize pool of €10,000, divided as:
1st Prize: €6,000
2nd Prize: €2,000
3rd Prize: €1,000
2 x Special Honorable Mentions: €500 each
10 Honorable Mentions
The competition's schedule is as follows:
- Early Registration: July 12 - August 16, 2023
- Regular Registration: August 17 - September 13, 2023
- Advanced Registration: September 14 – October 11, 2023
- Late Registration: October 12 – November 8, 2023
- Submission Deadline: November 8, 2023
- Winners Announcement: November 29, 2023