International residencies at c.r.e.t.a. rome
c.r.e.t.a. rome offers self-funded residencies to international ceramicists, visual artists and writers for periods of 4 or 5 weeks, up to a maximum of 90 days. The residency includes a semi-private equipped studio, housing in the historical center of Rome, and technical assistance in procuring materials for your work, firings, etc., advice on museums, galleries and sites in Rome and beyond.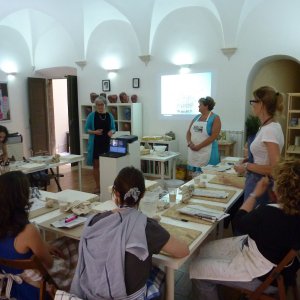 You will have the opportunity to focus on your art, whether it be creating a new body of work, expanding a well-established oeuvre or allowing yourself to draw inspiration from your surroundings and the centuries of culture that define the eternal city. In addition, you will have access to the wealth of galleries and exhibitions in Rome and beyond. Each resident will have an opportunity to exhibit th e work produced during the residency period in a final group show.


A selection committee composed of artists, art critics and historians carefully evaluates applicants based on their artistic experience, merit and project proposal.
Duration of residency
We offer artist residencies for ceramic artists and visual artists for periods of 4 or 5 weeks. The residency periods can be combined, but the residency cannot exceed 90 days (for non-EU citizens).
Summer 2017 residencies
18 MAY- 14 JUNE (4 weeks) 1 SLOT LEFT!!
15 JUNE-12 JULY (4 weeks)
FALL 2017 residencies Deadline 1 June 2017
10 AUGUST-13 SEPTEMBER
14 SEPTEMBER-18 OCTOBER
19 OCTOBER-22 NOVEMBER
23 NOVEMBER-20 DECEMBER (4 weeks)

SPRING 2018 residencies Deadline 1 November 2017
15 FEBRUARY-21 MARCH
22 MARCH-25 APRIL
26 APRIL-30 MAY
Artist Invites Artists residency Deadline 1 January 2018
DATES TO BE ANNOUNCED

SUMMER 2018 residencies Deadline 15 March 2018
31 MAY-27 JUNE
28 JUNE-25 JULY
Disciplines, work equipment and assistance
All visual artists are encouraged to apply. The studios are equipped in particular for ceramic artists, but we have hosted fiber artists, graphic artists, painters as well as writers and photographers. We find that the range of disciplines adds a richness to the experience. We provide technical support, help in procuring materials for your work, firings, etc., advice on museums, galleries and sites in Rome and beyond.
Accommodation
Housing is in the historic center of Rome or just across the river in trendy Trastevere. Apartments are shared or private and have kitchens. Each artist has a private room. Linens and towels are provided. Accommodation is within 15 minutes of the c.r.e.t.a. rome studio.
Studio/workspace
The studio is located in the mid 16th-century Palazzo Delfini in the historical center of Rome, just blocks from the Capitoline Hill on one side and the Pantheon on the other. Two to four artists in residency share the studio space. Each artist is provided with wall space, a table and shelving units. For ceramic artists, there are wheels, kilns and a range of ceramic tools as well as access to clay, glazes and raw materials.
Deadline: Open call