katharina grosse immerses former railway building in explosive kaleidoscopic painting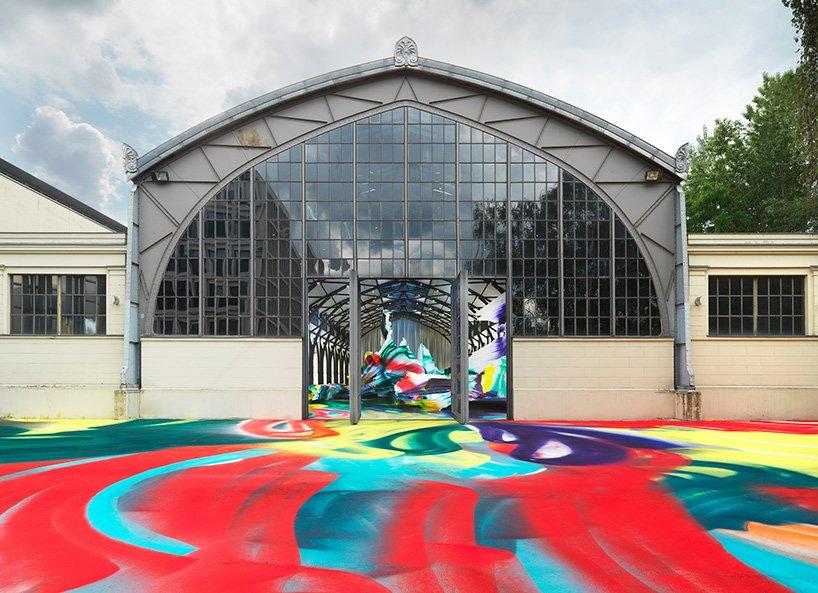 Artdaily_katharina grosse has transformed a former railway building in berlin with one of her signature large-scale artworks. titled 'it wasn't us', the piece occupies both the interior and the exterior of the hamburger bahnhof at the museum für gegenwart — part of the berlin national gallery. in this way, the expansive painting disregards the boundaries of the museum space with a grand and colorful gesture that destabilizes the existing architecture. 'I painted my way out of the building,' comments the german artist.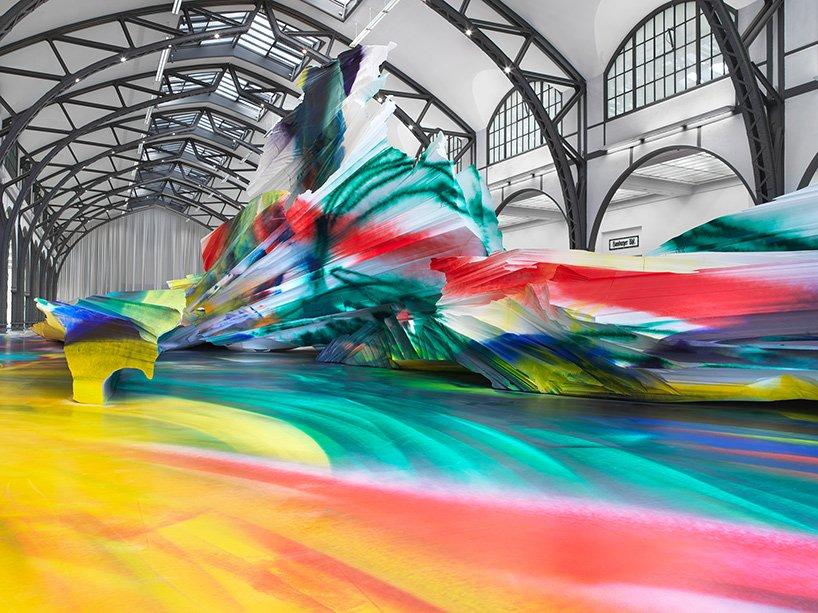 on view at hamburger bahnhof – museum für gegenwart – berlin until january 10, 2021, 'it wasn't us' was realized over several weeks, filling the historic hall as well as the grounds behind the museum and the façade of the so-called 'rieckhallen'. the painting, which exists only for the duration of the exhibition, intends to seamlessly connect the interior of the institution and the outdoors — transforming the site into a new space of imagination and possibility.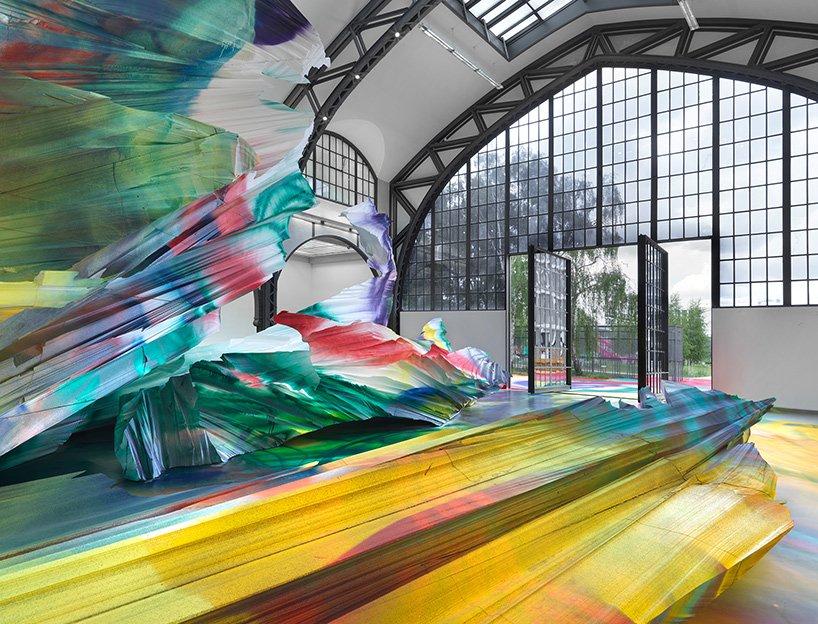 grosse's kaleidoscopic painting brings together colors and forms, natural and man-made surroundings and its visitors as participants in an all-encompassing amalgamation of hues. the boundaries between objects, and between horizontal and vertical orientations begin to melt away, and the work's scale continuously shifts depending on the visitor's position. consequently, as the viewer moves through the painting new spaces emerge.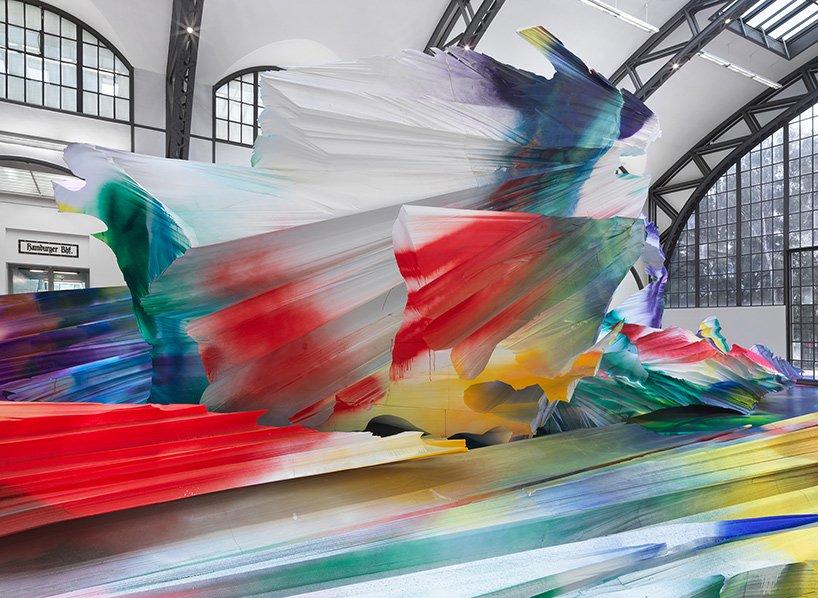 the choice of the location and the many different factors and conditions it entails have influenced the development of the painting, just as the permanently shifting lines of sight of the viewer and unexpected interactions with the work affect our ways of perceiving it in the exhibition setting,' explain the exhibition's curators, udo kittelmann and gabriele knapstein. 'in this sense, the work's title, 'it wasn't us', can be understood as a reference to the inherent complexity and unpredictability of a given situation, whether it be the conditions under which artists create their work, or the conditions under which it is later viewed.'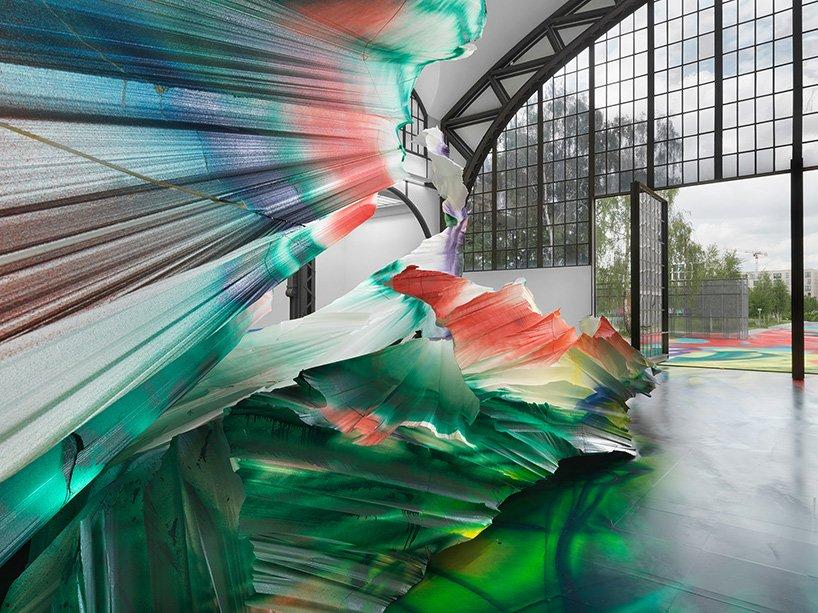 the results of our actions are always influenced by unexpected moments and experiences as well as blind spots which later serve to define a situation,' the curators continue. 'not every consequence of each action or every aspect of the resultant situation can be predicted in advance, yet it is our task to assume responsibility for the complete situation.'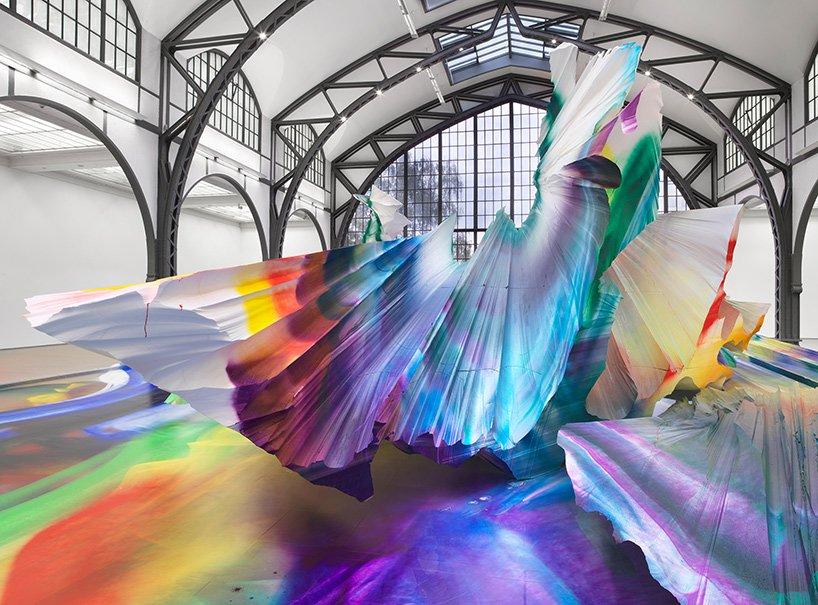 a painting by katharina grosse can appear anywhere. her large-scale works are multi-dimensional pictorial worlds in which splendid color sweeps across walls, ceilings, objects, and even entire buildings and landscapes. grosse's other projects include the transformation of an abandoned beachfront building in new york and an exhibition in shanghai.