cable car lines connect this stacked tower proposal for bangkok civic center
Designboom_ HAS design and research unveils its vision of a new mixed-use cultural center for Bangkok.Designed as part of a competition, HAS's proposal for 'Bangkok Civic Center' responds to the rapid growth of the city: 'In the past 40 years, Bangkok has experienced too much urban development,'explain the architects. 'Bangkok Civic Center is now acting as a bridge to nature and binding people and the environment together.'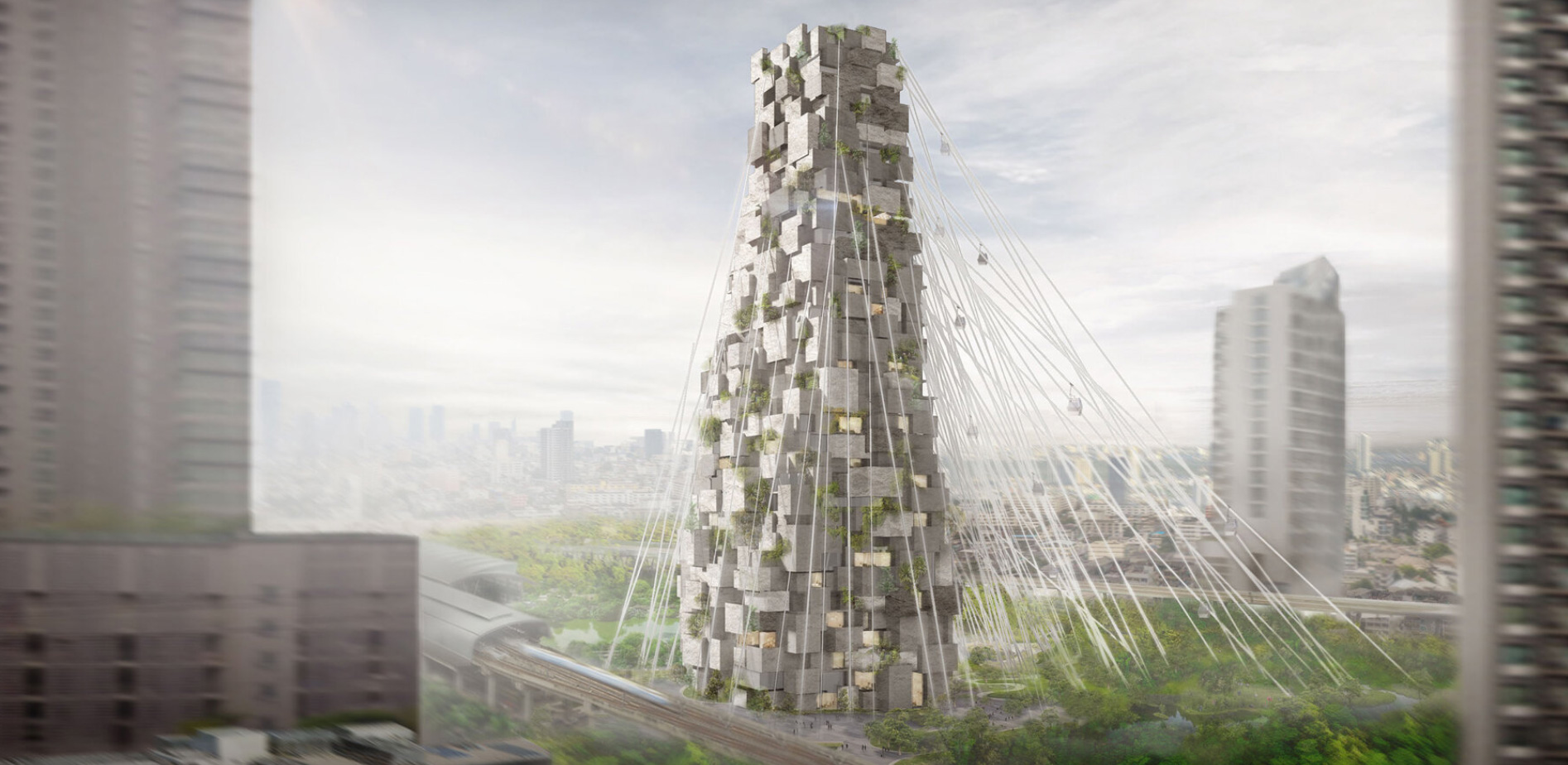 To connect architecture and nature, the team designed a tower of two halves. One half of the building is stacked like stones and populated with vegetation to make it look like an extension of nature. The other half features a mirrored façade with cable car lines that connect the building to its green site, which is set to become 'Bangkok Civic Park' under the second phase of the development project.
Designed for a site in the central business district, Bangkok Civic Center is imagined as an important transport hub that connects to the city's subway system, bus station and expressway. The program also integrates a helipad on the roof and three levels of car parking underground.
Rising 180 meters tall, the tower spans 35 floors and its program is divided into three zones. At the heart of the 'Low Zone' is a soaring lobby on the first floor that connects to the adjacent park to create the sense of overflowing nature. This zone also includes a library, an art gallery, a restaurant, public reading and co-working spaces and a botanical exhibition.
The 'Mid Zone' serves as a transition layer and it mainly occupied by offices and other administrative spaces such as co-working spaces, lecture halls, meeting rooms. Last but certainly not least, the 'High Zone' features cultural functions such as a theater, a playhouse, and even sky wedding banquet halls. There's also a sky restaurant and an observation deck for visitors to enjoy views over the city and Bangkok Civic Park.