Jeppe Hein presents an interactive public art installation on Rockefeller Center`s Center Plaza
Aartdaily_ This Summer, renowned visual artist Jeppe Hein presents Changing Spaces, an interactive public art installation on Rockefeller Center's Center Plaza. This water-based sculpture – which Hein describes as a form of social sculpture and "liquid architecture" – will inspire visitors to interact playfully with the artwork and their surroundings and offer a peaceful respite within this iconic city center.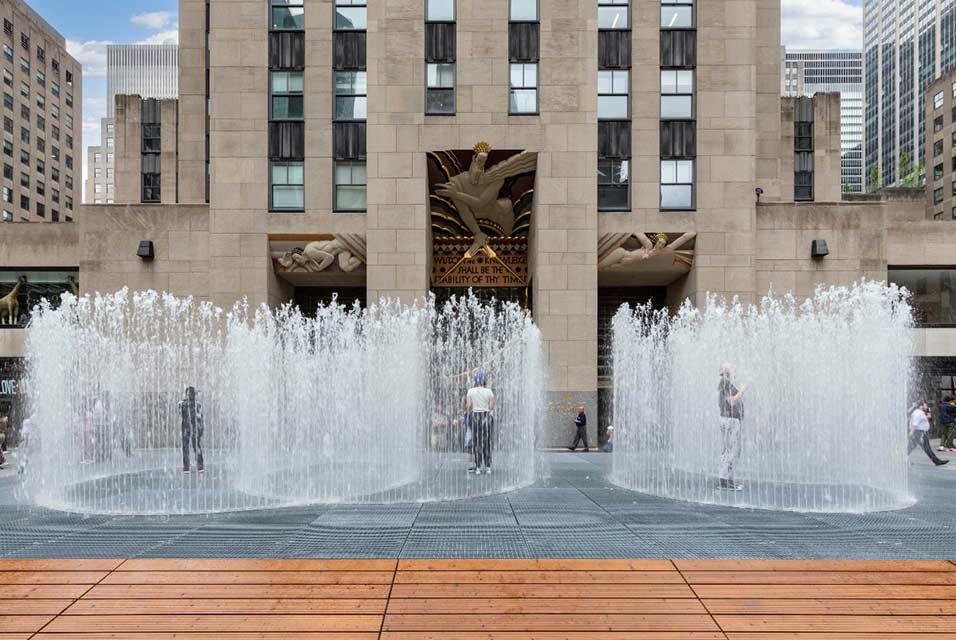 Changing Spaces consists of four circles with enclosing walls of water emerging and shooting up from the ground. The circular water 'walls' rise and fall at random, and merge into each other, dividing the water pavilion into smaller spaces within the structure. Visitors are allowed to move within the structure from space to space, as the artwork continually changes shape and appearance out of their control, creating a playful and interactive environment for adults and children alike.
For the past 20 years, Jeppe Hein has exhibited at museums and presented art installations, including water pavilions, in public spaces and arts institutions around the world. Hein's practice, and approach to the site-specific reconfiguration of a public space, focuses on the vital integration of art and mindfulness into everyday life. His work often features surprising and captivating elements which place spectators at the center of events and focuses on their experience and perception of the surrounding environment.
Hein's work at Rockefeller Center offers an opportunity for visitors to connect with their surroundings, and with each other, bringing interaction, amusement, surprise, and curiosity to a quintessential and historic New York City destination. Changing Spaces invites visitors to partake and embrace the unexpected, as Hein challenges the traditional attitudes and expectations of art.
"Installed in an open, public space like in front of Rockefeller Center, the water pavilion activates the area and invites people to make use of the work, either as a space for seclusion and relaxation or the opposite, a place of pure joy and playfulness. Children will dash in immediately, adults will hesitate at first, then hopefully will dare to go in after all. Rockefeller Center is the perfect place for this, because so many people pass by every day and the water pavilion will give them a reason to stay." – Jeppe Hein
Jeppe Hein is widely known for his production of experiential and interactive artworks that can be positioned at the junction where art, architecture, and technical inventions intersect. Unique in their formal simplicity and notable for their frequent use of humor, his works engage in a lively dialogue with the traditions of Minimalist sculpture and Conceptual art of the 1970s. Permanent installations are on view at ARKEN Museum of Modern Art (2021); La Guardia Airport, USA (2020); Fondation Carmignac, Porquerolles Island (2018); Kistefos-Museet, Norway (2016); Rijksmuseum, Amsterdam (2013); City of Perth (2012); KUNSTEN Museum for Modern Art Aalborg (2011) and Bristol University (2009) among others.