Art Collective`s "Big Red Boots" Flood Social Media Feeds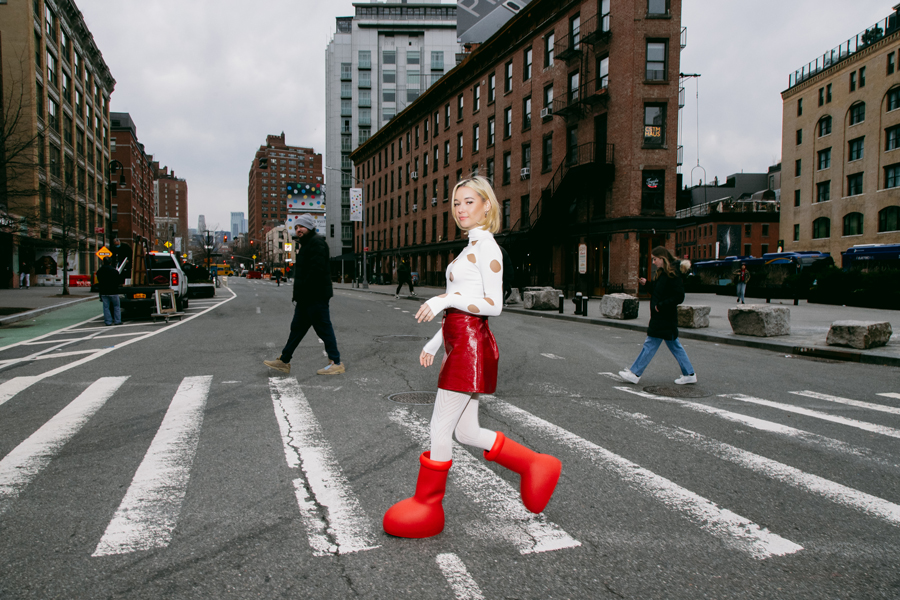 Artnews_ The impish, Brooklyn-based art collective MSCHF has spawned yet another flurry of social media engagement, this time in the form of a pair of sleek, rubbery red boots that would be home in Astro Boy's wardrobe.
Set to be released on February 16 (just in time for New York Fashion Week), the "Big Red Boots" have already been the subject of numerous posts on TikTok, Twitter, and Instagram. The boots have a TPU shell that renders them soft but sturdy, like an iPhone case, and pairs are set to go for $350 when they drop. They're likely to sell quickly, as most items by the collective often do.
Back in 2019, MSCHF, whose name is pronounced like "mischief," produced the "Jesus Shoes," a modified version of Nike Air Max 97s with water from the Israel's River Jordan that had been blessed by a Brooklyn priest added to the sole. Across the laces were a golden crucifix. The shows were priced at $1,425 each; all 24 pairs sold out in under a minute.
Even though MSCHF's latest shoes haven't been released yet, a pair of the Big Red Boots goes for over $1,700 on the secondary luxury/streetwear marketplace StockX.
While MSCHF's cheeky sneakers often make the most internet noise, the collective considers itself an artistic practice of sorts, despite rarely being referred to as such. In a 2022 interview with ARTnews, Lukas Bentel, one of the founders of MSCHF, said this "is strange, because we've always thought about the work we're doing in terms of art."
In fact, last year, the collective had its first gallery show with powerhouse gallery Perrotin. Among the works on view were a giant robotic dog fitted with an arsenal of paintball guns, titled Spot's Revenge (2022). Meanwhile, at Art Basel Miami Beach this past December, Perrotin showed MSCHF's ATM Leaderboard (2022), which captures a photo and displays the account balance of anyone brave enough to put in a debit card and plug in their pin. When it wasn't in use, the balances were ranked and displayed on the screen, along with the account holder's picture.