Do Ho Suh Fabric Installations Damaged During After-Hours Event at MCA Australia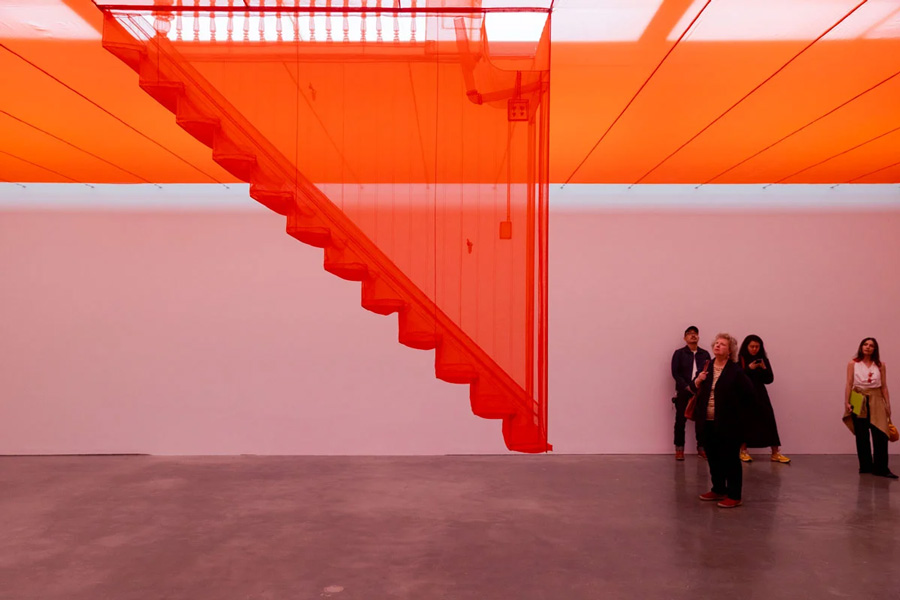 Artnews_ Two major installations by leading artist Do Ho Suh were damaged during an after-hours event on Monday night at the Museum of Contemporary Art Australia in Sydney. The news was first reported by the Daily Mail.
On view as part of a survey dedicated to Suh, his first in the Southern Hemisphere, the two works—Hub, 260-10 Sungbook-dong, Sungbook-ku, Seoul, Korea (2016) and Hub-2, Breakfast Corner, 260-7, Sungbook-Dong, Sungboo-Ku, Seoul, Korea (2018)—depict full-scale re-creations of entries to different homes in which he has resided around the world. Part of the museum's Sydney International Art Series, the exhibition closed yesterday.
Constructed from vibrantly hued polyester fabric and stainless-steel armatures, visitors can enter and walk through Suh's installations.
The Daily Mailreported the works were damaged during an event sponsored by Bloomberg, one of the MCA's corporate partners. The guest reportedly knocked into the work, bringing down two of the doors in the intricately constructed installation.
In a statement to ARTnews, the MCA Australia said, "A visitor to the Do Ho Suh exhibition at the Museum of Contemporary Art Australia accidentally stumbled which impacted an installation on display. Museum protocol was followed, and no one was hurt. The work was assessed by a conservator before the gallery space reopened to the public. The care of artworks is of the utmost importance to MCA Australia. Accidents do happen in museums and galleries, which is why all institutions have clear procedures for these situations."
ARTnews sent a list of fact-checking questions to the MCA Australia about the extent of the damage to the works, what protocols were being followed to restore the damage, and whether the pieces were insured; the museum did not respond.
The artist declined to comment.
Periodically, artworks are destroyed while on view in museums and other venues, either by accident or design. Earlier this month, a Jeff Koons "Balloon Dog," valued at $42,000, was knocked over by a collector at an art fair in Florida. This past October, an American tourist smashed two 2,000-year-old statues at the Vatican after being denied an audience with Pope Francis. And in June, a visitor to the Museo Reina Sofía in Madrid ripped an artwork after grabbing onto it when she tripped while taking a selfie. Similarly, in 2020, a Canova sculpture was damaged after a tourist sat on it to take a selfie.