Climate Activist Group Protests at Rembrandt`s Night Watch at Rijksmuseum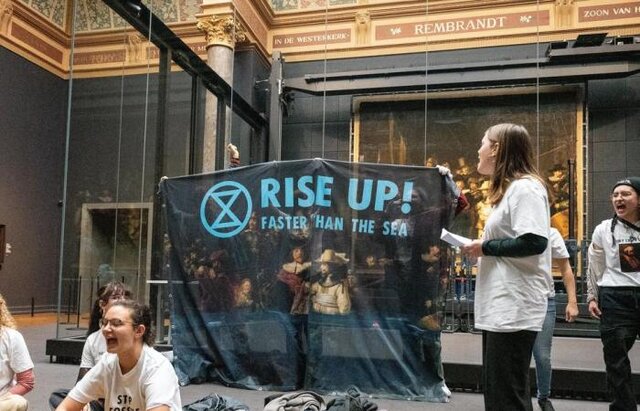 Artnews_ The Netherlands' youth chapter of the climate activist organization Extinction Rebellion protested on Sunday in front of Rembrandt's Night Watch painting at the Rijksmuseum in Amsterdam.
Two protestors held a vinyl sign with the organization's logo and a modified image of the famous Dutch painting, showing the night watchmen submerged in water. The image was a direct reference to the group's slogan: "There is no art on a flooded planet"
The ten protesters, ranging in ages from 15 to 22 years old, wore t-shirts underneath their coats that said "Stop Fossil Subsidies" and displayed images from the painting with the caption "They Can't Swim".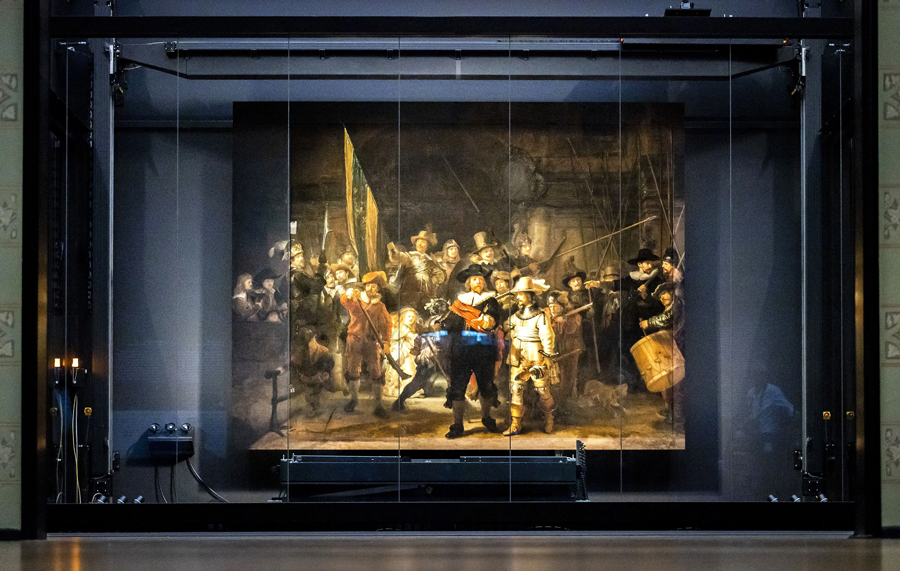 "The science is clear, we can no longer escape it: the earth is warming up, the sea level is rising and the weather is becoming more and more extreme. It is obvious that this is due to the fossil industry, an industry that the Rijksmuseum is still sponsoring", said a 19-year-old protester Yara said in Dutch during the protest, in reference to the museum's partnerships with airline KLM and investment bank ING, according to Reuters.
Staff at the Rjiksmuseum quickly placed white and blue vinyl emergency response screens in front of the protesters and guided other museum guests away from the painting.
"We set them up to continue business operations," a spokesperson told the Dutch broadcaster Nederlandse Omroep Stichting. "Usually when someone faints."
The protesters sad they were ordered to leave after fifteen minutes.
The spokesperson also told NOS that Rijksmuseum was not planning to file a report. Unlike several other art-related climate protests in Europe and Canada, this one did not involve protestors throwing food or paint at paintings or gluing their hands to glass or frames.
The protest took place during a high-profile time for the Rijksmuseum. Its hotly-anticipated, critically-acclaimed retrospective on Johannes Vermeer sold out only two days after opening to the public. The exhibition ends on June 4, 2023.
Demand has been so high, the museum announced on Monday that ticket sales have been "shut down until further notice" due to problems on its website.