Foster + Partners designs sweeping terminal for "air taxi services" in Dubai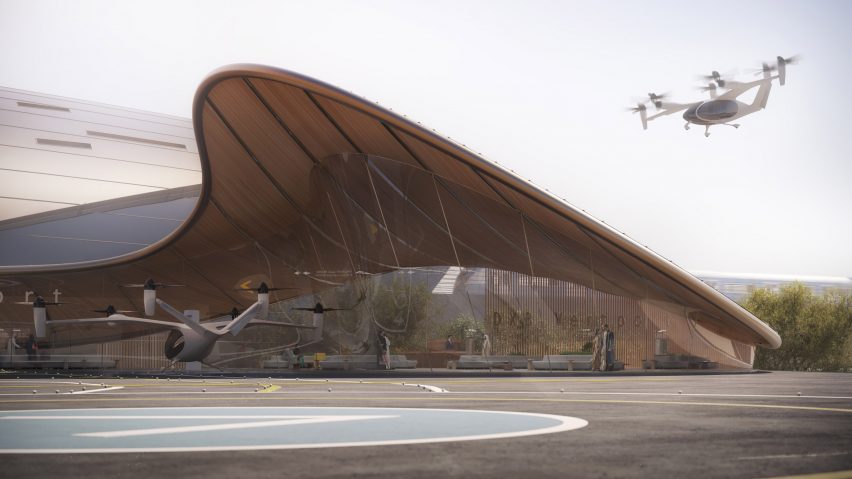 Dezeen_ British architecture studio Foster + Partners has unveiled a concept for a vertiport terminal in Dubai that will accommodate "air taxi services" and encompass a curved, overhanging roof.
The design concept forms part of a proposal for future electric vertical take-off and landing (eVTOL) infrastructure networks that would connect and transport people at high-speed to popular locations across Dubai.
It is proposed to be located next to the Dubai International Airport and would integrate with the existing transport systems at the airport, as well as surrounding transport hubs such as Dubai's metro network.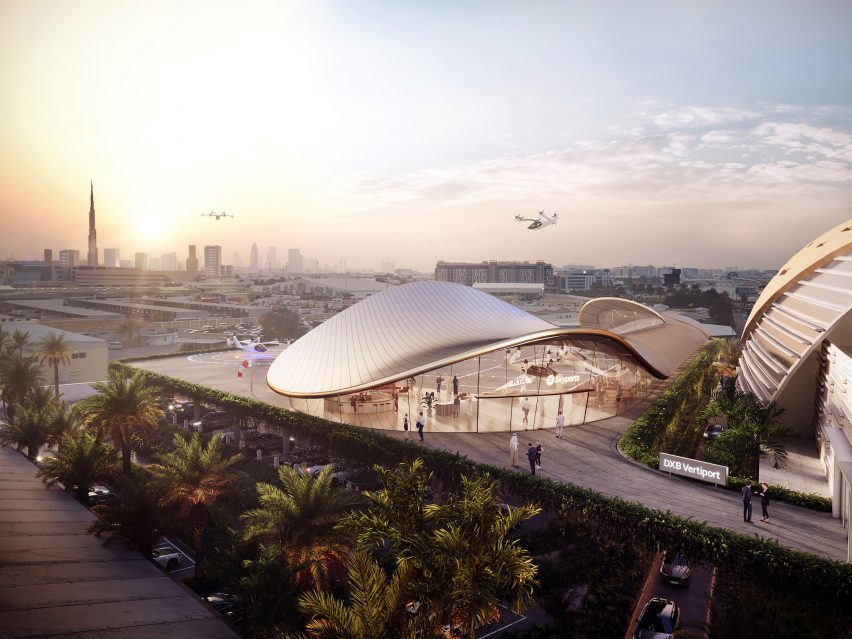 "We are delighted to have developed a vertiport concept for the emerging AAM industry, which will transform the way people travel in Dubai," said Foster + Partners head of studio David Summerfield.
"The conceptual vertiport connects with Dubai International Airport and the Dubai Metro, to provide seamless, sustainable travel across the city for international and domestic passengers."
The Dubai International Airport vertiport is one of four sites proposed by advanced air mobility (AAM) company Skyports Infrastructure and Dubai's Roads and Transport Authority.
The two companies plan to "develop the network of vertiports for air taxi services by 2026," the studio said.
Renders show the vertiport on a rectangular elevated platform that aims to aid aircraft take-off and landing.
A terminal building is pictured wrapping around the vertiport airfield and connecting to arrival and departure lounges. The building is depicted with glass walls, providing the interior with panoramic views of the city and airfield.
The terminal will be topped by an overhanging roof that bows and curves to create varying heights throughout the interior while shading and preventing the terminal from overheating.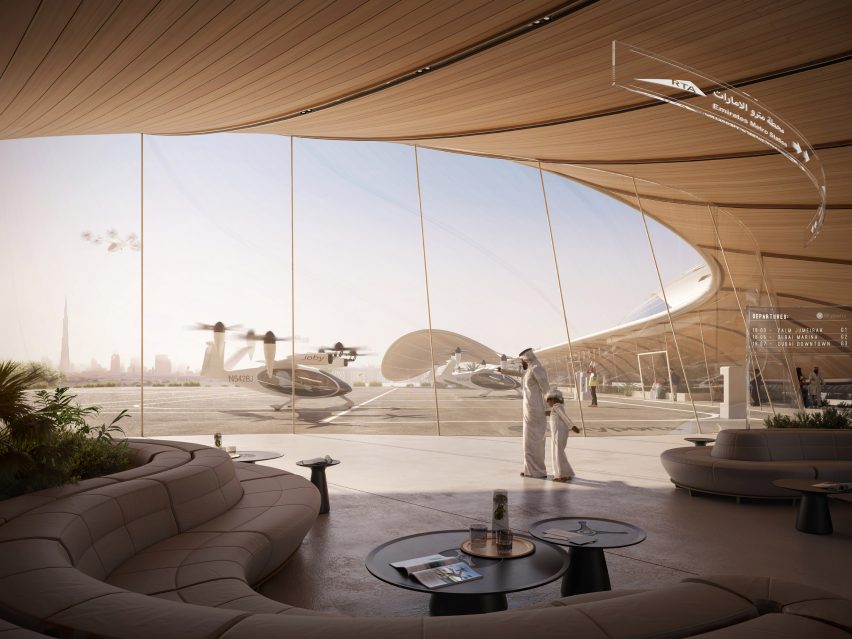 The vertiport's interior appears to have a muted decor scheme, with warm and natural materials used to create a "comfortable and serene environment."
The exterior of the building was designed to visually communicate with the nearby metro station. Lush landscaping surrounds the perimeter of the terminal.
In 2020, German aerial taxi company Lilium released design guidelines for modular vertiports that could be added to the top of office blocks, car parks or shopping centres.
Architecture firm MVRDV has also designed vertiports. The studio collaborated with aircraft manufacturer Airbus to research how landing hubs for passenger drones or vertiports could become future network systems for cities.