Garment District Space for Public Art presents artist Joy Brown`s "Kneeler"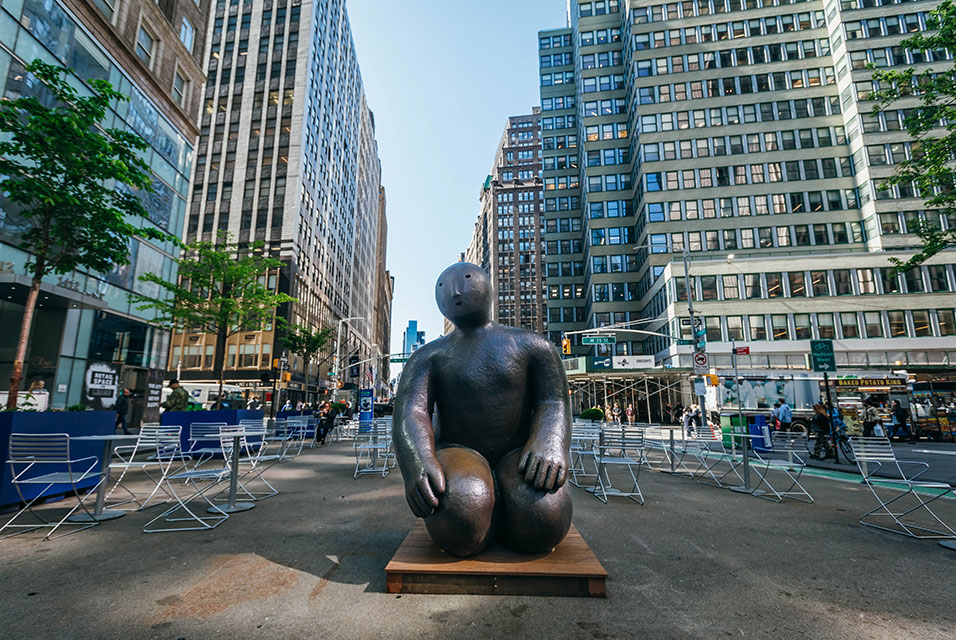 Artdaily_ A joyful, endearing bronze sculpture is welcoming New Yorkers and visitors to the heart of Midtown Manhattan's Garment District, as the Garment District Alliance unveils its latest public art exhibit, Kneeler, created by artist Joy Brown. Located on Broadway in the Garment District between 39th and 40th Streets, Kneeler is a large bronze figure that holds a quiet power, a friendly space inviting us to touch and play. Its presence conveys a universal spirit of harmony and optimism that transcends culture, gender and age.

The sculpture – which is free for viewing and will be available to the public through August 31st – is part of Garment District Art on the Plazas, a year-round public art program made possible through Arterventions, a subpart of the New York City Department of Transportation's (DOT) Art Program. The Garment District Alliance and DOT work closely to coordinate and install exhibits and individual pieces, which enhance public plazas and make them even more welcoming to New Yorkers.

"Joy's wonderful sculpture provides a sense of harmony and calm in the Garment District, welcoming pedestrians to the neighborhood this spring and summer," said Barbara A. Blair, president of the Garment District Alliance. "We are proud to introduce Kneeler to our diverse mix of public art programming, and we encourage all to visit, capture photos and take in the sculpture's uplifting meaning."

With more than 47 years of experience working with clay, Brown draws inspiration from the Japanese aesthetic, which springs from her childhood and a traditional ceramic apprenticeship she completed in Japan. Brown has exhibited in galleries and museums in the United States, Europe, China, and Japan, and her ceramic and bronze figures and three-dimensional wall installations are represented in prominent private and public collections around the world, including parks, sculpture gardens and urban public spaces. Since 2009, Brown has been working on a series of large-scale bronze works in collaboration with Purple Roof Gallery and Atelier in Shanghai, PCR. For additional information about Brown's bronze sculptures, please visit https://bit.ly/JoyBrownStudio

The Garment District is home to diverse business sectors from technology to hospitality and includes thousands of people working in the creative economy, including fine and performing artists, designers, architects, photographers and more than a hundred theaters, galleries, performance spaces and studios. It is a not-for-profit corporation established in 1993 to improve the quality of life and economic vitality of Manhattan's Garment District. Through programs in the areas of streetscape improvements, sanitation and public safety, marketing and promotions, economic development, and community service, the Garment District Alliance supports the neighborhood's transformation into a modern, 24/7 destination for dining, nightlife, hotels and unique office space.