Controversial Work at Paris`s Palais de Tokyo Is Sprayed with Purple Paint by "Unhappy" Visitor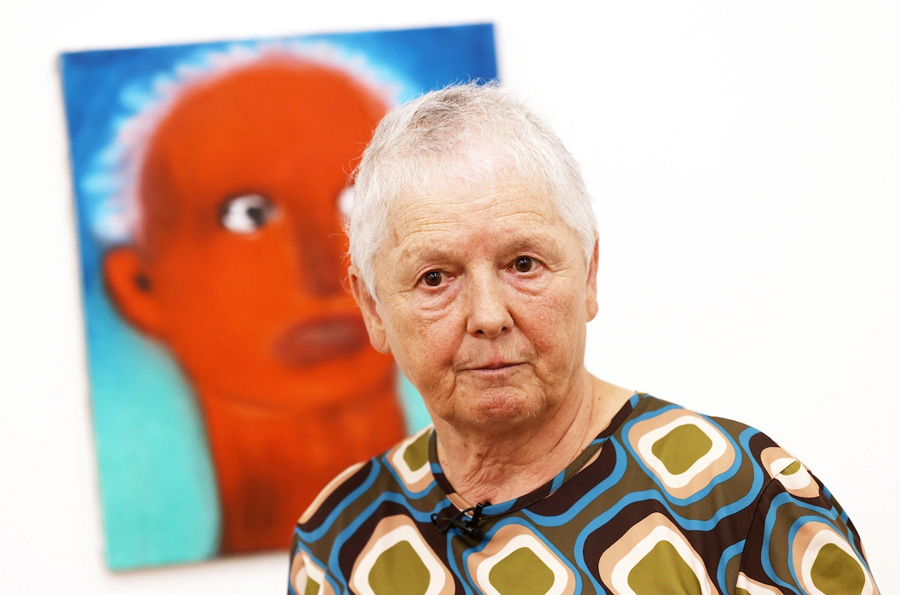 Artnews_ A painting by Miriam Cahn at Paris's Palais de Tokyo that stirred up right-wing rage made headlines in France once more after it was vandalized Sunday, just days before it was to come down.
The painting, titled fuck abstraction !, appears in a Cahn show set to finish its controversial run on May 14. Cahn and the museum had made clear that the work was a response to human rights abuses in Ukraine, but conservative politicians and children's rights groups had claimed it promoted pedophilia.
In the work, Cahn represents a smaller figure whose hands are bound performing a sex act on a taller one. She said she had painted it after seeing reports of mass graves in Bucha and rapes by Russian soldiers in 2022. Certain politicians and organizations attempted to sue for its removal, though the French Council of State found that the painting could be exhibited on the basis that it did not represent pedophilia and that it qualified as freedom of expression.
According to the Agence France-Presse, on Sunday afternoon, a visitor that the Palais de Tokyo described as an "elderly person" sprayed purple paint on fuck abstraction ! The man was "unhappy with the sexual staging of a child and an adult represented, according to him," the museum told AFP.
Following the vandalism, two rooms of the exhibition were closed off to the public.
Rima Abdul Malak, France's culture minister, told Franceinfo, "It's a direct attack on freedom of expression, which is quite serious."
Franceinfo, which first reported the news, published a picture of what appeared to be fuck abstraction ! in its vandalized state. The painting seems to have been splashed with purple that now runs down portions of it. According to the publication, the man who vandalized the work had hidden the paint in a medicine bottle.
Guillaume Désanges, president of the Palais de Tokyo, told AFP that fuck abstraction !would remain on view through the end of the show's run in agreement with the artist. So far, 80,000 people have seen the exhibition.
On Monday, French President Emmanuel Macron even weighed in on the situation, tweeting, "To attack a work is to attack our values. In France, art is always free and respect for cultural creation is guaranteed."