VOLTA New York, Featuring Over 50 International Galleries, Returns to New York This Month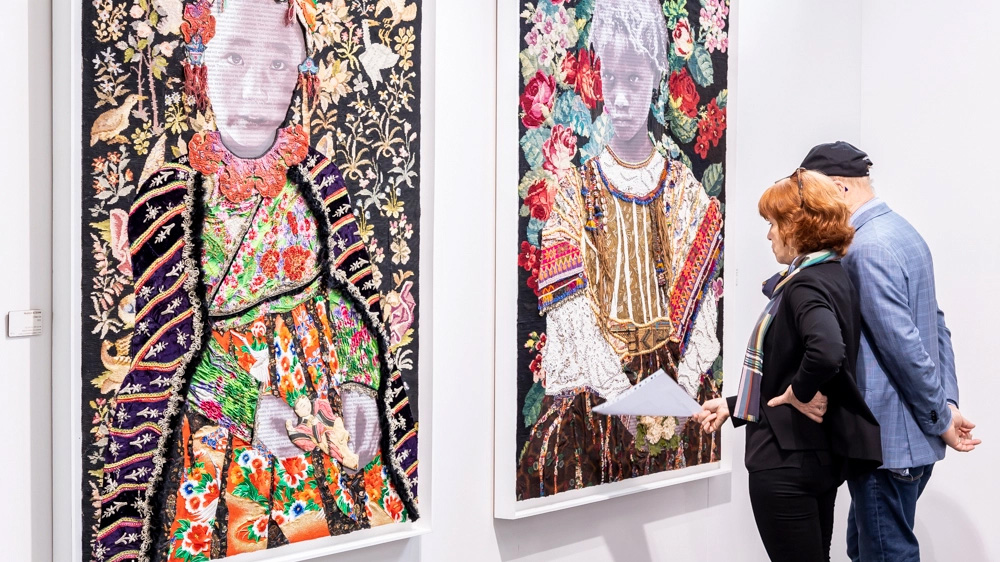 VOLTA New York from May 17-21, 2022
Courtesy of VOLTA Art Fairs
Artnews_ VOLTA art fair returns to New York City from May 17 to 21 with over 50 national and international galleries. Returning standouts include Frankfurt's Galerie Barbara von Stechow and New York's Ethan Cohen Gallery, plus noteworthy newcomers FORMah (New York) and CUT ART (Riga).
VOLTA New York launched in March 2008 as a satellite fair of the long-running Armory Show. This year, VOLTA will once again be in alignment with Frieze art fair, presenting galleries from over 18 countries. VOLTA's focus on cutting-edge contemporary art encompasses several themes—among them, science and nature—from galleries with a wide-ranging international perspective.
Barcelona-based Out of Africa (OOA) Gallery champions work by contemporary African artists. Their presentation will highlight work by Oluwole Omofemi, Matthew Eguavoen, Médéric Turay, and Moses Zibor. These artists, part of a young, dynamic generation of global African diasporans, showcase African pride, tradition, and culture in their practice.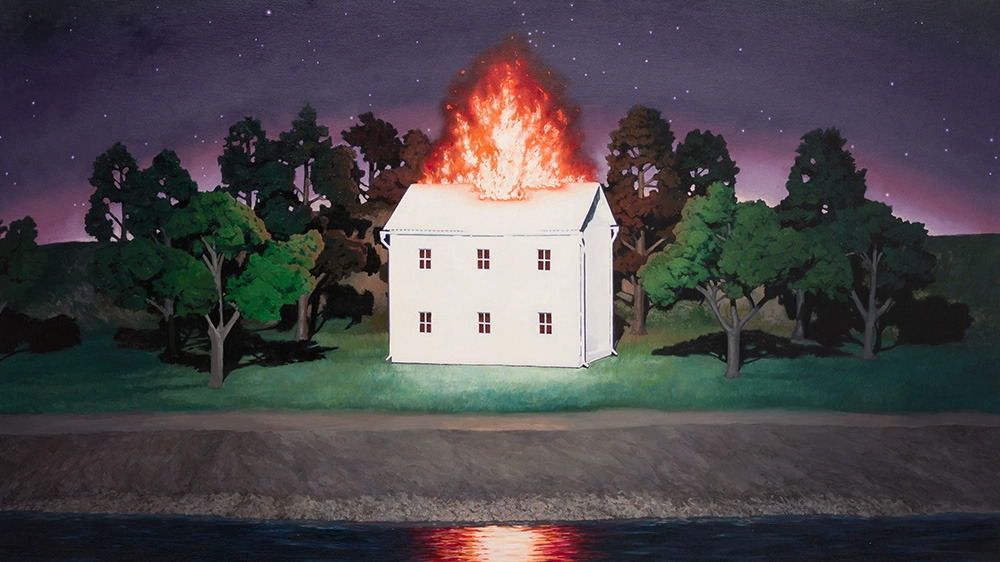 Motohide Takami: Fire on Another Shore, 2019.
Courtesy of SEIZAN Gallery
At SEIZAN Gallery (New York/Tokyo), Japanese artist Motohide Takami revisits cultural legacy and collective trauma. The Great Earthquake of 2011 occurred during the artist's time as a graduate student at Tohoku University of Art in Yamagata. The disaster and its aftermath became a signature trope in his oil paintings. A recurring image of flames by the riverside refers to the Japanese expression "fire on the other side of the river," meaning something is someone else's business. This motif underscores human disinterest in tragic events that do not directly impact you, ever pertinent in today's world.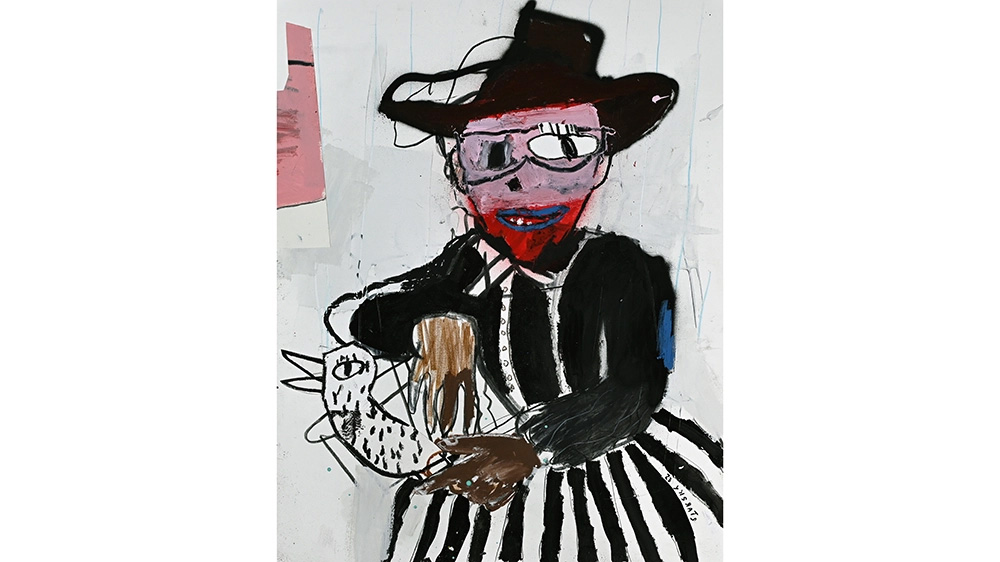 Starsky Brines: REGRESO A CASA, 2023.
Courtesy Galerie Heike Strelow, Frankfurt
Venezuelan artist Starsky Brines, presented by the Frankfurt-based Galerie Heike Strelow, explores identity through personal biographical iconography. His anthropomorphic characters are influenced by his
domestic life with his mother, who crafted colorful puppets for Caribbean carnivals. He pairs this visual language with an art historical knowledge of Latin American figurative art, German Neo-Expressionism, the Italian Transavantgarde, and the CoBrA group to create paintings that oscillate between abstract and figurative.
Vlad Ogay:Caviar, 2022.
Courtesy of CUT ART, Riga
Korean artist Vlad Ogay is inspired by his time spent studying theater in Russia. His "readymade" practice involves collaging together objects and artifacts from everyday life. His works will be presented at VOLTA by the Latvian gallery CUT ART. A multi-disciplinary artist, Ogay has received prestigious awards in Venice and Cannes for his film projects and is preparing for his first solo show, to be curated by Gianluca Marziani (a consulting curator of the 2011 Venice Biennale and Banksy's biographer).
Meanwhile, LAMINAProject present a series of collage-based works by New York artist Jody Rasch that explore radio astronomy, a sub-genre of astronomy specializing in celestial objects at radio frequencies.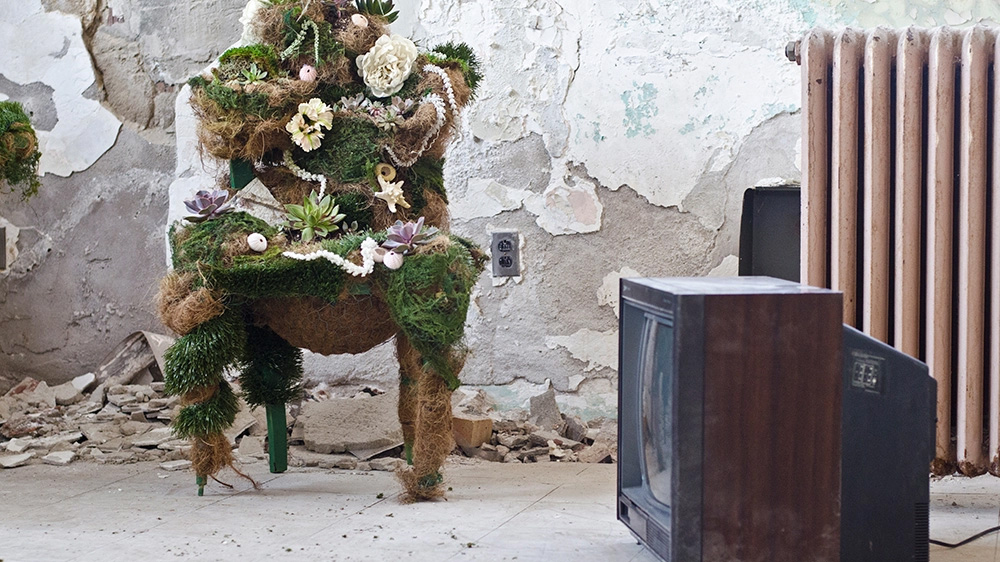 Natalie Collette Wood, The Garden of Hallucinatory Delights,2018
Courtesy of Vellum Projects, New York
Artist Natalie Collette Wood has a different take on the organic in her elusive assemblages and layered paintings of fantastical forms. The artist's work will be presented by Vellum Projects. Among works by five artists exploring topics of mythology, popular culture, environmental activism, and conservation, Wood's pieces are a particular highlight.
The origin of the name of VOLTA denotes a turn of thought or an inflection point. The fair distinguishes itself in the marketplace with its commitment to creating an environment of discovery for art collectors, with this intention precisely guiding its curation. VOLTA serves as the platform for ambitious international galleries to enter the global art markets of New York and Basel. In turn, the fair offers both burgeoning and established collectors a place to discover the art of now, to grow their collection, and ultimately to connect with and support new talent.
Beyond stand-out group presentations, 14 galleries will feature solo exhibitions at the fair. Among these highlights are: the South Korean Gallery Bhak presenting work by artist Yissho, (AV17) Gallery presenting sculptures by Lithuanian artist Mindaugas Junčys, Catalysta Gallery presenting artworks by Dominican artist Manuel Mera, and Stone Step Gallery presenting Irish artist Paul Hughes.
United by the healing power of creativity, VOLTA New York will collaborate with non-profit partner Fashion Fights Cancer to host an art auction and fashion fundraising event on Thursday, May 18, from 6 to 9 PM, co-hosted by New York Fashion Week's Fern Mallis and Gary Wassner, CEO of Hilldun Corporation.
The full exhibitor list is available at this link. VOLTA New York is on view May 17-21 at the Metropolitan Pavilion in Chelsea.
VOLTA New York is followed by VOLTA Basel (June 12-18) at Klybeck 610, Basel, Switzerland.