Museo Picasso Málaga opens "Picasso Sculptor. Matter and body", an exhibition centred on the human figure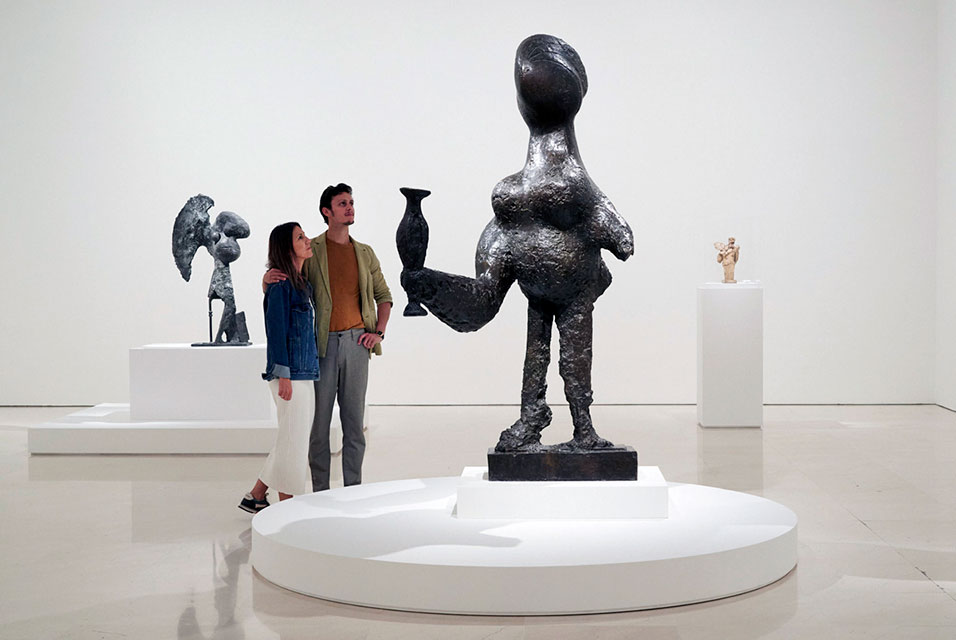 Artdaily_ Conceived and curated by Carmen Giménez, who was the first director of the Museo Picasso Málaga, this selection of sculptures presents the plurality of styles employed by Pablo Picasso to depict the forms of the human body, interpreting it in a range of formats and making use of every material available to him, including wood, iron, plaster, cement, and different metals such as bronze. For Picasso, the discipline of sculpture was not a secondary one within his output; rather he saw it as a means of expression comparable to painting, drawing, printmaking and ceramics given that, as he himself said, no art form is more or less important than any other. These languages and materials allowed him to express different aspects of his creativity.

Although this facet of his work began to become both more significant and more extensive during the Cubist period, Picasso made sculptures from almost the outset of his lengthy artistic career and continued to produce them throughout his life. He approached the medium with the freedom of a self-taught artist, prepared to break all the rules. Perhaps as a consequence of this attitude, he kept most of his sculptures until he died, as numerous photographs of his studios and homes show. Treating them almost like members of his household, he enjoyed the company of sculptures and had fun with them in a variety of situations.
Picasso Sculptor. Matter and body questions the boundaries between sculpture and painting, between the finished work and the preliminary model and between major and minor works. This survey of nearly 60 years of Picasso's sculptures can be seen as a reassessment of the history of art: Cubism, abstraction, primitivism and the objet trouvé are represented through 61 works centred on the human body which the artist produced between 1909 and 1964.

Carmen Giménez, the first director of the Museo Picasso Málaga, is a Spanish museum and exhibition curator whose roles have included adviser to the Ministry of Culture and to the Guggenheim Museum in New York. Over the course of her career she has been responsible for the organisation of a large number of international exhibitions.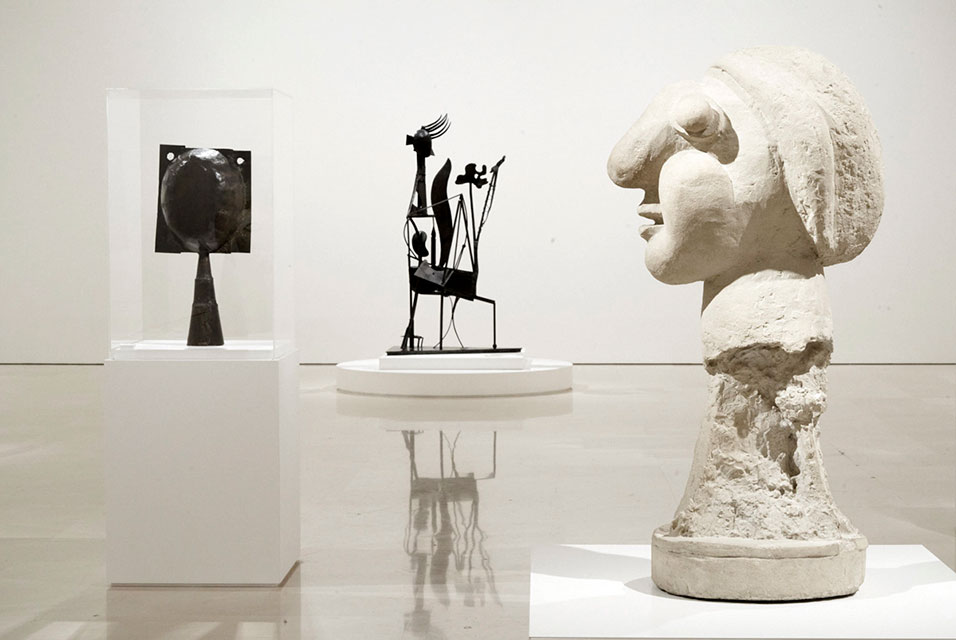 PICASSO AND SCULPTURE

Picasso's sculptural output is the least known aspect of his artistic activity, possibly due to the fact that it was not until he was 85 that he agreed to let the Petit Palais in Paris exhibit dozens of his sculptures which he had previously kept entirely to himself. Furthermore, over the course of his lifetime the artist is considered to have produced around 700 sculptures in contrast to approximately 4,500 paintings. For Carmen Giménez: "Not only was sculpture fundamental for the very construction of his pictorial output, but similarly he brought painting to his sculptural oeuvre, in a continual shift between disciplines." The result is that in each phase of his sculpture and just as with his other creations, Picasso reinvented himself, charging his chosen medium with new energy and creating new connections between his works.

In the late 19th century sculpture required a knowledge of a range of techniques and the use of resistant materials such as bronze, marble or wood. Although as a boy Picasso cut out paper silhouettes, it is not known whether he produced any sculptures during his years as an art student. For the artist, sculpture was also a very personal, intimate and to some degree improvised art form. He made his first work in clay, Seated Woman (1902), in the studio of his friend the sculptor Emili Fontbona in Barcelona. His discovery of African and Oceanic art in the collection of the Musée d'Etnographie de Trocadero in Paris opened his eyes to the power with which sculptural objects could be endowed, in the manner of a talisman.

Among the artist's early sculptures, the best known is probably Head of a Woman (Fernande) (1909). However, when he returned to the medium three years later Picasso took a different direction, introducing space as a sculptural material for the first time. This seems natural in the present day but the use of empty space to represent transparency in the series of six polychromed bronzes entitled Glass of Absinthe (1914) was seen as surprising. Many of the works from this period include materials that are both everyday and innovative, such shoe laces, paper, cardboard, sand, springs, tin plate and glue. However, in 1924 the sculpture Guitar, made from different planes of sheets of card and lengths of string, marked the end of an era as the impact of Surrealism on Picasso led him towards other creations.

Between 1928 and 1934 and in collaboration the sculptor Julio González, a friend of his youth, Picasso produced a series of constructions made of welded and soldered iron that would be crucial for the future of modern sculpture, while at the same period also executing slender, elongated wooden figures and sensual human forms. Working at his home, the château de Boisgeloup, Picasso focused intensively on modelling in plaster, creating figures with curving, sensual forms in which the noses, necks, mouths, eyes and breasts combine together in voluptuous recreations of human carnality. In 1937, during the Spanish Civil War, the Republican government invited the artist to participate in the Spanish Pavilion of the International Exhibition in Paris; Picasso responded by presenting Guernica, his great denouncement of war, and five sculptures created in Boisgeloup.

In 1940 the artist returned to sculpture, creating a specific space for it in his studio on the rue des Grands-Augustins in Paris. This marked the start of an important period of activity that continued until the post-war period. In the 1940s and 1950s scenes of family and everyday life also appear in Picasso's three-dimensional works. In 1948, inspired by his new interest in ceramics assimilated from Georges and Suzanne Ramié, he moved to Vallauris where he once again transformed his inexperience and creativity into a means to break down the rules and canons of that medium. At the same time, Picasso continued with his pictorial, graphic and sculptural activity, making assemblage his principal mode of expression.

In 1955 he moved to La Californie in Cannes, taking with him all the works stored in Paris so that once again he lived and worked in a single space. Just as in his subsequent homes - the château de Vauvenargues (1958) and Notre-Dame-de-Vie in Mougins (1961) - Picasso filled both the interior and exterior spaces with sculptures, as seen in the photographs taken by the prestigious photographers who visited him: Henri Cartier-Bresson, Robert Doisneau, Irving Penn and David Douglas Duncan, among others. These works were part of his life and Picasso had no desire to sell them or lend them to exhibitions.

In the mid-1950s he started sculpting forms from old wood, pieces of furniture and in particular, inspired by Lionel Prejger, pieces of sheet metal. The craftsman Joseph-Marius Tiola transformed the artist's paper or cardboard models into larger format works of cut-out and folded sheet metal. Some of these were painted while in others the rust of the metal produced its own colours. They depict bathers, women and other figures represented in planes and in which once again the void has the same structural value as the solid form.

In the 1960s, urban growth and the post-war economic boom led to a demand for large-scale works intended to transform city spaces into contemporary landscapes. The artist Carl Nesjar persuaded Picasso to transpose his work into large dimensions made in a concrete resistant to outdoor atmospheric conditions, resulting in more than twenty projects in cities in Europe and the USA. On display in the present exhibition is Model for the sculpture for the Richard J. Daley Center (1964), which would ultimately take the form of a 20-metre-high steel sculpture that was installed in front of the Civic Center in Chicago in 1967. It depicts a geometrical face, its volumes suggested by the contrasts between voids and matter.

In 1966 and to mark his 85th birthday, Picasso agreed that many of the sculptures he had kept in his private collection could be seen in the exhibition Hommage à Pablo Picasso held at the Petit Palais. These works subsequently travelled to London and New York and revealed the artist's abilities as a sculptor to the world at large.