Istanbul Modern Opens the Doors to Its Glittering, Long-Awaited Building Designed by Renzo Piano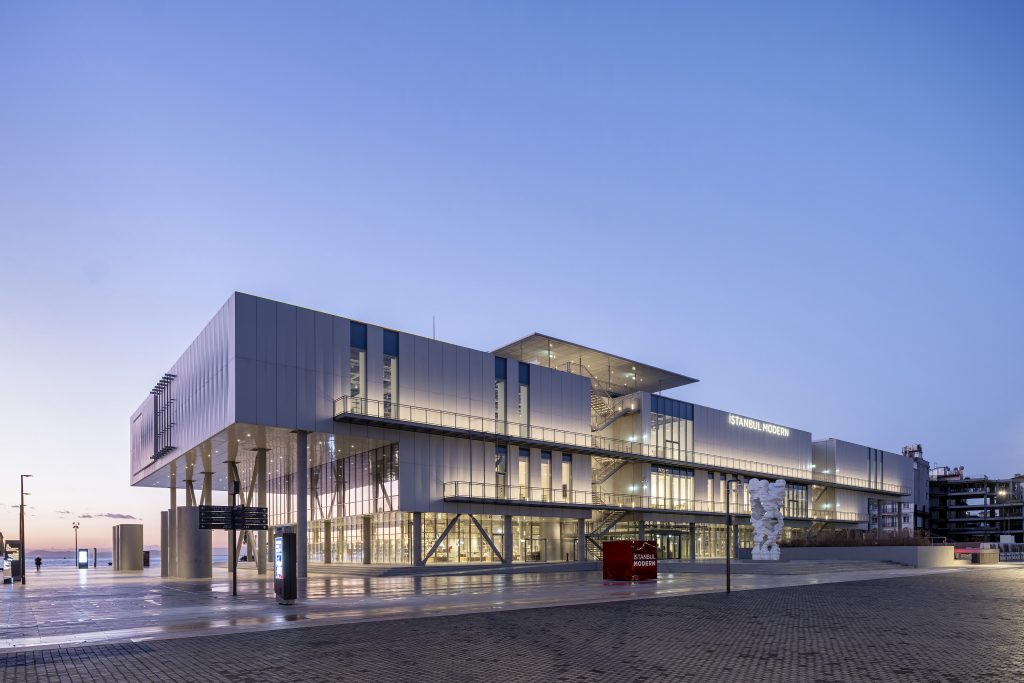 Artnet_ After five years of construction, Turkey's Istanbul Modern will debut its new building this week.
Designed by the Pritzker Prize-winning architect Renzo Piano, the building boasts a footprint of 110,000 square feet, with dedicated space for temporary and permanent exhibitions, educational programs, film screenings, and a café. It's situated in a historic district on Istanbul's Karaköy waterfront, where the Bosphorus Strait and Golden Horn estuary meet—the same location where the museum's inaugural home was erected in 2004.
Nodding to the location's long history as a harbor for travelers moving between Europe and Asia, the building's silhouette recalls ships of different sizes. On its façade are scores of aluminum panels that glitter in the light like the scales of fish.
The new museum's ground floor is walled with glass, granting passersby a peak at two of the institution's prized artworks—one old and one new. The first is Richard Wentworth's False Ceiling (2005), a longtime fixture in Istanbul Modern's former building; the second is Your unexpected journey (2021), a three-part, site-specific installation by Olafur Eliasson, which was commissioned by the museum for the new space.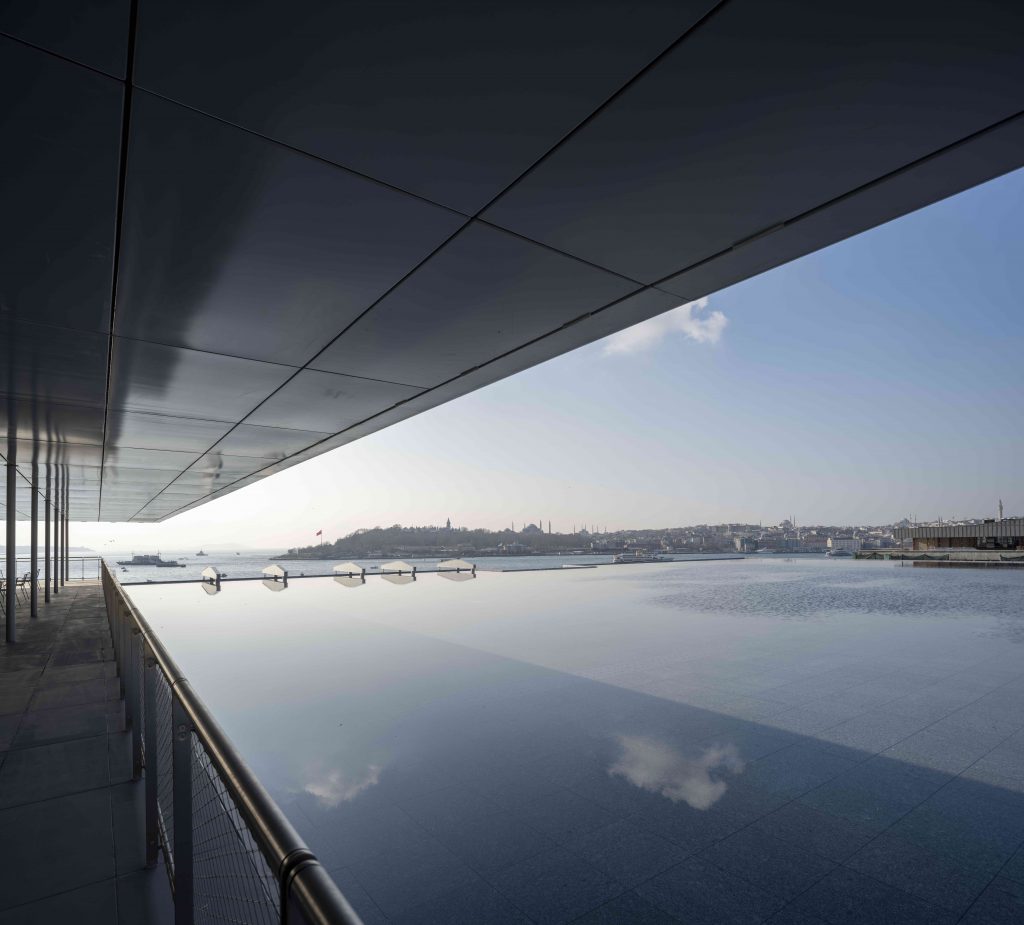 A terrace atop the building hangs over a reflection pool and offers a panoramic view of Istanbul and its waterways. "The new building's transparent and accessible design reflects the ethos of the museum: a multifaceted experience offering visitors audience-oriented exhibitions and programs inspired by the artistic diversity of the present day," read a statement from the museum.
Five new exhibitions will christen Istanbul Modern's new home, each of which will be accompanied by a catalogue. Among them is "Always Here," a presentation of 17 works by women artists acquired by the museum since 2016, and "Floating Islands," a show of 280 works—many displayed for the first time—that's billed as the Modern's most comprehensive collection exhibition to date.
Included in the latter show are works by Turkish artists including Ayşe Erkmen, Nil Yalter, and Fahrelnissa Zeid, as well as by international figures such as Mark Bradford, Alicja Kwade, and Haegue Yang. Elsewhere in the building is a newly commissioned installation by Refik Anadol that uses environmental data from the Bosphorus.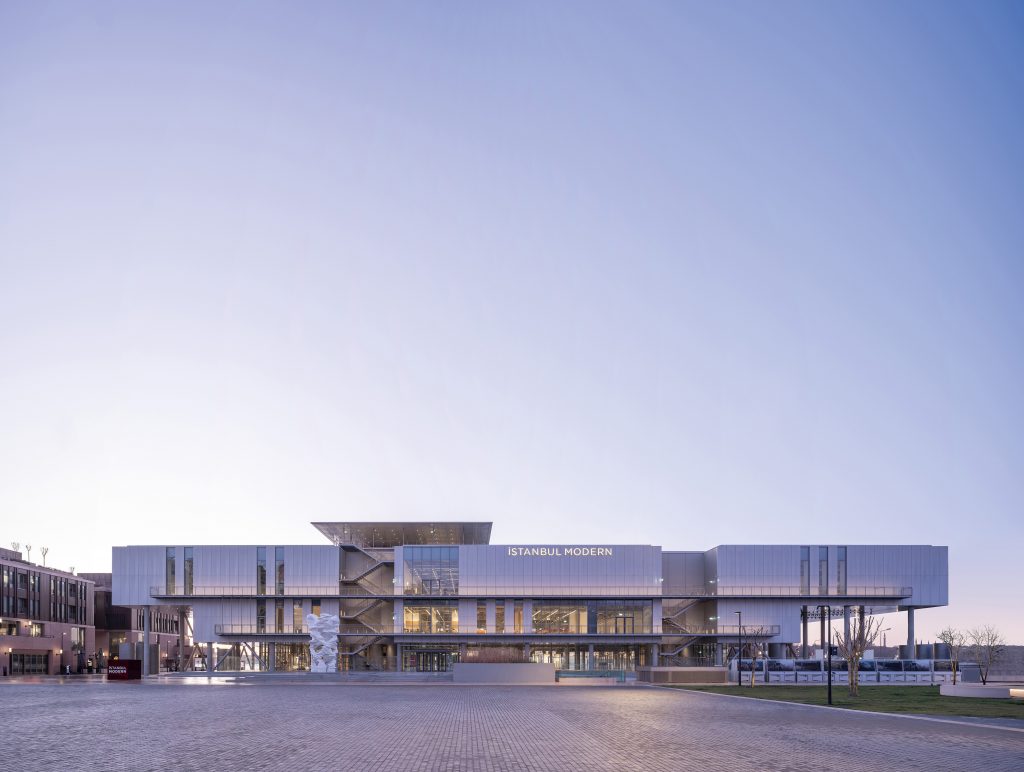 Long considered Turkey's leading museum for contemporary art, Istanbul Modern closed its former location in 2018. The institution relocated to a temporary location in the nearby Union Française building, while construction on its new building began.
The project is one of many belonging to the $1.8 billion Galata Port development project, conceived to overhaul the cultural and historic sites in the city's Karaköy neighborhood. Other new attractions to the site include restaurants, hotels, and a cruise ship terminal.
The new Istanbul Modern is set to open on May 4.