Giant Louise Bourgeois spider sculpture sells for record $32.8 million at auction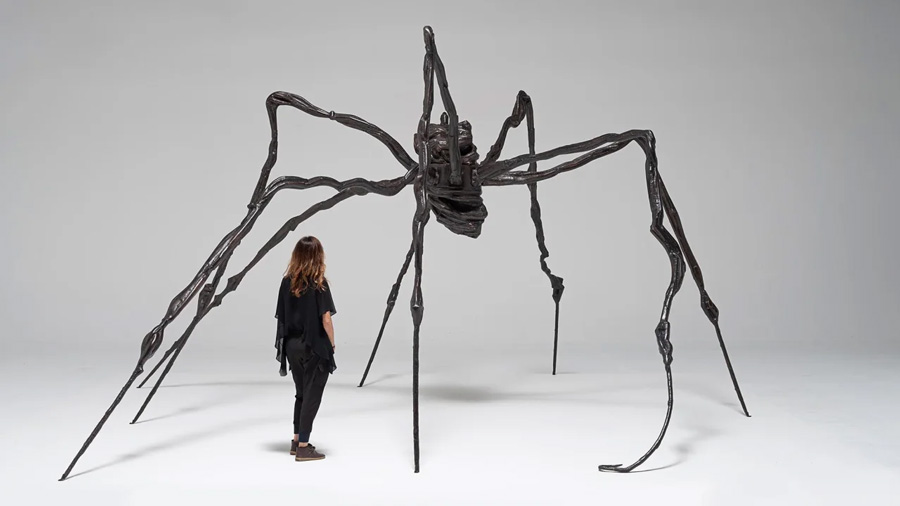 CNN_ Louise Bourgeois' 1996 "Spider," which stands at over 10 feet tall and more than 18 feet across, sold for $32.8 million including fees at a sale in New York on Thursday evening.
The sale also set a new auction record for a work by Bourgeois.
Only four of the French-American artist's arachnid creations have ever appeared at auction. In May 2019, another sold for $32.1 million with fees at Christie's in New York.
The record for any work by a female artist at auction is still held by Georgia O'Keeffe's painting "Jimson Weed," which was bought for $44.4 million by Walmart heiress Alice Walton's Crystal Bridges Museum in Bentonville, Arkansas in 2014.
The sculpture sold on Thursday evening was previously owned by Brazil's Fundação Itaú.
Bourgeois, who died in 2010 at age 98, didn't begin creating her spiders until she was in her 80s, but the towering creatures have become her best-known works.
Sculptures from the series are on prominent display at many of the world's leading museums, including the Guggenheim Museum in Bilbao, the National Gallery of Canada in Ottawa, Dia Beacon in New York and Tate Modern in London.
Kelsey Leonard, head of Sotheby's Contemporary Evening Auction in New York, said that to see the sculpture "make both a record-breaking price for Louise Bourgeois and also become the most valuable sculpture ever made by a woman artist, is a truly special moment.
"Bourgeois' Spiders are undoubtedly a real masterpiece of 20th-century art. Beloved across the globe, these powerful yet tender sculptures hold a commanding presence, one that was on full display in our galleries this season," Leonard added.