WAM sells British Sculpture to establish American Art Acquisition Fund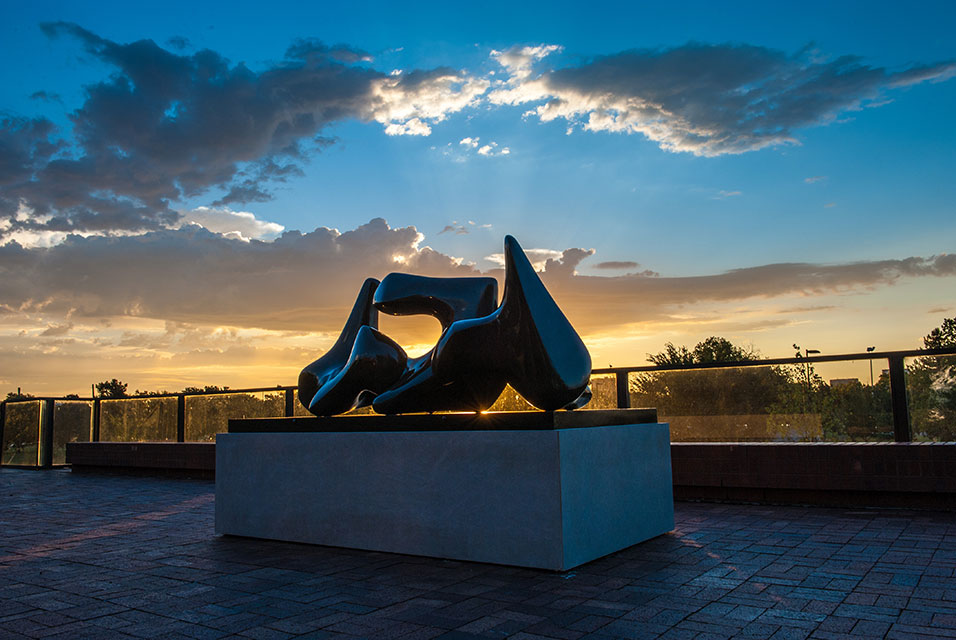 Artdaily_ The Wichita Art Museum, nationally recognized for its American art collection, announced the sale of its outdoor sculpture Vertebrae by renowned British sculptor Henry Moore. The proceeds from this sale will pave the way for the creation of an American Art Acquisition Fund, allowing the museum to significantly increase funds available to purchase, conserve and exhibit American art.

"The fund will enable the museum to further its mission of building a comprehensive collection that authentically represents the American story," WAM Director/CEO Anne Kraybill said.

"The British sculpture, while a masterpiece in its own right, does not align with the museum's founding vision of establishing a collection of American art, making this opportunity all the more compelling," said Dr. Tera Hedrick, WAM's Curator. "With this sale, we have the ability to take British art and turn it into American art in keeping with our founder's vision."

"This is a transformative moment for the Wichita Art Museum that will benefit the city and its citizens for generations to come," said Lou Heldman, chair of the Board of Trustees.

Respected gallerist Dominique Lévy of LGDR in New York approached the Wichita Art Museum with a substantial offer of $10.5 million dollars on behalf of an anonymous buyer.

The purchase price was above the fair market valuation and also came with the buyer taking on the costs for conservation and shipping to the London-based Henry Moore Foundation, which will provide necessary conservation since the work has been outdoors for over 45 years.

Kraybill explained that the Wichita Art Museum was established by two visionary women: Louise Caldwell Murdock, who in 1915 bequeathed her estate to establish a trust for the purchase of an American art collection for the people of Wichita, and Elizabeth Stubblefield Navas, who spent two decades acquiring works to establish WAM as a premier American art museum.

"Our museum has always held the aspiration of building an American art collection that truly reflects the rich and diverse tapestry of our nation," said Hedrick. "We would never part with works that are core to our American collection. When this unique opportunity presented itself, and because Henry Moore is British, we recognized the immense potential it held for our museum and our community."

Kraybill emphasized that the establishment of an American Art Acquisition Fund will not only strengthen the Wichita Art Museum's commitment to American art but also align with the museum's steadfast dedication to diversity, equity and inclusion. By diversifying its collection, the museum strives to ensure that all Americans' stories are represented and celebrated.

The Moore was originally purchased in 1977 with funds donated by community members and franchisees of Pizza Hut in honor of Pizza Hut Founders Dan and Frank Carney.

"In 1977, my brother Frank and I were honored when the community came together to purchase a work of art as a tribute to our entrepreneurial success. I put my full support behind the creation of an American Art Acquisition Fund. The proceeds of this sale, which will result in new artworks for years to come, is a tremendous opportunity for the Wichita Art Museum and our community," said Dan Carney.

Ken Wagnon was one of many who, in 1977, contributed to the fund to purchase the Moore. When asked his thoughts as to the sale of the sculpture, he stated that knowing of Dan's enthusiastic support, he also supported this opportunity to establish an American Art Acquisition Fund and was thrilled his original contribution could have such an impact nearly 50 years later.

"We are thrilled about the possibilities that this sale has unlocked," said Paula Downing, past board chair and current chair of WAM's Collections Committee. "This infusion of resources will enable us to broaden the narratives we present and provide a more inclusive experience for our visitors. We cannot wait to share the fruits of this acquisition fund with our community."

The museum's Collections Committee follows the Association of Art Museum Directors guidelines for deaccessioning, which states that proceeds from the sale of art must be used for acquisitions of art and collections care. The deaccession and sale was approved May 9 by WAM's Board of Trustees. The Moore sculpture will remain on view on the Dan and Frank Carney Sculpture Terrace until the work is deinstalled and transported to the Henry Moore Foundation in London later this summer for assessment and conservation.