A Disgruntled Florida Man Just Plowed His Car Into a $300,000 Blue Bunny Sculpture
His Second Time Vandalizing Public Art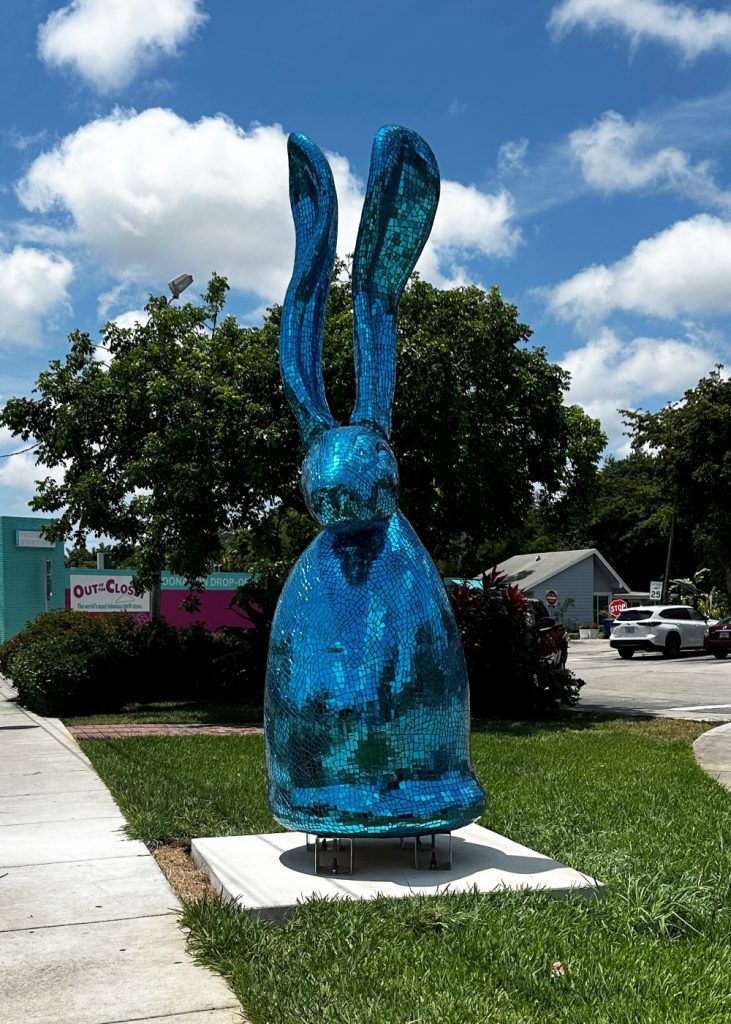 Artnet_ Public art can't please everyone. This past weekend in Florida, a 49-year-old man drove his car into a large blue rabbit sculpture on the side of the road—an act of intentional vandalism that was caught on camera.
Police were called to the scene by witnesses shortly after the incident, which took place at Justin Flippen Park in the city of Wilton Manors on Sunday, according to NBC South Florida. CCTV footage showed the man pull over and get out of his car to retrieve and reattach a piece of the vehicle before fleeing.
By tracking down the car, the police soon identified its driver as Derek Alan Modrok, who turned out to be a repeat offender. On May 16, he smashed his car into a sign, also at Justin Flippen Park, and only two days later he collided with a popsicle statue at Rachel Richardson Park.
Made by the American artist Hunt Slonem, Thunderbunny stands 14 feet high and is worth $300,000. This price reflects the work's arduous production process, which took over a year and involved more than 30,000 pieces of glass.
"It's very disappointing and shocking," Slonem told NBC. "The point of the sculpture is to make people joyous and to celebrate life and revere the rabbit."
Modrok, who has admitted to the crimes, claimed they were motivated by his anger with the city's former mayor Justin Flippen. He has been charged with three counts of criminal mischief.
The damage to Thunderbunny mainly occurred at the bottom of the statue, where an area of the glass is broken with pieces missing.
"I'm committed to making art for the rest of my life regardless of such acts of destruction and hope that we find ways of better protecting public pieces in the future," Slonem said in a statement. "I've received many comments from people appreciating the work as well as condemning this act of violence against it."
The sculpture had been loaned to the city by Slonem and had only just been installed about two weeks ago. It is now up to commissioners to organize the work's repair.
Slonem is predominantly known as a neo-Expressionist painter of exotic flora and fauna. Bunnies appear frequently in his work.