Ilya Kabakov, Pioneering Installation Artist and Gimlet-Eyed Critic of Russia, Dies at 89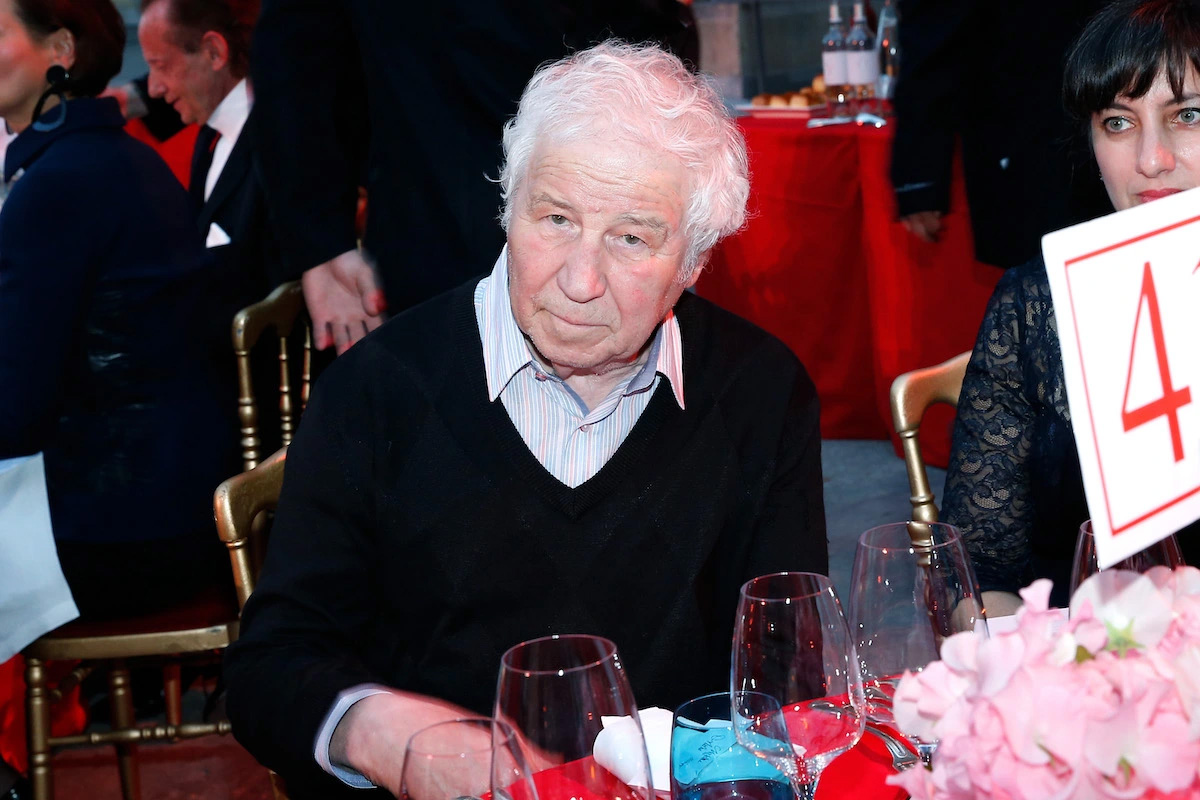 Artnews_ Ilya Kabakov, an artist whose expansive works sharply directed their aim at the imploded dreams of the Soviet Union, ushering in new possibilities for installation art in the process, died on Saturday at 89. His death was announced by his family that same day.
In vast installations, Kabakov took up the many failures of the Soviet Union, where he lived for decades before departing for the West in 1987. By building out the worlds of imagined characters via room-size artworks, Kabakov offered heightened versions of the reality he lived for viewers across the globe.
Kabakov's visions were unsparing, sad, and explicitly critical of the state, and were, in that way, quite unlike the government-approved art being made in the Soviet Union. For that reason, he became a giant of the "unofficial" art scene of the Soviet Union, covertly—and even dangerously—producing work that existed beyond the mainstream.
These works could not be shown in the Soviet Union, but they could be realized elsewhere. With the end of the Cold War, Kabakov found success in the West—and ended up shifting art-making in Russia, where many artists have looked to his work for inspiration. When he and his wife Emilia had a Tate Modern retrospective in 2018, art historian Claire Bishop labeled him "the paradigmatic installation artist."
Kabakov's breakthrough came in 1988, when he became an overnight success after opening a solo exhibition at Ronald Feldman Fine Arts in New York. The show he staged there, "Ten Characters," was a grouping of installations that simulated the look of a 10-room communal apartment where Kabakov lived as a child. Such shared apartments were common among the many who couldn't afford to live alone, and Kabakov recalled his in the form of rooms that were each inhabited by an unseen character.
The Man Who Flew into Space from His Apartment (1985), the most famous of them, featured a cloistered space whose walls are lined with propagandistic Soviet imagery. In its center, hanging from a hole torn into the ceiling, is a ramshackle slingshot by which the inhabitant apparently launched himself out of the room. If the Soviet Union promised human betterment through the space race, this resident seems to have taken matters into his own hands, likely only to fall short of reaching the stars.
The exhibition was a critical success. "For this visitor, it beats the movies, any day," John Russell wrote in the New York Times. "The truthful expression of unadulterated identities is laid bare, unprotected by convention," Kirby Gookin wrote in Artforum.
Ilya and Emilia Kabakov's 2014 Grand Palais commission featured a giant satellite dish
This kind of art-making stood in marked contrast to much of what was being produced in the Soviet Union at the time. "I was not a Russian artist who wanted to show Russian art to the West," Kabakov once said in an interview with Anton Vidokle, a Russian-born artist who founded e-flux. "The conceptual position was to look at Soviet life through the eyes of a 'foreigner' who has arrived there."
As international favor for Kabakov grew, his installations expanded in size. Labyrinth (My Mother's Album), a 1990 work now owned by the Tate, guides viewers through a maze that pays homage to Kabakov's personal experiences; it even features audio of him singing Russian songs. Walking through the mostly vacant corridors lit only by hanging bulbs, one ultimately comes to the center, a room with nothing but rubble. The viewer is left to consider how this compares to professional photos of the Russian city of Berdyansk exhibited elsewhere in the installation, taken by his uncle. These are images of Russia the government may not wish to show off.
In 1989 Kabakov began working with his niece, Emilia, whom he later married. Together, they lived in Berlin, then Paris, and finally in New York, where they settled on Long Island. Only periodically did he return to Moscow, the city where he had been based for decades before that.
Even after the Soviet Union broke apart, Kabakov continued to produce art about the sense of utopia associated with it. "The fence of communism is gone now, so my work is about a world that no longer exists—it's a strange feeling too, having the world I lived in for so many years disappear," he told the Los Angeles Times in 1995.
Ilya Kabakov was born in Dnepropetrovsk, Ukraine, in 1933. When World War II started, his father went to fight, leaving him alone with his mother, who moved first to the Caucasus, then to Samarkand. Because his father did not return after the war, they lived nomadically, ending up in Moscow, where he attended art school at the Surikov Art Institute.
But, Kabakov once recalled in an interview with the New York Times, "I learned everything like a monkey, without any feeling at all. And when I finished, I felt that I was not alive. So I decided to create a masterpiece, into which I could put all my ideas and everything I had ever felt and all the beauty I had seen. I believed that this work would make me real." He started a large painting, then left it behind.
Publicly, Kabakov produced well over 100 children's books that earned his living. Privately, during the '70s and '80s, Kabakov became a leader of a movement known as Moscow Conceptualism, whose style was slippery enough to avoid censorship. Answers of an Experimental Group (1970–71), one of the works produced during that era, features a ready-made hanger alongside a grid of phrases meditating on art-making. The philosopher and art critic Boris Groys, a colleague of Kabakov, admitted that the work wasn't entirely successful, but still praised it as "liberating," noting that it put him on a new path in his own writing.
Although he created pieces like that one largely out of the public view, the Kabakovs' work ended up being exhibited in Russia. In 2008 the Russian oligarch Roman Abramovich put $3 million toward refurbishing an old garage that was later turned into a Moscow art center, aptly called Garage, that exhibited a grouping of Kabakov installations. That same year, Abramovich turned heads when he bought one of Ilya Kabakov's paintings for more than $5 million at auction.
By 1995 Kabakov had diagnosed the "firm hostility of collectors who don't have the place to house" his room-filling works, known as "total installations." Things had clearly begun to change, making him uncomfortable. He termed the crowd that showed up for the Garage opening rozovii gnoi, or pink pus.
Alongside the installations, the Kabakovs continued to produce grand paintings. They weren't well-received in the West. Claire Bishop wrote in her Artforum review of the Tate Modern show that they are "hideous, overscale pseudocollages whose bombast gives Jeff Koons a run for his money—but instead of the latter's porno-slick Photoshop effects, we had socialist-realist images fragmenting in layers of trompe l'oeil."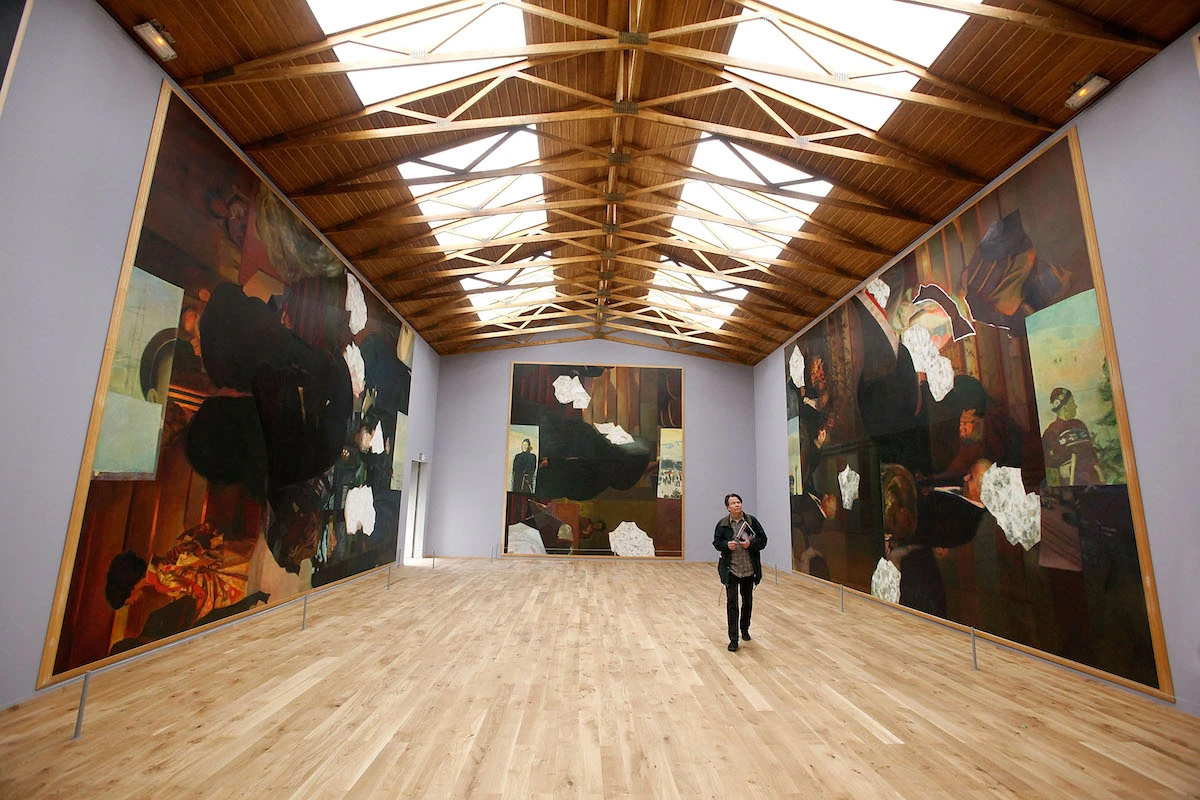 Recent paintings by Ilya and Emilia Kabakov
Still, the Kabakovs continued making their total installations, most notably at the Paris Grand Palais, where they staged the 2014 "Monumenta" commission, filling the entire space with an enormous work called Strange City that included a vast satellite dish.
Across the years, the Kabakovs' works appeared in many international venues, including multiple editions of the Venice Biennale and one edition of Documenta, and in big surveys at institutions like the Hirshhorn Museum and Sculpture Garden in Washington, D.C., and the Pushkin Museum in Moscow, where they had a retrospective in 2008.
Kabakov remained staunchly critical of Russia until the end; the obituary for him by TASS, Russia's state-run news agency, noted that his foundation's Facebook page is still banned in the country. Although he did not speak much about the war in Ukraine, Emilia did, calling it, in an interview with the Art Newspaper in 2022, the "most frightening of wars because it seems possible that it could lead to all-out nuclear war."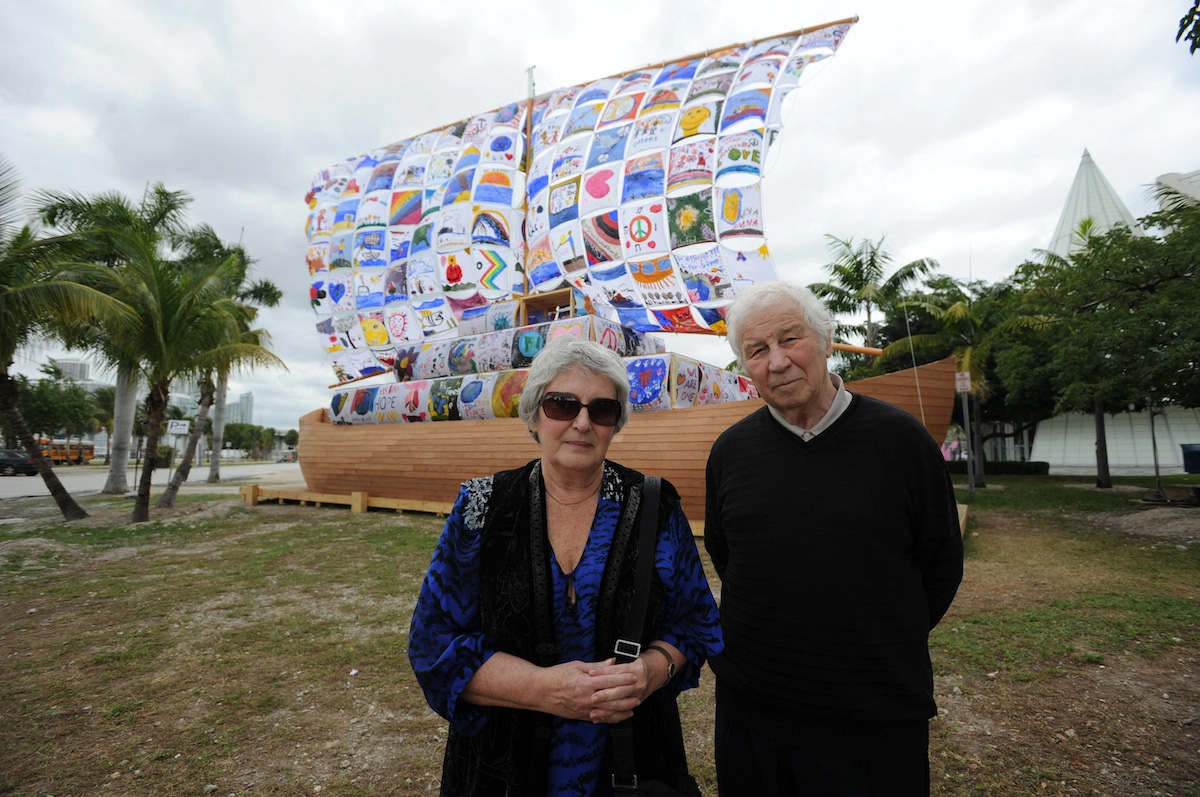 Emilia and Ilya Kabakov with their Ship of Tolerance
Despite the sourness of their art, the Kabakovs did periodically voice optimistic sentiments. In 2005 they launched a project called Ship of Tolerance, a wooden boat whose sails are covered with children's drawings about tolerance. In the past two decades, the piece has visited Sharjah, Miami, Havana, New York, and the Siwa Oasis in Egypt.
"The goal of course is the connection to other cultures, and the ship is the symbol," Ilya told ARTnews in 2011. "The children are very sensitive to this. Other symbols are the wind, the message in the bottle, freedom of the sea. The children have to know that their message will be heard."