Damien Hirst`s Colorful Spin Painting of Leonardo DiCaprio Just Raised $1.3 Million for Charity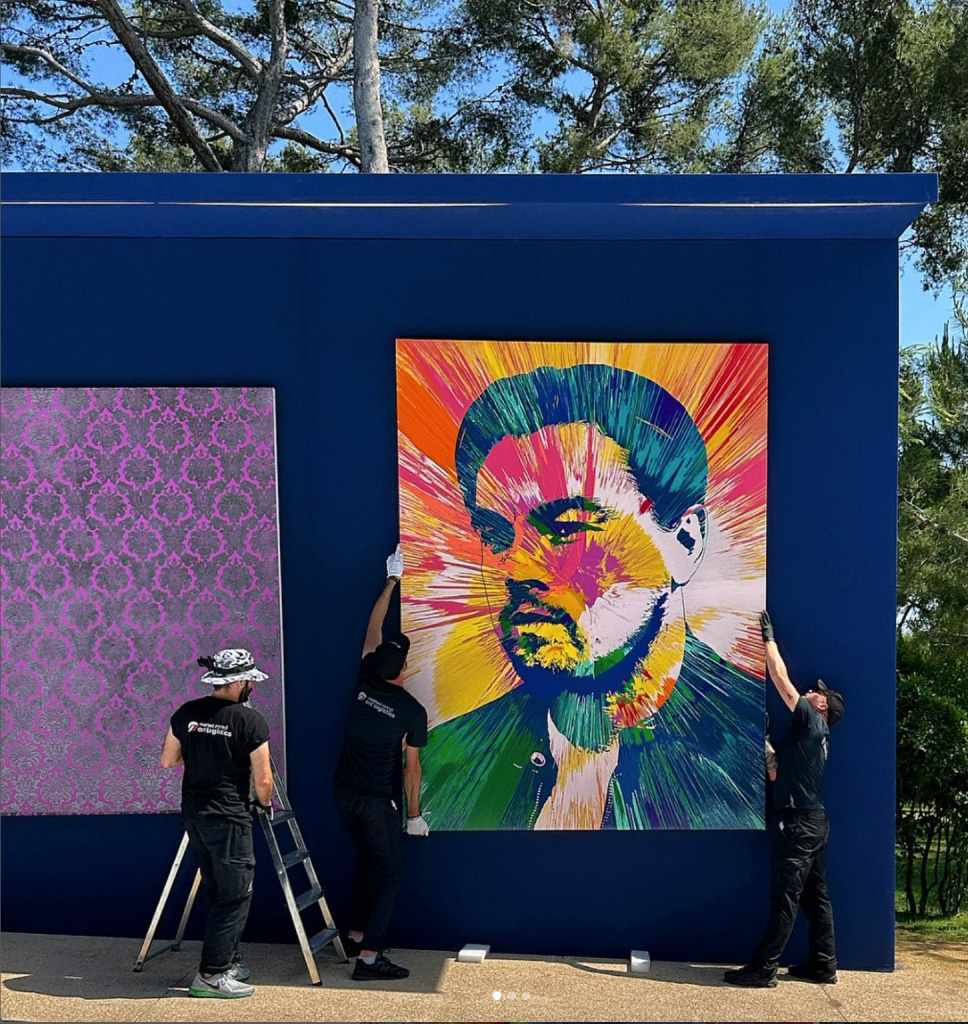 Damien Hirst's painting of Leonardo DiCaprio being installed at the amfAR gala in Cannes
Artnet_ An enormous painting of Leonardo DiCaprio by Damien Hirst sold at a charity auction for $1.3 million.
Hirst's Beautiful Leonardo DiCaprio Looking Away Painting was painted in 2016 and is an adaptation of Hirst's celebrated Spin Paintings from the 1990s in which he doused and dribbled paint from on top of a ladder onto revolving canvases. The work, which is signed by both the famous actor and artist, is an energetic swirl of pink, yellow, and green with DiCaprio captured in a deep blue silhouette.
The piece was donated by collector Christian Levett and sold at the amfAR Gala in Cannes, France, on May 25. The fundraiser for AIDS research has raised north of $500 million since launching in 1985 with this edition taking place at a moment when the world of celebrity descends on the French Riviera for the Cannes Film Festival. This year's event was hosted by Queen Latifah and was attended by a wealth of models and celebrities including Eva Longoria, Heidi Klum, Rebel Wilson, Alek Wek, Orlando Bloom, and Kate Beckinsale. It also featured performances from Gladys Knight, Halsey, and Adam Lambert.
"Charity auctions can also be an indicator as to the state of the art market," Simon de Pury, the auctioneer at the amfAR Gala, told Artnet News. "I started the auction at €100,000. Multiple bids coming from all parts of the marquee and over the telephone made the price quite rapidly climb up to €1.2 million. This is the first time I witnessed the same work first raise a substantial amount for one charity and then for another."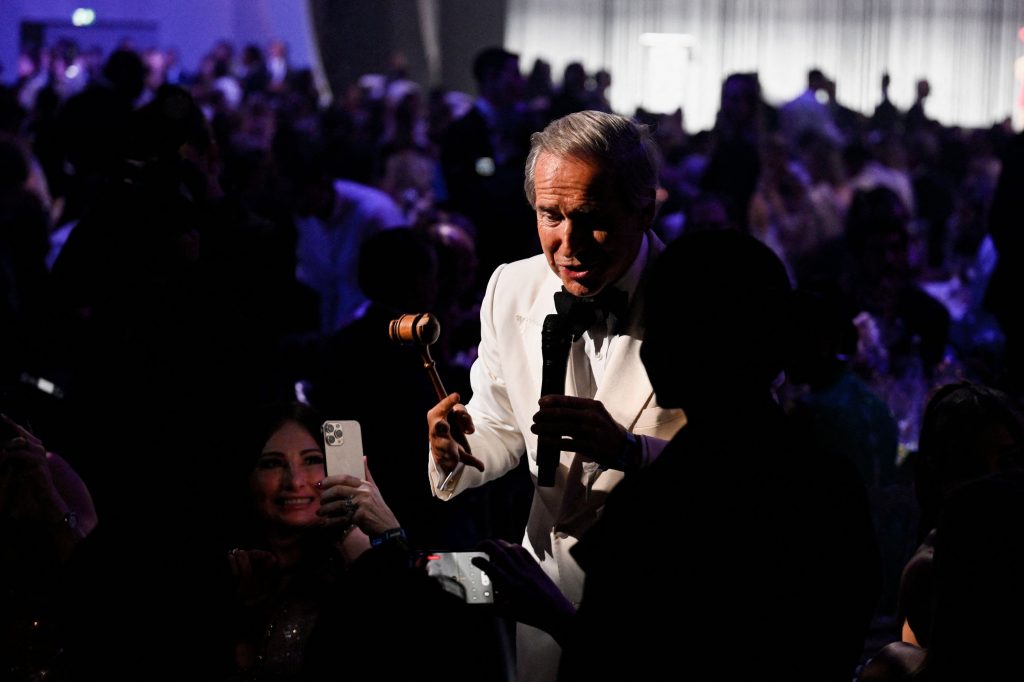 Simon De Pury conducts an auction during the annual amfAR Cannes Gala
Levett originally acquired the 111"x 84" work at the Leonardo DiCaprio Foundation Gala & Auction for €600,000 in 2016. "Happy to donate one of my Damien Hirsts last night to raise money at the Amfar charity dinner," Levett wrote in a message on Instagram. Despite the success, it lags behind Hirst's $15 million record price paid in 2014 for Gone but not Forgotten, a golden woolly mammoth skeleton.
All told, the amfAR gala raised $17 million in total. The top lot was the first Aston Martin DB12 customer car, which sold for $1.6 million, with the auction also including artwork from Claire Tabouret, Cecily Brown, Andres Valencia, and Robert DeNiro.
The sale of the DiCaprio-centric work takes place in the wake of Hirst launching a digital form of his Spin Paintings in early 2023. The Beautiful Paintings guided collectors to an online dashboard where they could create their own work by selecting up to 12 colors, one of 25 spin styles, and one of four canvases sizes. Collectors could have the work produced as a physical piece, an NFT, or both. It sold 5508 paintings and generated more than $20 million in sales.