Zaha hadid`s daxia tower in xi`an emerges as a cascade of planted interior terraces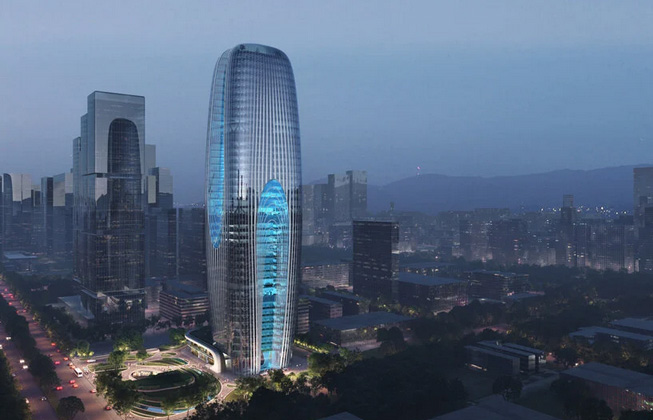 Dsignboom_ Zaha Hadid Architects has taken on the project of the new Daxia Tower located at the heart of Xi'an, one of China's largest inland cities. Xi'an, with a population of around nine million, is historically important as an ancient capital and Silk Road gateway. In recent years, it has grown significantly due to government support and the presence of acclaimed universities and research institutions. The city has become a bustling technology hub, attracting both national and international companies, particularly in fields like semiconductor manufacturing, robotics, aerospace, and bio-pharmaceuticals.
The Daxia Tower emerges with a gently curving silhouette accentuated with patterned glazing and grand atriums that flood the interior with natural light. Creating a cascade of planted interior terraces, these atriums offer stunning views of the historic city to the north and east and the burgeoning high-tech zone to the south and west. Designed with data analytics and behavior modeling, the tower's interiors prioritize adaptable and future-proofed workplaces, leveraging real-time analytics to create healthy and enjoyable environments for employees.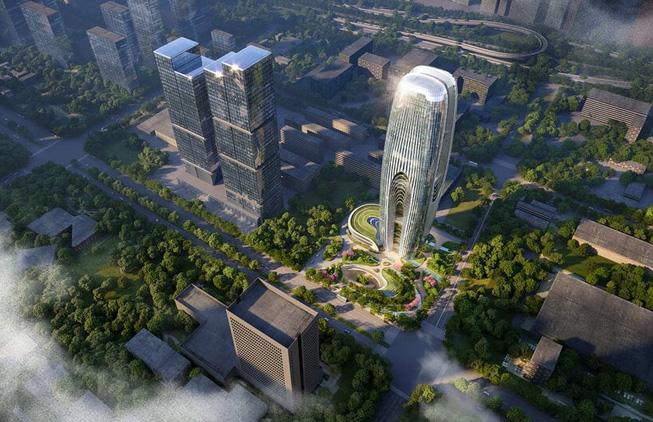 In the southwest of Xi'an lies the Xi'an High-Tech Economic and Technological Development Zone. This area hosts the manufacturing and research centers of many Fortune 500 companies and multinational corporations. At the center of this high-tech zone, on Jingye Road, will stand the newly constructed Daxia Tower by Zaha Hadid Architects, which is crucial in driving Xi'an's economic growth.
The Daxia Tower occupies a 16,700 sqm site at the intersection of Jingye Road and Zhangbawu Road in the Yanta district of Xi'an. Rising to a height of 210 meters, it encompasses 127,220 sqm of office spaces, retail outlets, and other supporting facilities. The tower seeks to merge with the surrounding urban environment of the development zone, forming the heart of Xi'an's business district, which features a collection of high-rise buildings housing corporate headquarters, commercial offices, international hotels, and residential developments.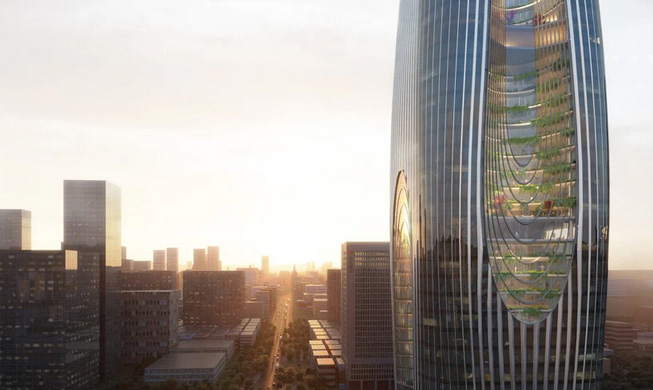 To align with Xi'an's climate, the tower aims for LEED Gold certification and China's highest three-star rating in the Green Building Program. It optimizes natural daylighting and ventilation through high-performance glazing with thermal coatings, reducing energy demand and enhancing efficiency. Integrated sensors and photovoltaics allow for renewable energy generation.
The tower incorporates natural ventilation, and the lush terraces overlooking the atriums aid in purifying the air, reducing indoor pollutants, and promoting a healthier indoor environment. Through rainwater harvesting and grey-water recycling, the tower minimizes water consumption and implements sustainable water management. A smart management system continuously monitors and optimizes energy consumption and environmental performance, adapting to occupancy patterns and weather conditions to ensure maximum efficiency and comfort for occupants.
The procurement and construction of the tower prioritize the use of recycled and locally-produced materials from Xi'an and the surrounding Shaanxi province.