Nigerian upcycling artist creates portraits from waste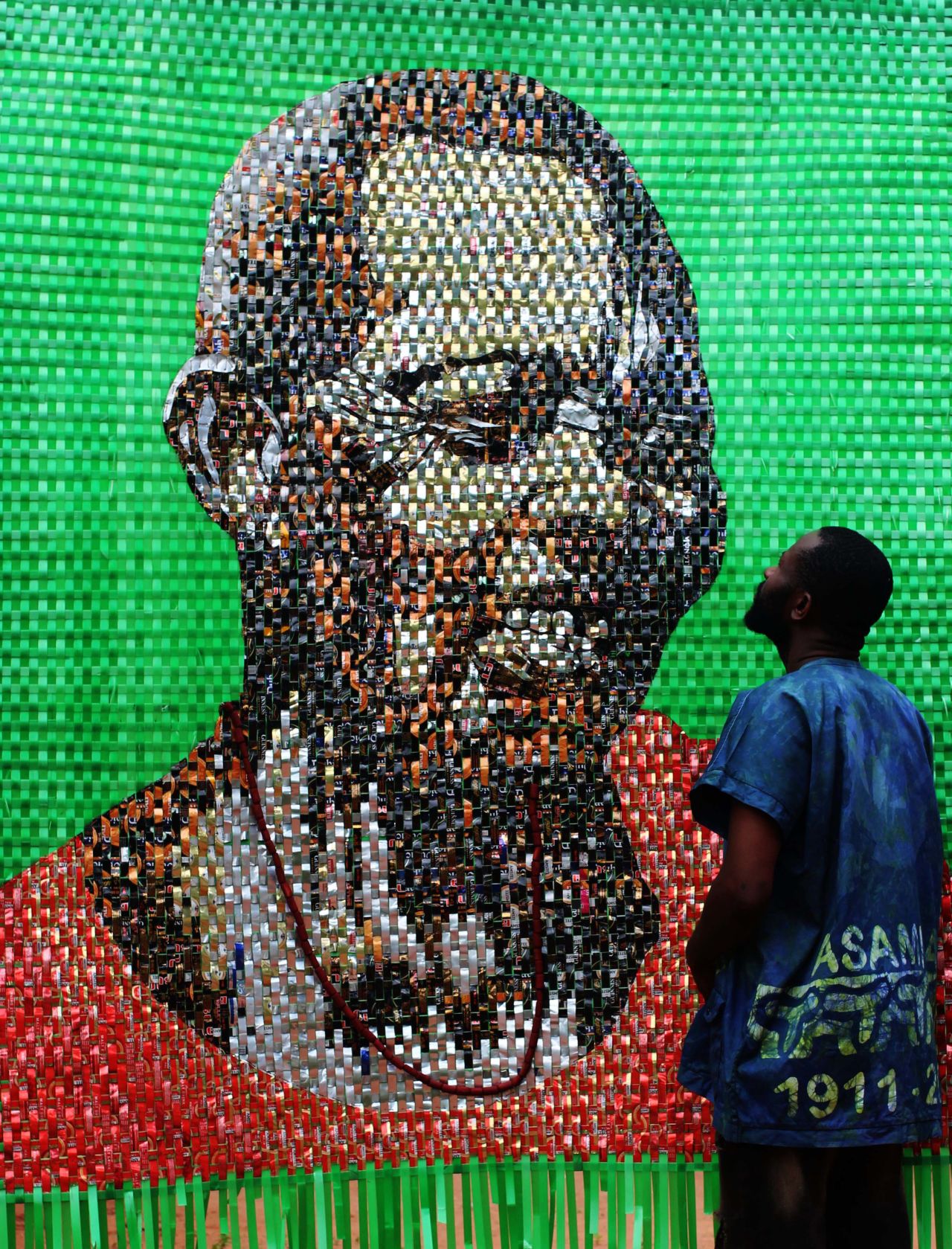 CNN_ In Nigeria, recycling is largely an informal process controlled by small companies, and waste often ends up in waterways and overflowing landfills. But where others see trash, 37-year-old Nigerian artist Chibuike Ifedilichukwu sees opportunity. He creates portraits of celebritiesfrom discarded aluminum cans, making a bold statement about waste management in the country.
Ifedilichukwu credits his eco-consciousness to his grandmother, who he lived with as a boy in Anambra state, southeastern Nigeria. He learned to weave at school there, but it wasn't until recently that he began incorporating waste materials.
One day in 2021, while accompanying his wife to an antenatal clinic, Ifedilichukwu says he stumbled upon a pile of dumped plastic strips. He took them home, wondering what to do with them, but it wasn't until a year later that he leaned on his childhood craft influences to upcycle the plastic into art. "I wanted to find a unique way to express myself and I researched. I found that nobody does this pattern of art," Ifedilichukwu told CNN.
"I'm creating awareness"
Based in the city of Awka, he now creates abstract pieces and portraits from aluminum, wood, plastic, metal, copper wire and rope, along with bullet shells, and injection bottles donated by community-based hospitals.
Dumpsters in his neighborhood have become an unconventional art material supply store for Ifedilichukwu. "When I go scavenging, people see me as a mad person," he said. "But I'm making a living out of it … and I'm creating awareness to make our environment safe."
After a successful day of dumpster diving, Ifedilichukwu gets to work, beginning with washing and disinfecting the cans and plastic strips. He cuts the ends off the cans to unfurl them like wrapping paper, then he uses a ruler and craft knifeto carve the cans into strips, which he interweaves to form a canvas on which he sketches his subject in pen.
Next, he interlocks the colorful outer part of the cans into the plain part of the canvas to create portraits. It's a technique inspired by both fabric and mat weaving, or "nka-ute" in Ifedilichukwu's Igbo dialect. Each piece takes him up to two weeks to complete.
His subjects include American rapper Cardi B, award-winning Nigerian author Chimamanda Ngozi Adichie and Nigerian music label founder Don Jazzy. In future, he plans to feature only eco-conscious celebrities, including Swedish climate activist Greta Thunberg and actor Leonardo di Caprio, and he has already created a portrait of Afrobeats star Davido, who has worked with conservation group WildAid.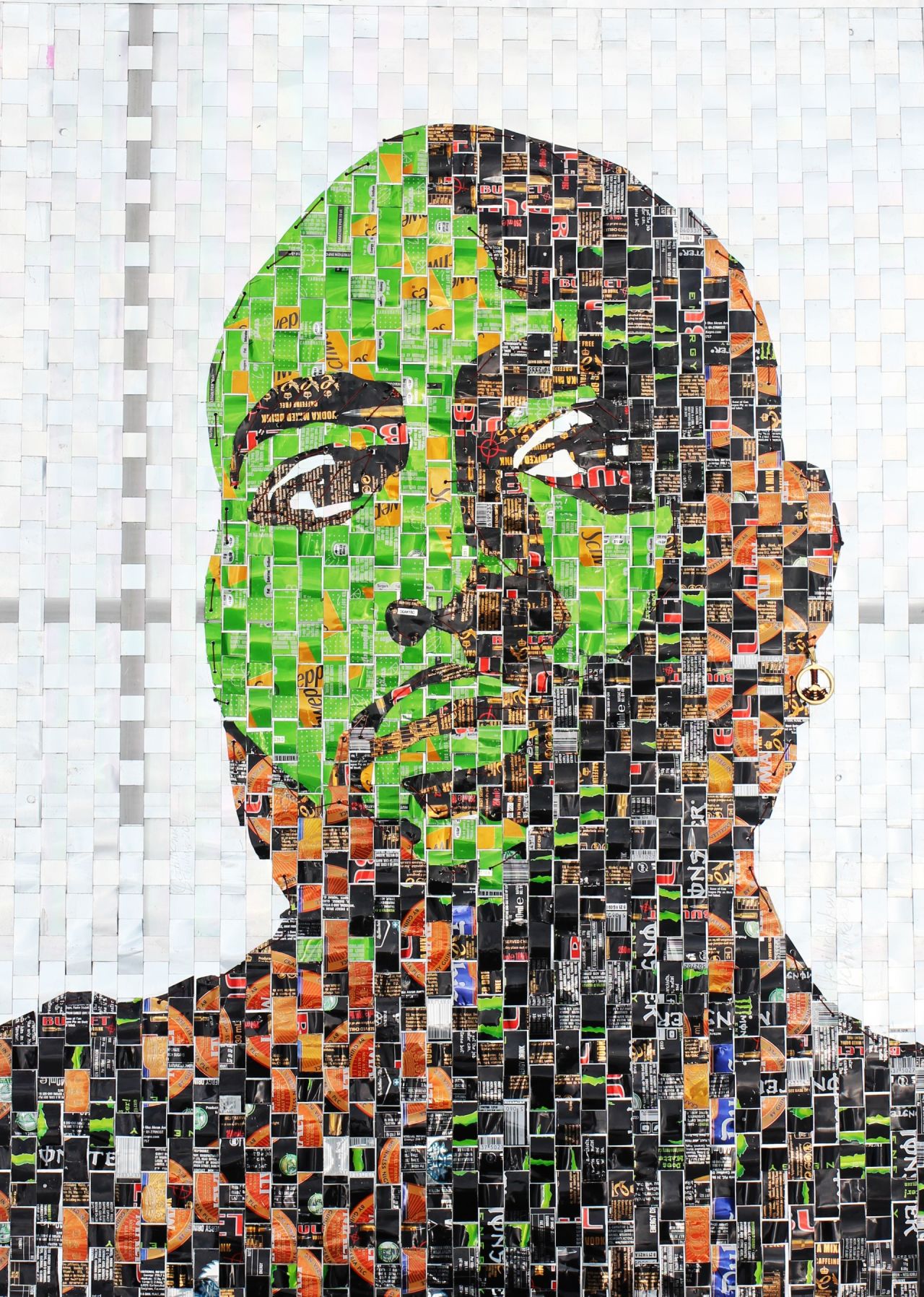 Ifedilichukwu, who is also a photographer, graphic designer, print maker and curator, has created at least 40 pieces of upcycled art, which have featured in national and international exhibitions. His works have gone viral on social media and sold for up to $1,000 per piece.
But success for Ifedilichukwu is at the intersection of his art and attitudes towards waste, "at the point when people are environmentally conscious, and are willing to accept and adopt proper waste management as individuals and government agencies." He said he aims to build a community-based art gallery that recruits budding artists for environmental advocacy.
Ifedilichukwu is also willing to suffer for his art. Although he wears gloves when he works, he says he's been cut many times by sharp-edged cans, craft knives, scissors, needles and steel wire.
"(Getting cut) is not a problem for me. It will heal," Ifedilichukwu said. "It's also become part of the message. I feel the pain the waste would have caused to the environment."