Kith Campaign Goes Viral Amid Claims That It "Ripped Off" Felix Gonzalez-Torres Candy Piece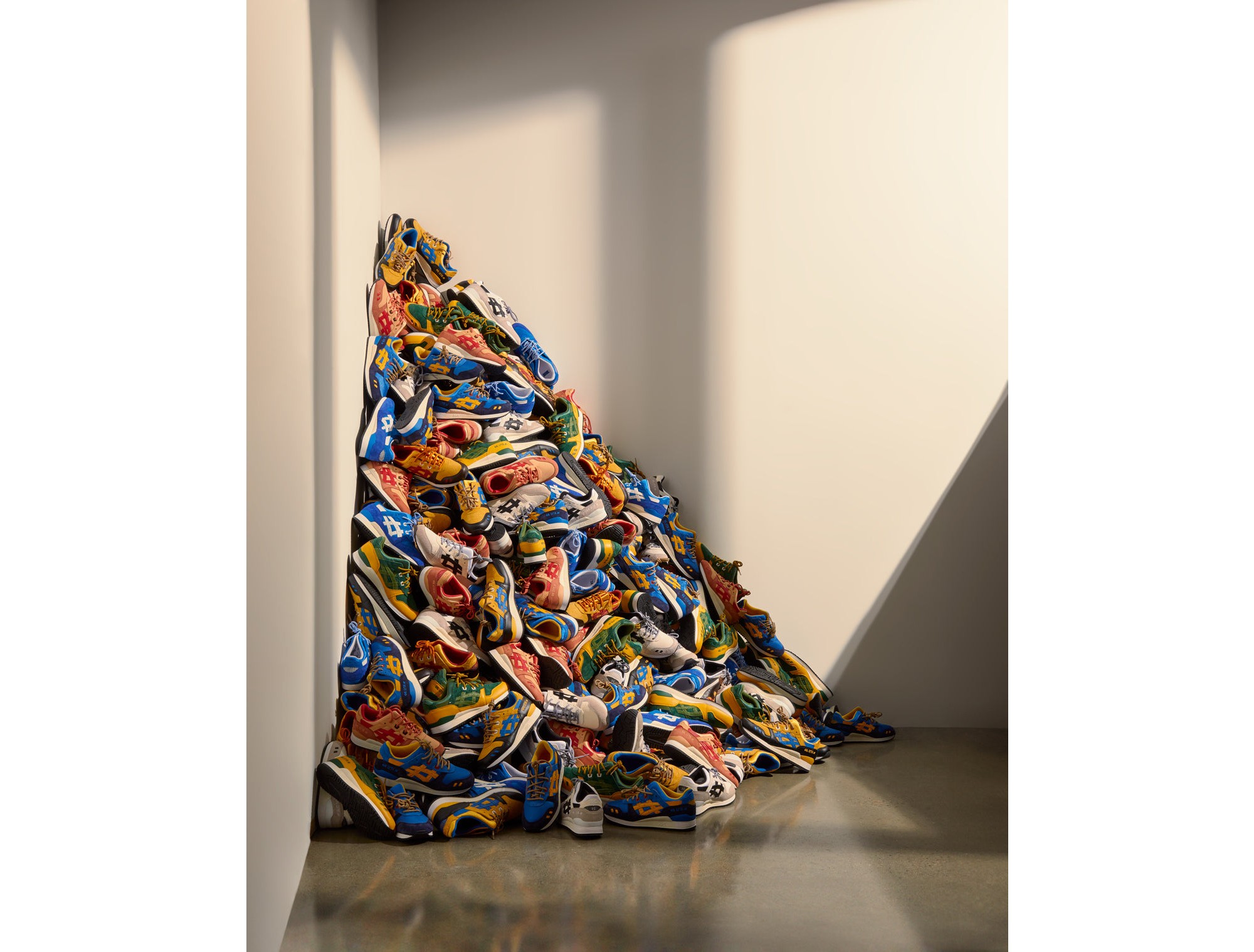 Artnews_ A Kith shoe campaign meant to mark the 60th anniversary of the X-Men franchise has drawn comparisons to Felix Gonzalez-Torres's iconic work, with many alleging that it draws too heavily on the artist's famed candy pieces.
The campaign, which debuted in July, was teased with an image of shoes that were piled in a corner. This is a mode of presentation that recalls a common one for Gonzalez-Torres's candy pieces, which have been exhibited in a variety of ways. While they have been frequently shown against walls or in corners, the candy pieces have also been spread out across floors in carpet-like formations.
"I cannot believe no one told me that KITH ripped off Félix González-Torres's piece about his partner dying of AIDS for a drop celebrating ***the 60th anniversary of the X-Men franchise***," wrote the designer and writer Elizabeth Goodspeed in a post on X/Twitter yesterday. Her post has now amassed more than 30,000 likes.
While she didn't name which piece, Goodspeed may have been referring to "Untitled" (Portrait of Ross in L.A.), from 1991, which calls for an array of wrapped candies to be arranged in dimensions depending on its installation. This work, like other candy pieces, is a portrait of sorts, with its subject in this case being Gonzalez-Torres's boyfriend Ross Laycock, who died of AIDS-related complications the year the work was made.
Like other candy pieces, "Untitled" (Portrait of Ross in L.A.) has an "ideal weight"—in this case, 175 pounds, a number meant to correspond to the average male body weight. According to a list of materials supplied by the Felix Gonzalez-Torres Foundation, the candies are exhibited in "endless supply," meaning that they can be replenished as viewers take them away and consume them.
While the common interpretation of pieces like "Untitled" (Portrait of Ross in L.A.) has been that they are about the AIDS crisis, death, or both, Gonzalez-Torres discussed these works in a variety of ways. There are also other pieces that do not explicitly take up these topics, such as 1990's "Untitled" (USA Today), featuring red, white, and blue sweets in allusion to a similarly named newspaper, and "Untitled" (Portrait of Marcel Brient), a grouping of candies in blue wrappers that alludes to a French collector who bought Gonzalez-Torres's work. Both of those works have also been shown in corners.
The Kith campaign, released in July, was a collaboration with Marvel and ASICS, and featured seven new versions of the GEL-LYTE III shoe that are meant to pay homage to X-Men characters. The announcement for the collection did not mention Gonzalez-Torres's work.
The photograph of the piled shoes appeared to only be a teaser image used to promote the new GEL-LYTE III shoes—it was not clear whether viewers could take away these sneakers, or if this mound had even been exhibited publicly. A Kith spokesperson did not respond to request for comment.
In a follow-up tweet, Goodspeed wrote, "I doubt this was intentional, but I don't think that makes it any better—still a massive oversight that no one thought of / knew either visually similar reference, both of which have important context and intense emotional meaning. Inept moodboarding or media illiteracy at best!"
A representative for the Felix Gonzalez-Torres Foundation could not be reached for comment.