Red sea project update: watch killa design`s sheybarah island villas take shape in saudi arabia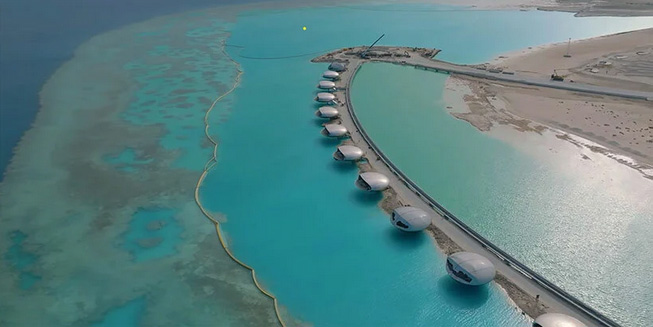 Designboom_ Following the news of the Shura Island construction progress in Saudi Arabia, the updates on the Red Sea Project continue. Recently released footage by the developer showcases Sheybarah Island, where both overwater and inland villas are taking shape. Designed by Killa Design, the architecture firm led by Shaun Killa, these structures emerge as floating orbs that complement the horizon with their reflective mirror surfaces. Meanwhile, the inland structures draw inspiration from the mesmerizing sand dunes.
'Now, we are at the peak of the construction: we've already installed 26 villas,' reveals Ahmed Alrediny, Senior Project Specialist at Red Sea Global. 'Seeing a project like Sheybarah here in Saudi Arabia is something to feel proud of. I'm super excited to see the project come to reality,' he adds.
The team at Red Sea Global describes the project at Sheybarah Island as 'something that has never been built before'. They have enlisted Dubai-based Killa Design to develop the accommodation units for what they consider to be one of their most ambitious islands. The villas take shape as futuristic steel orbs, floating above the water's surface, reflecting the sea, sky, and reef below. The design takes its cues from the island's natural surroundings, particularly the corals, giving rise to the circular effect. This circular motif serves as a symbol for unity, integration, and wholeness. On the other hand, the inland villas are designed to be reminiscent of the sweeping desert sand dunes, thoughtfully situated to provide guests with a sense of privacy.
'These villas are a prime example of how Red Sea Global enhances, preserves, and looks after the environment,' shares Ahmad Ismail Executive Director at Red Sea Global. In a recently revealed video, Ismail explains that the unique 'orb' structures are manufactured off-site in the United Arab Emirates, offering a customized solution. The villas are transported from the factory via carriers on the sea, and then carefully offloaded onto the installation board. This meticulous approach ensures that the villas can be placed on top of the water without causing any disruption to the surrounding area and the delicate nature of the environment. Given their substantial weight of around 120 tons, every step of the process requires utmost care and precision to ensure the safety of both the structures and the environment around them.