Climate Protestor Smears Pink Paint on Tom Thomson Painting at National Gallery of Canada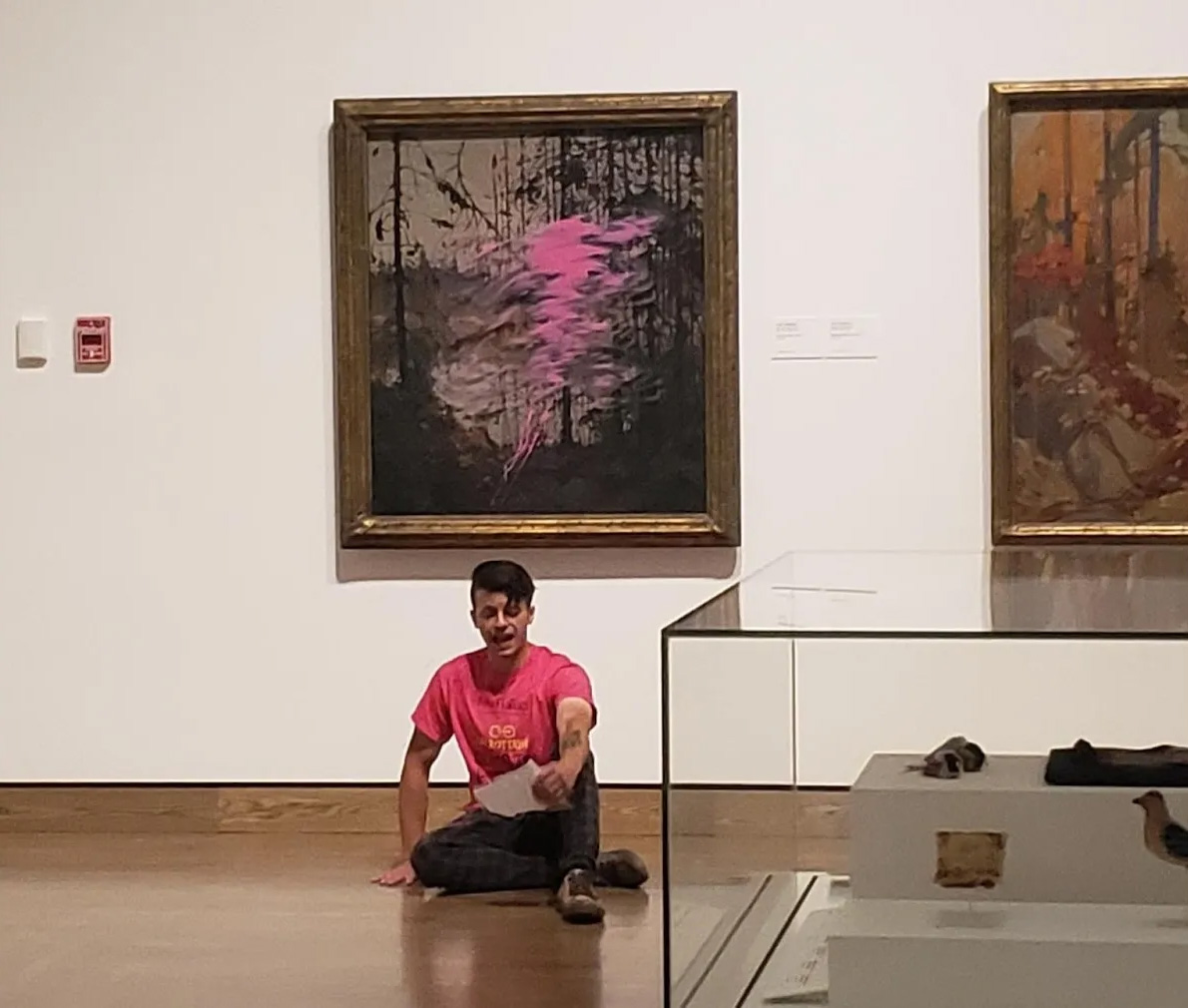 Artnews_ A climate activist smeared pink paint on a Tom Thomson artwork at the National Gallery of Canada as part of activities this week drawing attention to demands for a national firefighting service.
A video uploaded to Facebook by the group On2Ottawa appears to show Kaleb Suedfeld, 28, splashing paint onto Thomson's 1915 landscape Northern River, kneeling and gluing his hand onto the floor before pulling a written speech from his pocket.
"Fossil fuel industries are destroying the work of art that is our planet and our government is firmly in their grip, doing nothing to stop their crimes," Suedfeld said, before citing the damage forest fires have caused across the country this year, with thousands of people evacuated, the deaths of four firefighters, as well as an estimated at 37 million acres burned. "We are shocked that the governments around the world, including our own, are allowing our beautiful planet, this work of art, to be gutted and burned to fuel the pockets of fossil fuel plutocrats."
Northern River is protected by glass, and On2Ottawa spokesperson Laura Sullivan confirmed to ARTnews that the pink paint used in the incident is washable.
On2Ottawa describes itself as a "non-violent civil disobedience campaign designed to encourage Canadian governments to take urgent and meaningful action on the climate crisis." The climate group is demanding the Canadian federal government establish a national firefighting service of 50,000 members to deal with the growing issue of forest fires. The group also wants to establishes a citizens' assembly with "legally-binding power to decide how to tackle the climate and ecological crisis in less than 2 years."
Sullivan told ARTnews that as of August 29, 12 of the group's members have been arrested for offenses in connection with blocking traffic in Ottawa. Sullivan herself was arrested earlier this month after splashing pink paint on the 'Toronto' sign.
A press release from On2Ottawa stated, "Further disruption in the capital is expected to continue for another week-and-a-half."
The National Gallery of Canada's press statement called the protest "unfortunate" but said Northern River was not harmed due to being displayed "in a protective glazed panel". While the painting had been "taken out from display for further evaluation", the museum said it was expected to be rehung shortly.
The Gallery also said it was collaborating with police. "The safety and security of our staff and visitors and of our collection remain our highest priority."
Since 2022, there have been an ongoing wave of climate protests targeting prominent works at art galleries and museums in Europe, Canada, Australia, and the United States. The protests have resulted in arrests, lawsuits, and even a federal indictment.
Last year, the Association of Art Museum Directors released a statement in response to several climate protests involving works of art in European art museums.
"This Association has always been clear that attacks on works of art cannot be justified, whether the motivations are political, religious, or cultural," the AAMD said in its statement. "Art crosses boundaries of time and place to underscore the creativity that people everywhere have expressed, and they represent our shared humanity."
"Attacking art for any purpose undermines those common bonds. Such protests are misdirected, and the ends do not justify the means."
One research study from the University of Pennsylvania also found the strategy of attacking famous paintings decreased support for addressing climate change.
On2Ottawa is well aware of these criticisms, but Sullivan said the action at the National Gallery of Canada garnered "astounding" amounts of media attention compared to other protest methods, such as writing petitions or contacting provincially-elected officials. "That does not get the coverage that we absolutely need to succeed as a project," Sullivan said.