A Group of Researchers Claims to Have Discovered a Long-Lost Raphael Painting. Critics Say It`s Just a Cheap Replica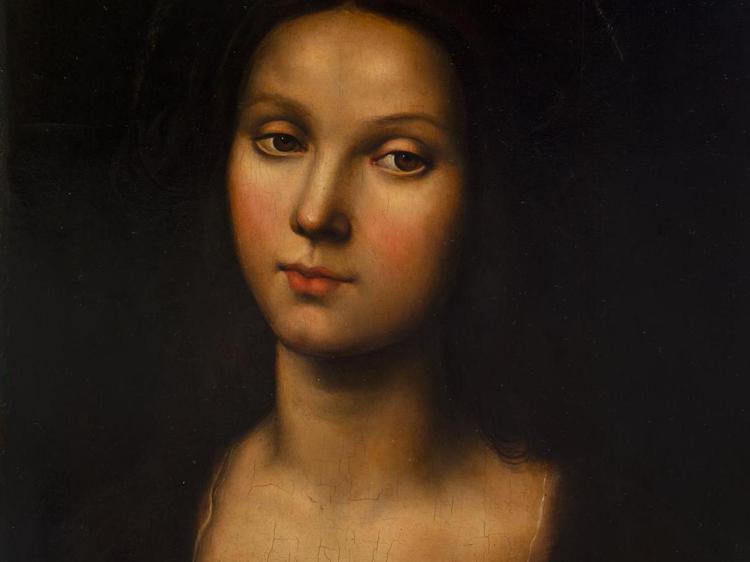 A 1504 painting of Mary Magdalene recently attributed by researchers to the Renaissance master Raphael Sanzio.
Artnet_ This week, an international group of researchers revealed the discovery of what they believe to be a long-lost painting by the Renaissance master Raphael Sanzio. But other experts aren't sold, calling the artwork an old, cheap replica.

Dated to 1504, the 18-inch-tall painting depicts Mary Magdalene against a near-black backdrop. It's modeled off an almost identical—and quite famous—portrait completed in 1500 by Raphael's master, Perugino, which is now housed at the Pitti Palace in Florence. In both pieces, Magdalene's face is based off that of Perugino's wife, Chiara Fancelli.

The recently revealed painting was found in the hands of an unnamed collector. A hands-on analysis of the piece's proportions and composition led researchers to the conclusion that it was created by Raphael. At the center of their argument is evidence of spolvero, a fine dust used to transfer the outlines of a preparatory drawing, found under the surface of the 1504 work.

Historical examples have shown that Raphael employed the transfer technique throughout his career. Perugino, the researchers contend, did not.
The results of the group's study, which are expected to be published in the next edition of the French journal Art and Science, were previewed during a conference held this week in the small eastern Italian town of Pergola. As word of the researcher's work spread, some in the world of art academia heralded the discovery of a new Raphael. Many more found the scientists' conclusions unconvincing.

Vittorio Sgarbi, a well-known art critic and the undersecretary to Italy's Ministry of Culture, was among those pouring water on the discovery. "No chance that the painting touted as Raphael… is by the Urbino master," he said. "It is only a journalistic scoop… based on the knowledge of a few."

A report published by the Italian art outlet Finestre Sull'Arte highlighted reasons for skepticism around the study, including the fact that Perugino did, in some cases, use spolvero. The article also pointed out that one of the researchers behind the project, Annalisa Di Maria, had previously come under fire for attributing a drawing to da Vinci prior to peer review.

"The game of the private individual owning a work 'more authentic' than that in a museum has already been attempted for Raphael," Sgarbi added, recalling a previous incident where a collector claimed to own a forgotten self-portrait by the artist. "Then the fever passed. But it is clear that private ownership, and the live knowledge of only a few scholars, are prejudicial to the recognition of the autograph."