studio echelmans billowing soft sculpture bending arc floats above florida pier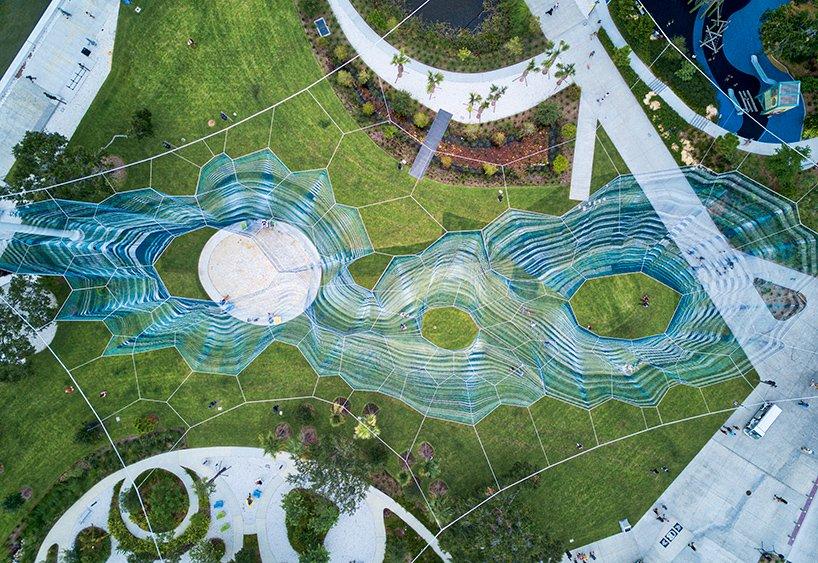 Designboom_with the opening of a 26-acre waterfront pier in st. petersburg, florida, janet echelman unveils her latest permanent work 'bending arc.' the monumental aerial sculpture is made up of 1,662,528 knots and 180 miles of twine, spanning 424 feet and measuring 72 feet at its highest point. while echelman's art expresses a celebration of change, the work gently billows above the park, allowing the wind to generate a continually shifting choreography throughout the sculpture's soft surface. the colors of the work constantly transform while its surface expresses an interplay with natural and projected light. in daytime the sculpture casts artful shadows across the park and people below, and at night it transforms into a glowing beacon of magenta and violet light.
in the development of the ethereal 'bending arc' at st. pete pier, artist janet echelman takes inspiration from historical imagery of its florida context. vintage postcards depict blue and white striped beach parasols together with the geometric forms generated by colonies of barnacles growing beneath the pier. the form of the sculpture when viewed from above is designed to read as three barnacle-like parasols nestled together. the sculpture's geometry in section is composed of multiple arcs, which gently billow in the wind.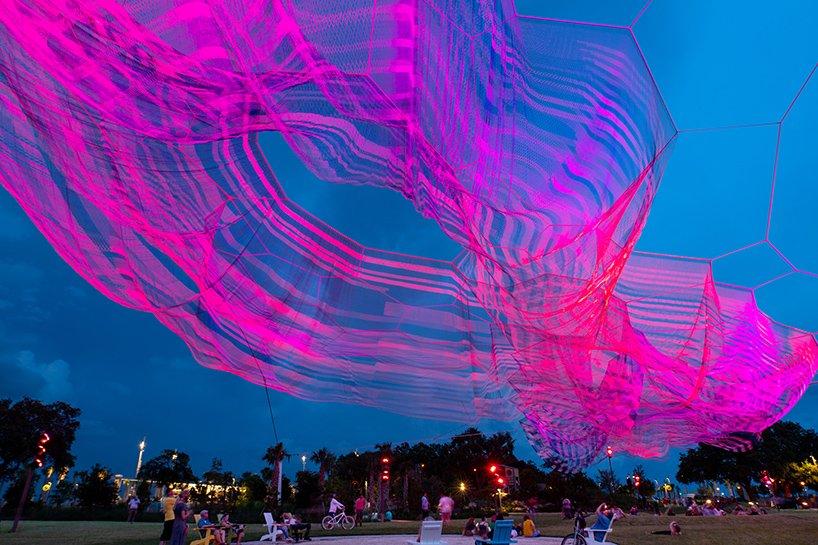 continuing the design process of 'bending arc,' the janet echelman learns of the area's significant role in the civil rights movement. the site marks the place where local citizens began to peacefully challenge racial barriers, leading to the 1957 US supreme court case ruling which upheld the rights of all citizens to enjoy use of the municipal beach and swimming pool without discrimination. with the title of 'bending arc,' the artist references the words of MLK, 'the arc of the moral universe is long, but it bends toward justice.'