dorte mandrup chosen to build the whale visitor attraction inside the arctic circle
Designboom_dorte mandrup has been selected ahead of BIG, snøhetta, and reiulf ramstad to build 'the whale', a major new visitor attraction in norway. the building will be constructed in andenes, a site on the northernmost part of andøya — an island 300 kilometers (186 miles) inside the arctic circle. the proximity of the site to bleiksdjupa, the deep-sea valley where migrating whales pass by, means that the area has become one of the best places in the world to see the marine mammal in its natural habitat. consequently it was decided that andenes, on the edge of this underwater world, would be the ideal location for a new visitor attraction.
situated by the edge of the ocean, dorte mandrup's design grows out of the region's dramatic landscape. the unobtrusive building rises gradually with visitors and locals invited to walk on the roof. from here guests will have unspoiled views of the ocean, the mountains, the midnight sun, or even the northern lights. the curved roof is covered with stones that will naturally patinate over time, underlining the connection between the landscape and the building.
internally, the building will house exhibition spaces, offices, a café, and a store. large windows that open toward the archipelago create a visual connection between the exhibition spaces and their vast natural surroundings. 'the project from dorte mandrup is a clear winner and meets the competition criteria in the best way,' explains børre berglund, CEO of the whale AS, and head of the jury for the architectural competition. 'it is poetic and low-key and at the same time a very exciting and unusual building.'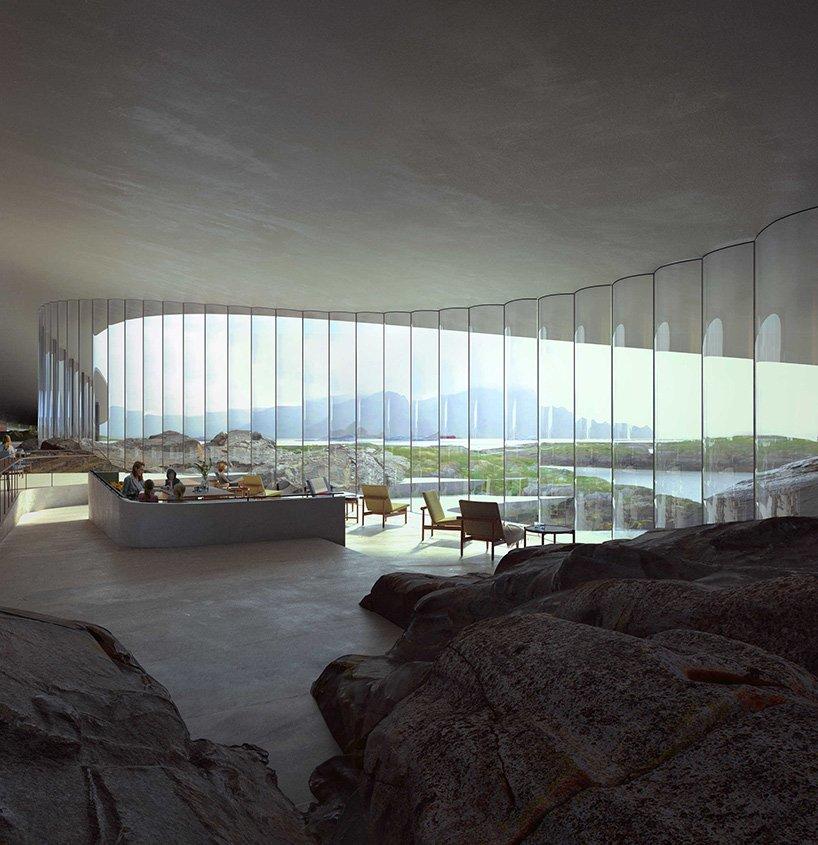 not only will we be creating architecture in yet another remarkable landscape, but we will also take part in increasing the understanding of whales and preservation of marine life,' says says dorte mandrup, whose firm won the project together with marianne levinsen landskab, JAC studio, thornton tomasetti, AT plan & arkitektur, nils øien, and anders kold. 'this opportunity comes with a great responsibility, which is extremely motivating and inspiring.'
in the spring of 2019, the whale AS invited architecture companies to submit proposals for the project. out of 37 teams, four pre-qualified for the competition and on november 1, 2019, dorte mandrup was announced as the winner. although the location already has 50,000 visitors each year, it is hoped that 'the whale' will significantly strengthen northern norway as a travel destination. the new building is expected to open to the public in 2022.