safdie architects reveals proposed design for abu dhabis abrahamic family house
Designboom_safdie architects, the firm led by moshe safdie, has revealed its proposed design for the 'abrahamic family house' — a landmark project in the united arab emirates that includes a church, a mosque, and a synagogue. located on abu dhabi's saadiyat island, the project hopes to strengthen the relationship between the three faiths while providing a platform for dialogue, understanding, and coexistence. submitted as part of an international competition, safdie architects' scheme was selected as a finalist with the winning proposal put forward by adjaye associates.
each of the three worship halls — the church, the mosque, and the synagogue — is a variation of the sphere. accessed via a shared plaza, these three volumes are set in a body of water, conceived as an oasis within the desert environment. 'the three worship halls hover above, and reflect in the pond, giving them a sense of magical weightlessness, seeking the ephemeral,' explains safdie architects. 'they touch the earth lightly over their foundations, as they rise towards the heavens, shimmering in the light.'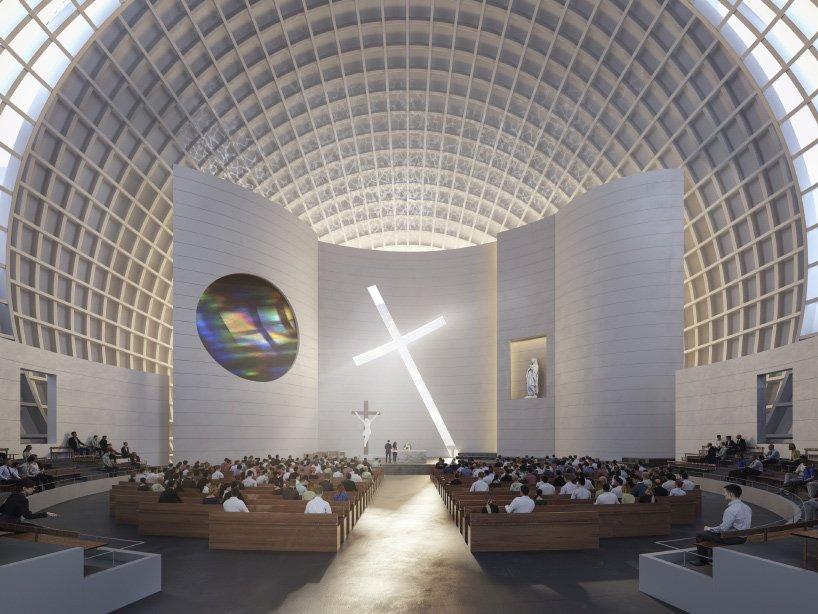 the design of each place of worship is specific to each religion's history, traditions, and rituals. the mosque is placed on the axis of mecca (towards the west); the synagogue, on the axis facing jerusalem; while the church faces north. during the day, the buildings bring in soft filtered light, while at night, the lattice structures glow like giant lanterns. as the three halls employ a common construction methodology and treatment of materials, they form an integrated and unified whole when viewed as an ensemble.
the visitor's center is formed at the intersection of three praying halls. set at the level of the reflecting pond, it is enclosed with glass and surrounded by water on all sides, with views up to the worship halls. the roof of the center forms the plaza above, providing a flat skylight through which daylight shines and adds to the light bouncing off the pond onto the ceiling.