gray villa by white cube atelier draws from irans irregular rocks + mountains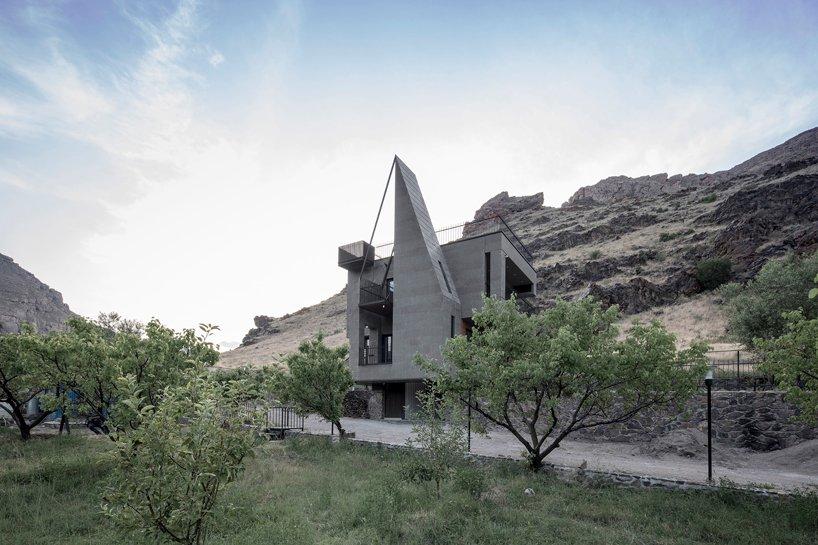 Designboom_white cube atelier's 'gray villa' in maku, west azerbaijan, iran, is a distinctive building designed as a monument amid its natural context. the project's form draws from the irregular rocks and soaring mountains of the area, seeking to connect with the surrounding landscape in a modern way. basalt stone has been used in its construction as a vernacular material that enriches the connection with its location.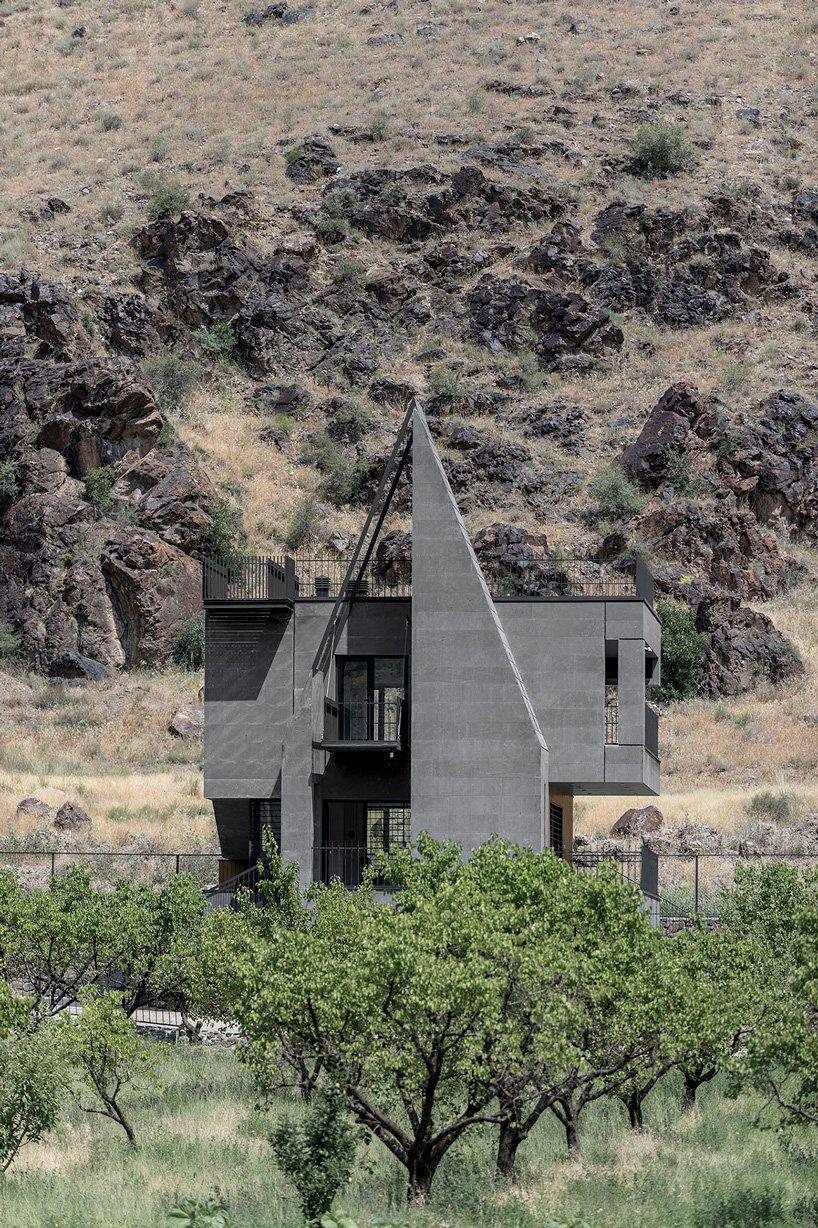 white cube atelier's 'grey villa' is located right by the city entrance, surrounded by a vast garden next to the mountain with great views of the road and the southern plains. 'formation of the concept was to consider contextual architecture with the least influence on the virgin garden, and to seek for close relationship with the natural environment,' explains the local studio. the result is a building that celebrates its natural surroundings respectfully and interacts with its context in a modern way.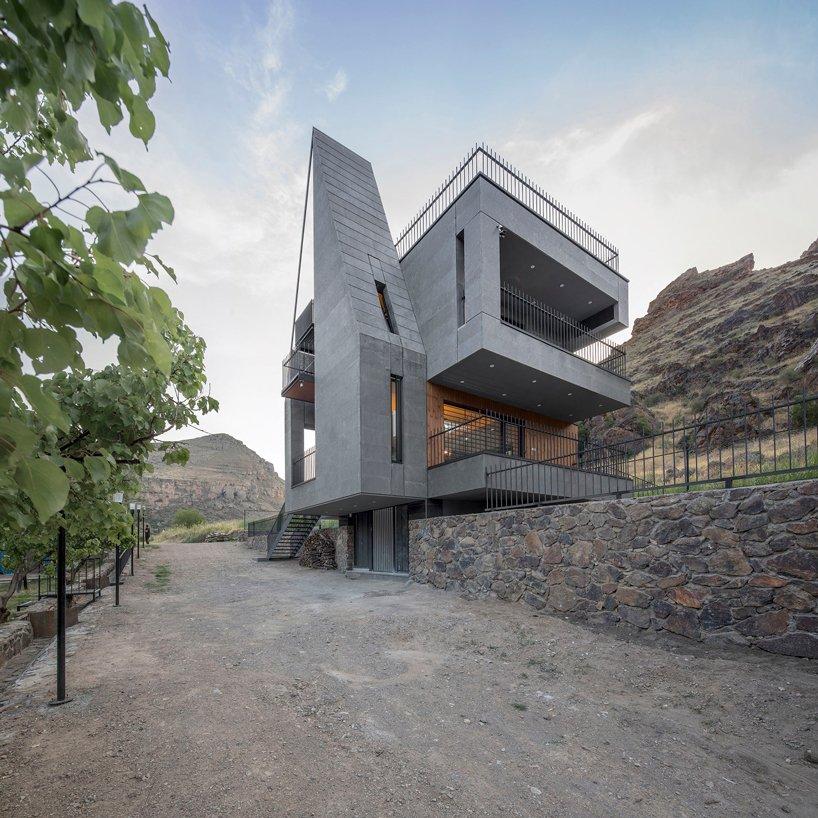 the construction comprises a 20 sqm base with 2-meter cantilevers on the first and second floor in four directions, which leads to a total of 100 sqm built area. with several openings throughout, the interior benefits from daylight coming from all directions, creating different shades according to the time of day. the first floor, which encloses the living room and kitchen, is accessible via two lightweight metal stairways in the yard. the first and second floors are connected by a cantilevered stairway in order to meet spatial requirements, while it also contributes in shaping the form of the building.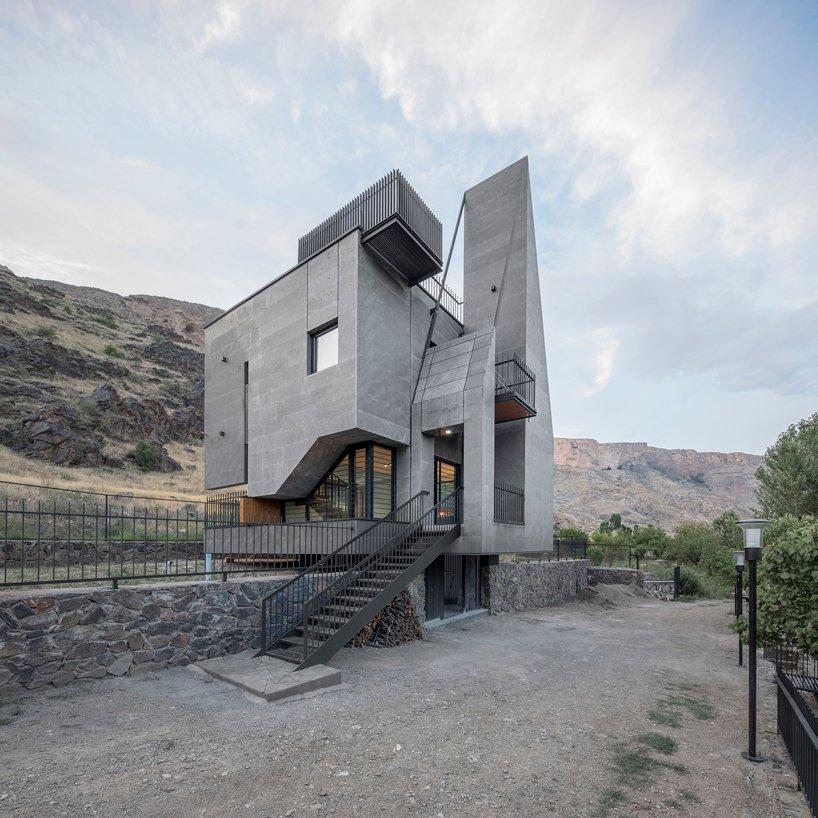 the upper stairway leads to the roof which functions as an observation terrace over natural sceneries. its form is designed in a way that the user seeks for connection with nature while 'trapped' in the building, and suddenly experiences different views through consciously created openings. 'grey villa is the representation of a modern approach, modern color, modern volume, modern connection with the nature and the reflection of modern thought,' notes white cube atelier.