igshaan adams brings cloud-like sculptures and woven pathways to kunsthalle zurich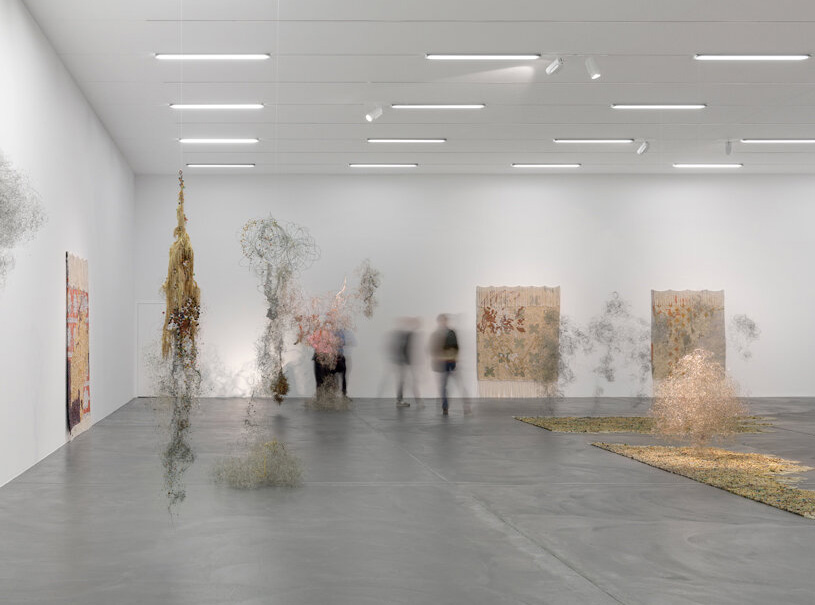 Designboom_ poetic but grounded, absorbing yet calming, both visible and invisible, south african artist igshaan adams deals with the contradictions of his own lived experiences in a new major solo exhibition at the kunsthalle in zurich, switzerland.
born in 1982, adams grew up in cape town during the latter period of apartheid, a system of institutionalized racial segregation that came to an end in 1994. as a creole with malay roots, adams was classified as 'colored'. a practicing muslim, he grew up with christian grandparents. in this new exhibition, which is on view until may 22, 2022, adams weaves together the threads of his identity, recalling the domestic spaces he grew up in and the experiences that left a lasting imprint on the artist.
titled 'kicking dust', the name of the exhibition makes reference to an indigenous south african dance where clouds of dust erupt from performers' energetic footsteps. adams first saw the dance as a child among his grandparents' nama community. in this solo show, the dust clouds become intricate sculptures made of spiralized wire and beads that are suspended in a garden-like space. the tangled sculptures and woven carpet installations on the floor trace a pathway around the exhibition space of the kunsthalle, echoing the unplanned pathways—or 'desire lines'—found across cape town. meanwhile, woven wall hangings represent the worn linoleum floors of adams' childhood as well as the invisible traces of who once walked there.
ahead of the opening of 'kicking dust' at kunsthalle zurich, designboom caught up with the artist at engadin art talks (E.A.T.) in the last weekend of january. in this interview below, adams discusses his artistic practice, the teachings of sufism, the influence of women, and the different masks we wear.