a giant nest encircles a solitary tree for the first in four part seasonal art series
ِDesignboom_ Swedish architect Ulf Mejergeren has collaborated with the Finnish artist Antti Laitinen to create 'One Tree Four Seasons' series. As its name reveals, the series is unveiled in four parts, each of which corresponds to a season and the available materials it has to offer. For all the artworks, the team worked on a specific tree taking advantage of its different seasonal appearances. The first project was completed this month, and the rest will follow with the changes of the seasons.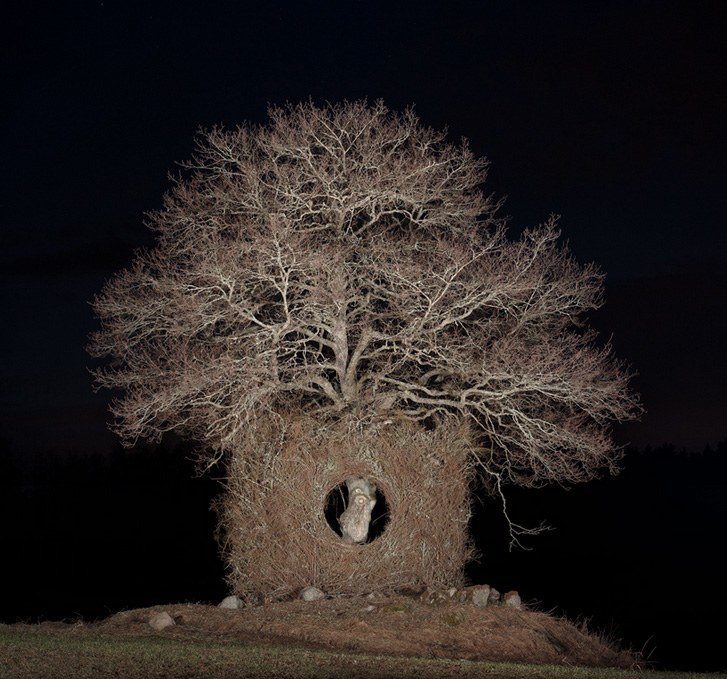 Each project will testify to a particular time of the year, utilizing the available materials found in nature. For the first artwork, Ulf Mejergren and Antti Laitinen opted for an alder tree standing solitary on a small hill on a field south of Stockholm. The tree is surrounded by overgrown rocks resembling small islands — the result of an older farm practice where the fields were cleared from obstacles and put in one place.
To realize the first artwork, the team collected dead branches from the surrounding forest. They interweaved them forming a giant nest that wraps around its trunk. In order to unveil a section of the body, they created a circular opening that piques passersby's curiosity, and they feel the urge to discover what is inside. As one comes closer and looks through the aperture, one encounters a floor of bent willow. Visitors can hop in the nest and experience the artwork from the inside out.