apollo architects brings visual and spatial duality to "ESPRIT" house in tokyo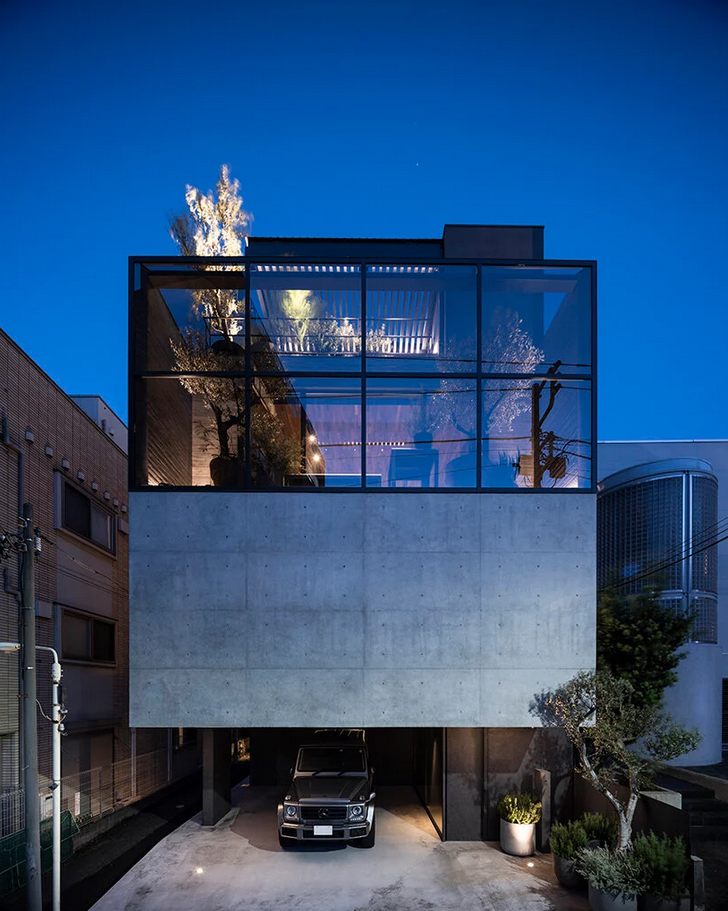 Designboom_ Set in Tokyo's Shibuya ward, 'ESPRIT' by Apollo Architects & Associates exemplifies the home as a private space that gently opens to the public sphere. Depicting this duality is a massive exterior facade with glass on the upper half, where social programs are held, and solid concrete on the lower half, where private rooms lay hidden.
The entrance to 'ESPRIT' sits next to a two-car piloti garage and leads to a weight-training gym. On the second floor, in addition to the bathroom, children's room, and master bedroom, a library takes over the open floor around the stairs, serving as a gathering spot for the owners. An additional family room occupies the third floor, with a deeply crevassed balcony overlooking the street; one-way glass preserves privacy within this comfortable intermediary space filled with outdoor furniture and potted olive trees.
The team at Apollo Architects concentrated all functional elements — storage areas, kitchen, elevator, bathroom, and stairwell — along walls running lengthwise through 'ESPRIT', resulting in a minimalistic tube-shaped space with natural light and ventilation flowing along the north-south axis. The rooftop, accessible through the top floor, has a garden with an outdoor kitchen, furniture, and a sculptural pergola. Finally, linking indoor and outdoor living spaces and enclosing them with greenery results in a serene atmosphere that is snugly private while still offering attractive views.
'Spaces like the gym, library, rooftop garden and chef's kitchen are becoming essential in the work-from-home era, with comfortable living environments and intermediary areas linking interior and exterior increasingly in demand. Perhaps the most sought-after characteristics of future homes will be a joie-de-vivre spirit that allows residents to migrate freely between indoor and outdoor spaces,' writes the Japanese studio.