public saunas uplift stockholm`s shorelines in new anders berensson proposal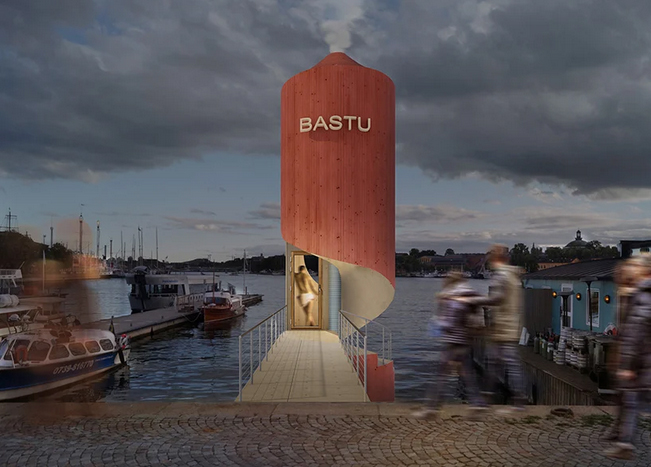 Designboom_ Anders Berensson Architects shares its latest proposal to connect Stockholm's islands and shorelines for greater public access and use. Although called the Venice of the North, the city sees its beaches and quays remaining largely unused. Even more, most areas have limited access to its different bathhouses since the only link between the islands is via a long train ride and car bridges hovering above.
In response to those constrictions, the project takes advantage of Stockholm's unique lakeside location by creating bathing opportunities in its various neighborhoods with the help of small swimming rafts and saunas. Moreover, the proposal envisions linking several promenades, beaches, and quays by adding pedestrian and bicycle bridges along the existing foundations for car and train overpasses. 'In this way, you can move between different islands without taking long detours via elevated, noisy roads,' writes the practice.
Specifically, Anders Berensson Architects suggests placing swimming rafts in spots with no nearby bathing facilities, including the eastern part of Kungsholm and Södermalm. In addition, small cold bathhouses with a sauna and staircase to the water will rest along several of Stockholm's quays, while floating football fields will spark life at the Liljholmskajen, Söder Mälarstrand, and Hornsbergs strands.
For all new pedestrian and bicycle links, the studio proposes using the existing overpasses at Årstabroarna, Liljeholmsbroarna, Skansbron, Västerbron, and Tranebergsbron, as structural support. Finally, openable pedestrian and bicycle bridges will be built between the Masthamnen and Saltsjökvarn areas.