seungjin yang blows candy-colored balloons into solid chairs, stools and benches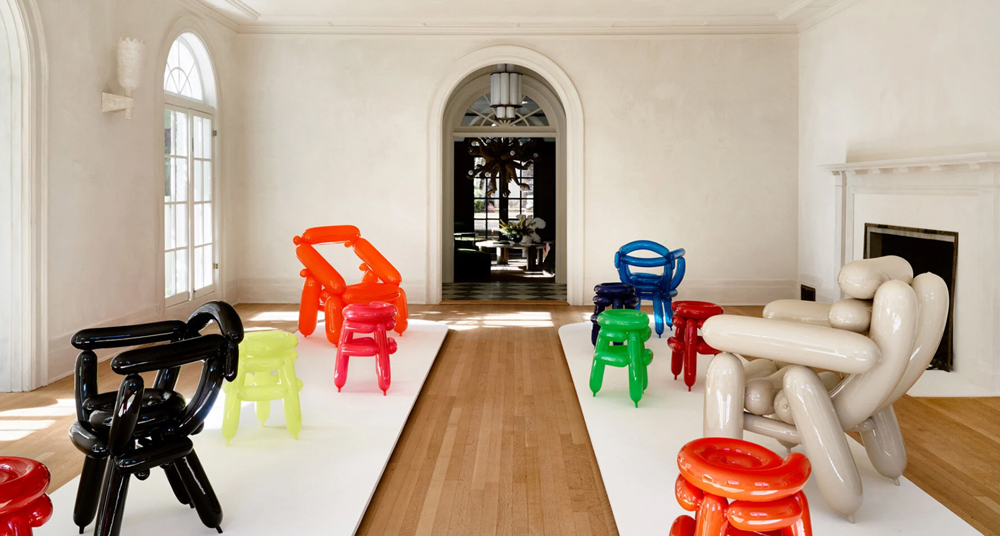 Designboom_ Seoul-based designer Seungjin Yang unveils the latest pieces in his 'Blowing' chair series, in which he covers party balloons with epoxy resin to create a variety of seating options. Though it may seem like they're about to pop at any moment, the resulting pieces are sturdy enough to be the latest candy-colored addition to your living room. The handmade series includes a variety of shapes and colors, including a beige loveseat that will be on display at Design Miami 2023.
Through his 'Blowing' series, the South Korean designer wants to transfer his childhood memories into industrial furniture production. To create the unique furniture, Seungjin Yang first inflates the balloons into create the required shapes and sizes, and he then fixes them into the desired chair shape. As soon as the ideal configuration is achieved, he pours colored epoxy resin over it and repeats the process several times. Multiple layers of resin are needed in order to make the delicate material strong enough to support the weight. When all the elements are solid, the piece is finally assembled and then dipped in resin one last time. In this way, it becomes burst proof, stiff, and sturdy enough to serve as seating.
The result sees a collection of fine chairs, stools, and benches, all with a colorful, glossy finish. In his recent work, Yang seeks to expand through more playful colors and experimental shapes. At the same time, he is also looking to push the boundaries of balloon design even further by creating larger pieces, perhaps even a sofa that can seat more than two people.