3D printed marine structures revive perishing neo coral city in yongwook seong`s AI art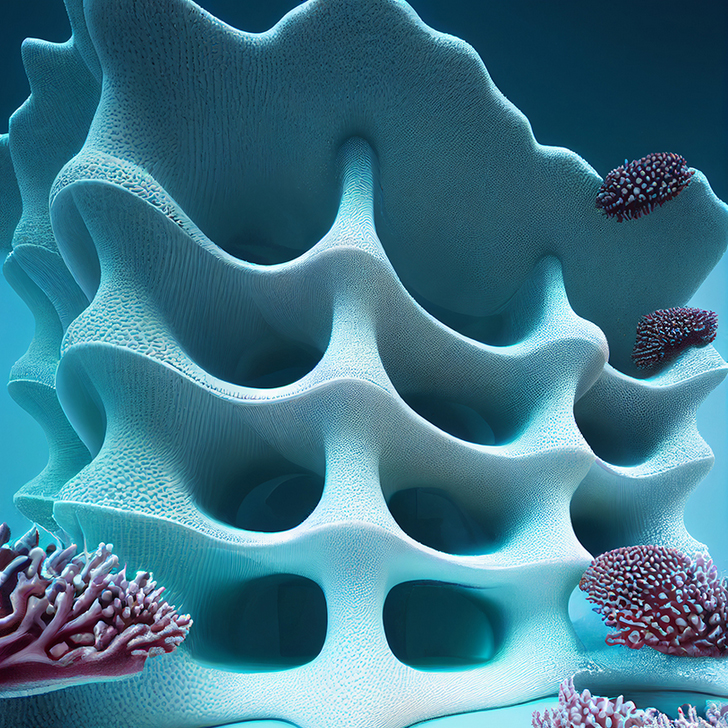 Designboom_ In his new AI-generated series, Yongwook Seong imagines a biomorphic architectural regeneration project under the ocean to preserve the fictional Neo Coral City's perishing eco-system. Using text-to-image design tool Midjourney, the story illustrates how the once thriving great reef area with a vast diverse marine life has recently been devastated by rising ocean temperatures and acidification.
Coming in to restore this new monument, the imaginary underwater design-build practice Amphitrite 3.0 uses 3D printing technology to construct coral habitats and monuments infused with heat and acid tolerant symbionts for climate change resilience. Their interventions render a whole new thriving, sustainable underwater ecosystem, complete with residences, educational and cultural institutions, cemeteries, and social spaces.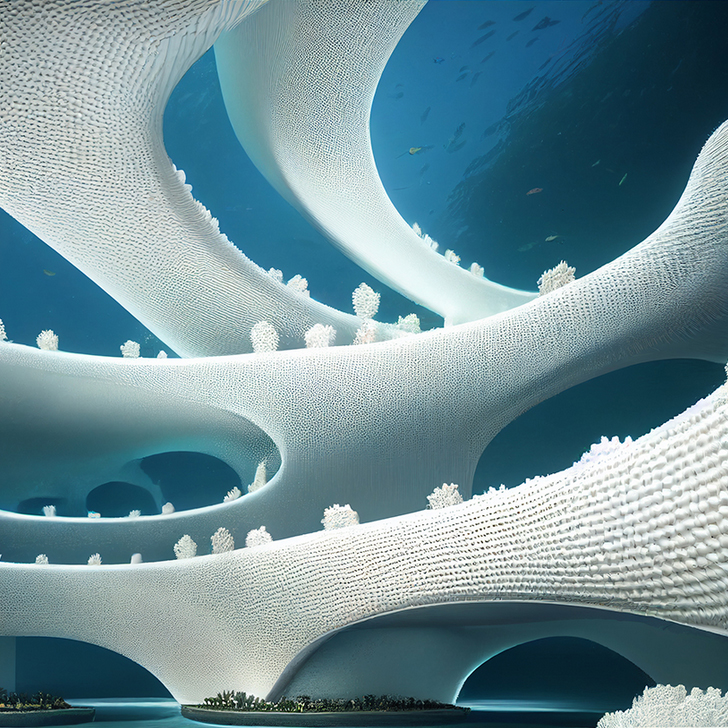 With rapidly rising ocean temperatures, a large part of coral reefs in the area are suffering at the risk of coral bleaching, or have already been devastated. In Yongwook Seong's AI-generated Neo Coral City, Amphitrite 3.0. has been commissioned as part of a large-scale coral reef restoration project to speed up the marine life's regeneration against the risks of climate change, while gaining public attention for underwater eco-tourism opportunities.
The Canadian designer renders a thriving new city, 3D printed from algae friendly materials similar to coral's calcium carbonate structure. Amphitrite 3.0 creates a range of sustainable habitats, including shell-like townhouse with reef-grade exoskeleton with porous skin, and a large undulating skeletal condo boasting organic flows into its cozy interiors. Elsewhere, a coral treehouse twists and transforms into multiple hide-outs for marine organisms, growing at a much faster rate than natural reefs.
The fictional underwater firm also constructs a new monument for the Neo Coral City — the Underwater Coral Museum. A new cultural research institute for coral reef education, the space holds archives for extinct specimens and research programs on coral species that are resilient to climate change.