lee ye chan`s meditation chair reverberates soothing wavelengths like a tibetan singing bowl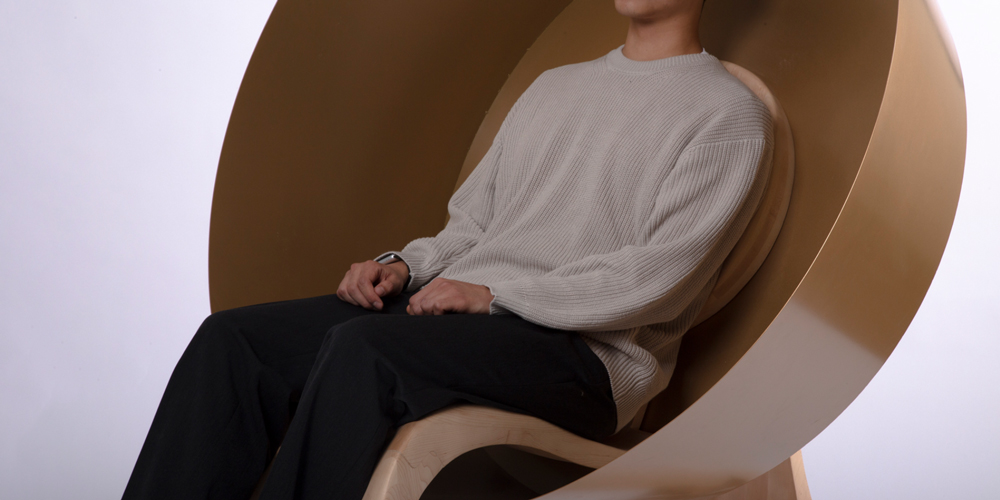 Designboom_ An intimate space to hide away and rest, 'Goyo' by Lee Ye Chan is a tranquil chair for meditation and spirituality. Drawing on the traditional singing bowls once used by Tibetan monks for sacred rituals and meditation, the chair takes shape as a rounded steel enclosure resting within a simple sinuous maple wood stand, creating quiet resonating sounds when struck. Promoting contemplation the Korean designer integrates the original instrument's sounds and healing qualities, inviting users to sit within a large singing bowl, lean back, and feel the relaxing wavelengths as they focus on meditation.
With minimalist, organic forms, Lee Ye Chan's 'Goyo' meditation chair, a huge singing vessel, provides a quiet space to reflect. While the engulfing bowl shape encourages users to rid themselves of distractions, the smooth wooden surface creates a comfortable seating experience moulded to the contours of the human body. The backrest and seat are further angled for comfort, allowing the user to lean back as the instrument exudes meditative wavelengths and frequencies.
'Many people suffer from loneliness, but meditation solves it. People sit on sofas or cushions for meditation. But a quiet space for meditation is also important. You can go into a large singing bowl and meditate quietly while feeling the resonance of the sound,'explains the designer.