Droog honors 30 years of rebellious design with twitter feed-inspired triennale show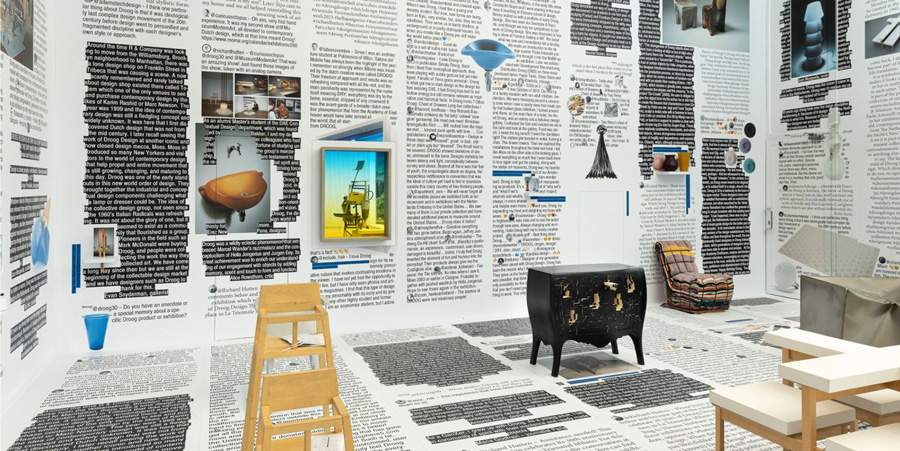 Designboom_ From May 2nd, 2023, the Nieuwe Instituut celebrates the 30th anniversary of Droog, an innovative and rebellious Dutch design collective, with 'Droog30. Design or Non-Design?' — a special exhibition presenting pioneering and iconic designs from a label that, over the years, has generated as much controversy as it has affection. The show is being previewed at the Triennale Milano from April 15th to 24th on the occasion of Milan Design Week 2023.
'Droog30. Design or Non-Design?' celebrates the brazenly insubordinate reality of Droog and its renewed appreciation for the celebrated Dutch brand. Since its foundation in Milan in 1993, the collective has established itself as something other, opposing 'dry' (droog) functionalism and instead treating design as an art form capable of expressing humor and being accessible to all. Countless brands have mimicked the Droog philosophy over the past thirty years, while its designs have found their way into the collections of the Museum of Modern Art in New York, the Victoria and Albert Museum in London, and many more.
Aric Chen, the general and artistic director at the Nieuwe Instituut, comments: 'Droog brought its dry wit and subversive tendencies to a global audience — and design would never be the same again. The group managed to make its mark on the world thirty years ago as the last pre-internet design movement, so when we look back over its history, we wonder how far we've come since then and where we are heading from here.'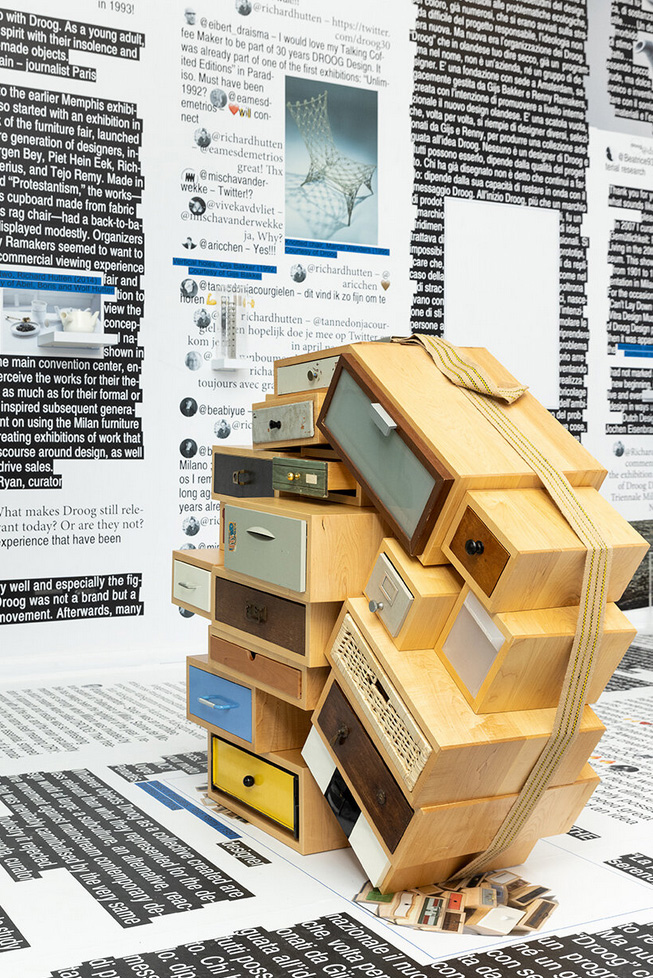 For the exhibition at Triennale Milano, curators Maria Cristina Didero and Richard Hutten (one of Droog's founders and the exhibition designer) have created a spatial translation of a Twitter feed, inviting visitors to step into a three-dimensional spectrum of opinion.
'This allows the curators to make the Droog mentality tangible and comprehensible: still unafraid of strong reactions and swimming against the current. In line with this contrarian mentality, visitors are also given the opportunity to share their own thoughts about the label. An interactive space presents uncensored reactions and comments made by fans and critics on social media. Visitors are encouraged to leave a comment,' notes the Nieuwe Instituut.
Naturally, 'Droog30. Design or Non-Design?' also showcases emblematic, witty, provocative, and sometimes downright outlandish designs from the collective's 30-year history. Highlights include Tejo Remy's 'Chest of Drawers', Marcel Wanders' 'Knotted Chair,' the 'Treetrunk' bench by Jurgen Bey, and' The Cross', the cross-shaped table and bench by Hutten himself. The exhibition completes with a film, compiled especially for the show by Didero and director Francesca Molteni, with anecdotes from Droog's designers and commentary from other design experts.