studio gang sculpts the natural history museum`s new wing like an eroded canyon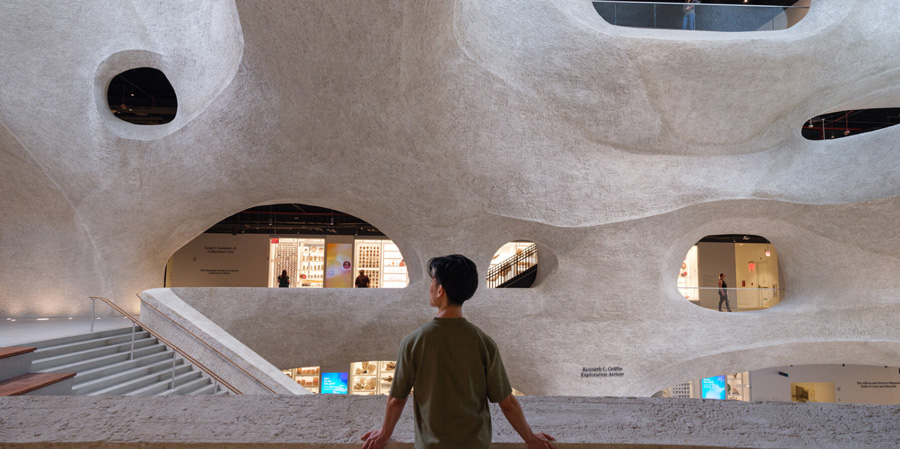 Designboom_ The American Museum of Natural History's latest addition, the Richard Gilder Center for Science, Education, and Innovation, is now complete in New York City with architecture by Studio Gang. The otherworldly space is a groundbreaking architectural achievement, its organic surfaces inspired by geological landforms carved by wind and water — an 'innie' building drawing visitors inside and inspiring exploration.
Opening to the public on May 4th, the Gilder Center covers 230,000-square-feet and creates thirty-three connections among ten museum buildings to link the entire campus. Once open, the Natural History Museum will open outward with a new entrance on its west side at Columbus Avenue and 79th Street.
Studio Gang's Gilder Center embodies the Natural History Museum's mission of science and education by introducing innovative exhibitions, world-class research facilities, and next-generation classrooms. Its design incorporates spaces for research collections, exhibitions, and learning, all situated in close proximity, reinforcing the central role of natural history collections in scientific discovery. Visitors to the museum will enjoy engaging exhibits and programs that connect them to the evidence and processes of science.
'The Gilder Center is designed to invite exploration and discovery that is not only emblematic of science, but also such a big part of being human. It aims to draw everyone in — all ages, backgrounds, and abilities — to share the excitement of learning about the natural world,' said Jeanne Gang, founding principal and partner of Studio Gang. 'Stepping inside the large daylit atrium, you are offered glimpses of the different exhibits on multiple levels. You can let your curiosity lead you. And with the many new connections that the architecture creates between buildings, it also improves your ability to navigate the Museum's campus as a whole.'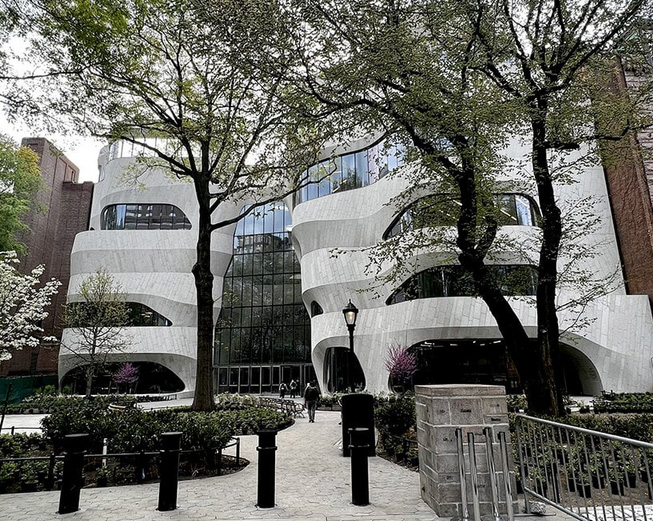 The architects at Studio Gang design the sculptural structure with an undulating facade made of Milford pink granite. With its openings enclosed by bird-safe fritted glass and its surfaces clad with diagonal stone panels, the museum's facade evokes geological layering and harmonizes with the textured, coursing surface of the masonry on the Natural History Museum's 77th Street side.
The entrance of the Gilder Center is a grand, five-story Atrium that is illuminated with natural light through large-scale skylights. The atrium's texture, color, and flowing forms are inspired by canyons in the southwestern U.S. and the forms that hot water etches in blocks of ice.With these organic forms and textures, the space at once inspires exploration for visitors.
The striking structure of this Kenneth C. Griffin Exploration Atrium has been built using a technique known as 'shotcrete,' invented by Museum naturalist and taxidermy artist Carl Akeley, in which concrete is sprayed directly onto rebar without traditional formwork. The bridges and openings in the hand-finished shotcrete connect visitors physically and visually to multiple levels housing new exhibition galleries, education spaces, and collections facilities, creating welcoming sightlines that encourage movement throughout the building. The verticality of the Griffin Atrium provides natural light and air circulation to the building's interior, making it a key sustainability feature.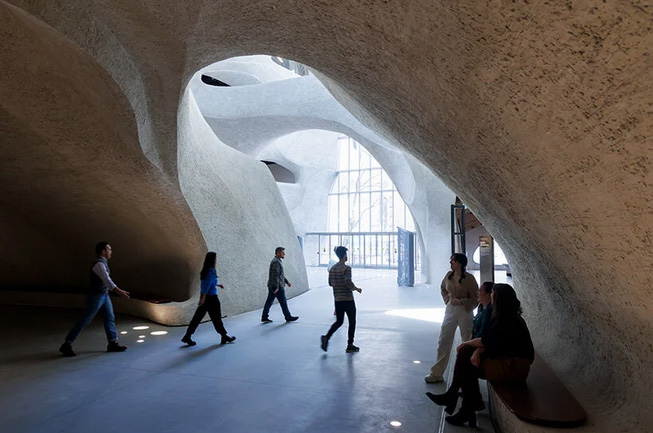 The completed Gilder Center is a testament to the Museum's commitment to science and education. Studio Gang's ambitious design is awe-inspiring and evokes excitement and discovery — all while providing a deeper experience that connects visitors to the evidence and processes of science through engaging exhibits and programs. It establishes continuous pathways through the Museum's four-block campus, connecting buildings that were constructed over nearly 150 years, enhancing the visitor experience, and providing a modern space for research and education.