Step inside the exhibition "everybody talks about the weather" at fondazione prada venice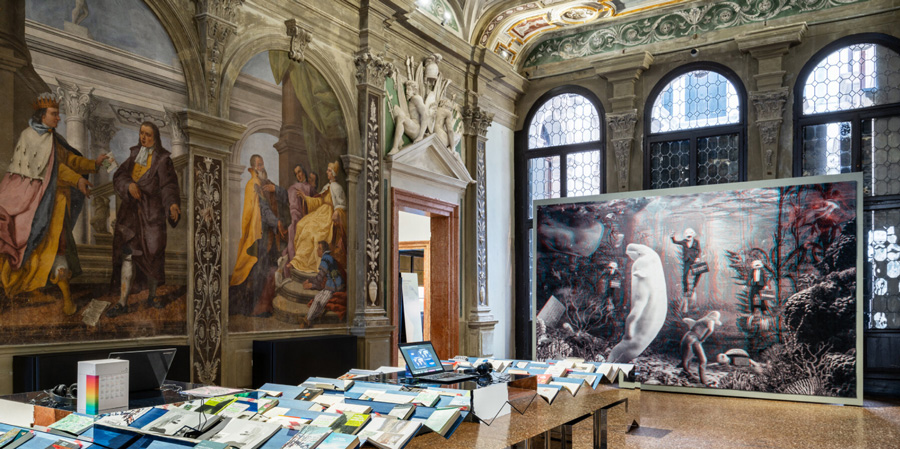 Designboom_ Starting May 20th, 2023,Fondazione Prada in Venice delves into the climate crisis and explores the world's ever-changing natural landscape through the lens of visual art, a vital exhibition hosted in a fitting city that seems to be an example of such a crucial societal issue with the city's rising sea levels. 'Everybody Talks About the Weather' navigates through the semantics of 'weather' in visual art, perusing the atmospheric and alluring realms of art as a point of departure to highlight the urgency of climate change.
More than fifty works by contemporary artists including Antony Gormley,Theaster Gates, and Gerhard Richter, and a selection of historical artworks are on display to exhibit and recall the ways in which climate and weather have shaped histories and how humanity has dealt with the everyday exposure to meteorological events.The recent show trails behind the exhibitions 'Human Brains: It Begins with an Idea' in Venice, and 'Cere anatomiche: La Specola di Firenze | David Cronenberg' in Milan in hopes to address, explore, and understand broader cultural challenges from the eyes and tools of science and art.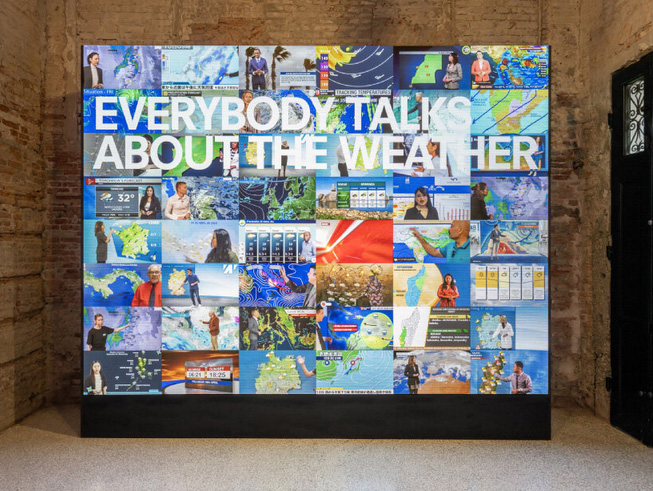 'Everybody Talks About the Weather' stems from the slogan 'Alle reden vom Wetter. Wir nicht' ('Everybody talks about the weather. We don't'), reproduced in a poster created in 1968 by the Sozialistischer Deutscher Studentenbund (Socialist German Student Union) and depicting Karl Marx, Friedrich Engels, and Vladimir Lenin.In 2019, German artist Anne-Christine Klarmann, who forms part of the exhibition, designed her rendition representing Judith Ellens, Carola Rackete, and Greta Thunberg, and quoting it with 'Alle reden vom Wetter. Wir auch' (Everybody talks about the weather. So do we).
'Everybody Talks About the Weather' at Fondazione Prada in Venice takes up two floors inside Ca' Corner della Regina. The moment visitors enter the Palazzo, a large LED wall greets them which loops videos of weather forecasts from traditional and online media worldwide. The clips prelude to the historical bodies of work, both recent and previous, inside the rooms on the first floor, an attempt of threading the past with present and future concerning climate change and weather issues.
Here, allegorical and en plein air paintings brush against multimedia installations and transnational activism, all highlighting the effects of climate change and weather brought about by the consequences of human activities. Fondazione Prada in Venice installs a series of 'research stations' featuring more than five-hundred books, scientific publications and articles, and video materials and interviews with scholars and activists. These materials are open for the visitors to freely consult, so they can broaden their scientific and cultural know-how regarding the topics addressed by the exhibition.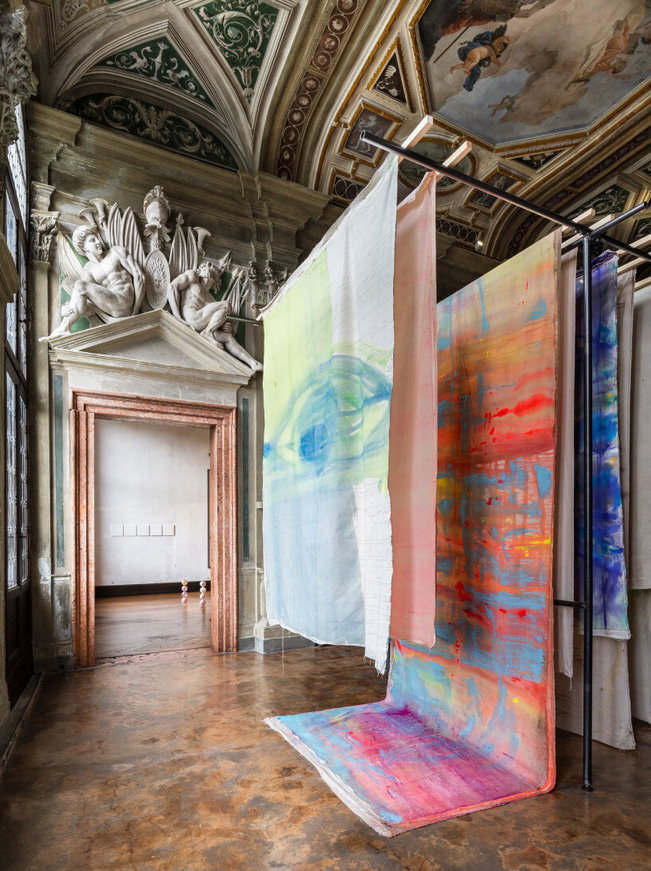 Fondazione Prada says that weather and climate are usually the focus of meteorology and climatology. In ''Everybody Talks About the Weather', these disciplines are fused by visual art and science to frame the climate crisis and its impact on our daily lives by evoking, depicting, and analyzing weather phenomena. The project is conceived by curator Dieter Roelstraete, and the exhibition design is created by New York-based studio 2×4 and entwines a series of in-depth scientific spotlights developed in collaboration with The New Institute Centre For Environmental Humanities (NICHE) at Ca' Foscari University in Venice.
As underlined by Dieter Roelstraete, ''Everybody is talking about the weather' – or everybody should be talking about the weather – for the simple reason that the current and ongoing climate crisis may well be the single greatest existential threat humankind has ever had to face in its 100,000-year history – and as such is well on its way to becoming the only thing we ever talk about anymore. For all that, however, climate change remains a subject that is oddly absent, curiously enough, from the broad sweep of mainstream art world attention.'
The exhibited works are from Sophia Al-Maria, Giorgio Andreotta Calò, Shunivai Ashoona, Anonymous Veneto, Ursula Biemann, Nina Canell, Vija Celmins, Paolo Cirio, Gustave Courbet, Vittore Grubicy de Dragon, Jason Dodge, Ayan Farah, Theaster Gates, Beate Geissler & Oliver Sann, Antony Gormley, Hans Haacke, Ichoryusai Hiroshige, Katsushika Hokusai, Jitish Kallat, Anne-Christine Klarmann, Zdeněk Košek, Goshka Macuga, Iñigo Manglano-Ovalle, Santu Mofokeng, Plinio Nomellini, Carlo Francesco Nuvolone, Alix Oge, Richard Onyango, Chantal Peñalosa, Dan Peterman, Nick Raffel, Raqs Media Collective, Gerhard Richter, Thomas Ruff, Tiffany Sia, Himali Singh Soin, Vivian Suter, Fredrik Vaerslev, Pieter Vermeersch, Pae White, Tsutomu Yamamoto, Yang Yongliang.