inflated fleshlike sculptures of eva fàbregas mimic intestines and body parts in centro botín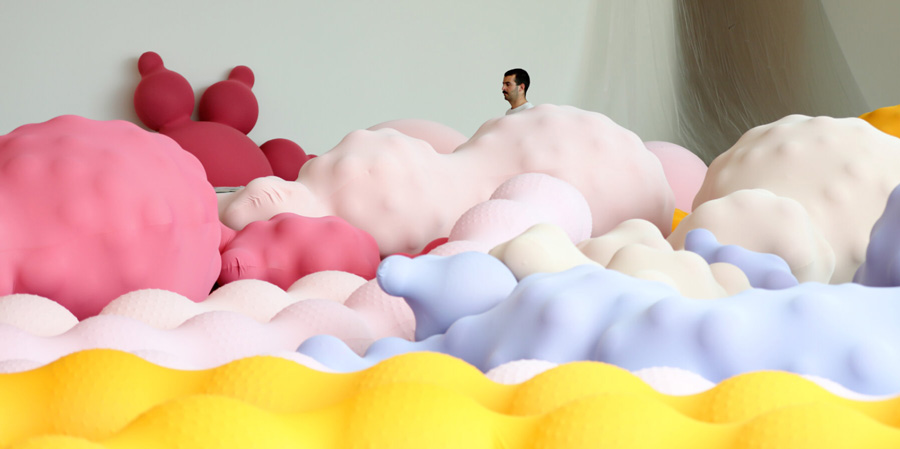 Designboom_ Padding through Centro Botín, swollen spongy sculptures caricature elongated intestines and burgeoned body parts. They snake through the gallery's space, either passing from one room to another or burrowed in the corner until they pile up like mountains of bulbous flesh attempting to spill and stream away. The mastermind behind the inflatable sculptures – alongside her co-producers Centro Botín and MACBA Museu d'Art Contemporani of Barcelona – is Eva Fàbregas, a Spanish artist who explores the erotica of the consumer object and the engineering mechanisms of desire through sculpture, video, installation, and sound.
Titled 'Enredos: Eva Fàbregas', the exhibition runs from May 20th to October 15th, 2023 and proposes a sensory, intuitive, and aesthetic relationship between Fàbregas' sculptures and drawings, and a selection of works from the Fundación Botín's art collection, spread across exhibition halls for the visitors to engage with. Beyond the theme of what can be described with verbal language, these affective bonds are the embodiment of love, desire, intimacy, and making art accessible to different bodies, ages, and capacities.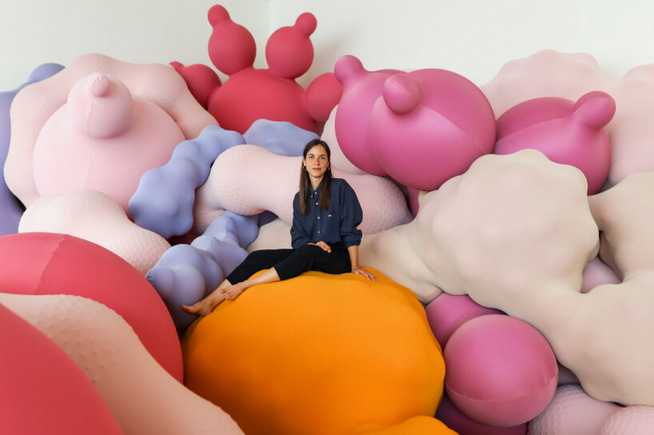 Air only plays a part in the overall character that Eva Fàbregas' sculptures act out. The invisible gust blows up her handcrafted materials, forming voluminous shapes that evoke a duality of emotions: menacing or nurturing, innocent or perverse.Her biomorphic artistic objects in a soft pastel create a synergy entangled with one another while alluding to biological processes and rhythms linked to digestion, incubation, and metamorphosis.
Their texture, temperature, and rhythmic feel tickle the viewers' imagination and lure them to come up with a whimsical and visually appealing interpretation of living organisms and human organs.'I wanted to bring together a series of artworks that have a difficult, often unexpected, dialogue with each other that is not related to questions of influence, generation, or canon. And this is how I began to envision the exhibition as a large-scale living organism that would follow its own libidinous logic, a desiring machine,'says Fábregas.
The artist, alongside her co-producers Centro Botín and MACBA Museu d'Art Contemporani of Barcelona, guides viewers into the meaning of breathing: how these beings breathe, what pulse they have, and in what temporality they live. Through the language of breathing, vibration, and touch, viewers can relate and communicate with these beings and transform themselves mutually.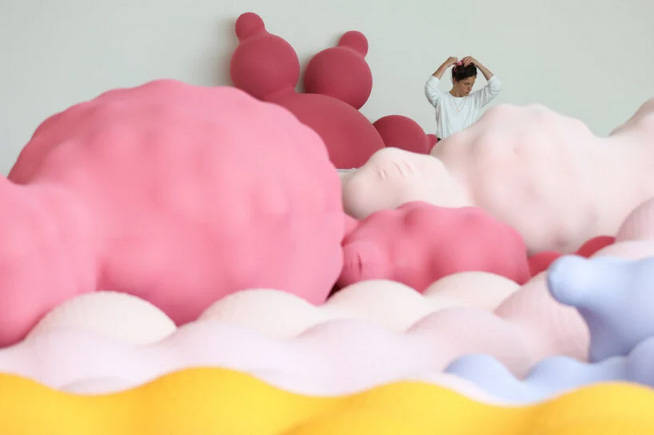 Upon entering the exhibition, a series of drawings by Fàbregas in acrylic focuses and frames specific parts of her sculptural installations, facilitating a play on scales and colors. As viewers move into the next space, a sculpture twists and turns, cutting through the exhibition spaces, and breaking through the walls of the room. Following the sculpture, a selection of works by artists represented in the Fundación's collection are showcased who, like Fàbregas, are recipients of the Fundación Botín Art Grant, including Leonor Antunes, Nora Aurrekoetxea, David Bestué, Cabello/Carceller, Asier Mendizabal and Sara Ramo.
Fàbregas herself curated the exhibition and was also awarded the art grant in 2010 in collaboration with Bárbara Rodríguez Muñoz, the Director of Exhibitions and The Collection at Centro Botín.'It has been a pleasure to work alongside Fàbregas in the process of shaping this material fantasy and to envision with her the vitality and immensity of her sculptures and their relationship to the gallery space. In this exhibition at Centro Botín, we can gently lie down on the sculptures, embrace them, synchronize our breathing with their own, their skin as an extension of our own, in an act of communion as beautiful as it is strange,' says Muñoz.
'Enredos: Eva Fàbregas' marks the first edition of Centro Botín's new exhibition program Enredos which aims to exhibit artists who have received the Fundación Botín Art Grant.