"trap of the truth": erwin wurm`s mind-bending exhibition opens at yorkshire sculpture park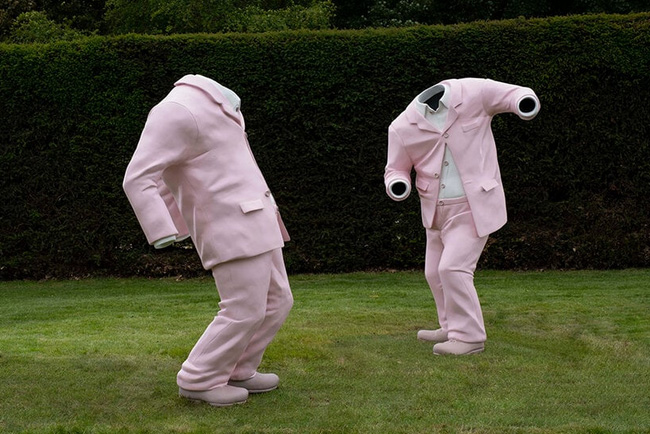 Designboom_Erwin Wurm's much-anticipated Trap of the Truth exhibition opened to the public on Saturday, June 10, 2023, at the Yorkshire Sculpture Park(YSP) in the UK. More than 100 works are currently on display, including 55 sculptures indoors, 19 sculptures spread outdoors, paintings, photographs, videos, and drawings created over 30 years of the artist's career, with several works shown for the first time. As reflected in this show, Erwin Wurm consistently challenges the rules of sculpture, the limitations of the human body, and its relationship to inhabited spaces. His work disrupts familiar and sensible perceptions, and in a process filled with humor and experimentation, he frequently reimagines commonplace objects by giving them human traits.
Ultimately, Wurm's work examines the true meaning and essence of a sculpture, stretching its boundaries while calling into question the value and importance we place on everyday objects. Both playful and political, he uses ludicrous scenarios to address how we conform to society's demands and how sculpture can upend cultural beliefs. Beyond those humorous layers, Wurm also looked to 17th-century philosopher René Descartes' interrogations that led to his famous declaration: 'I Think Therefore I am' — inspiring him to come up with the exhibition title: Trap of the Truth.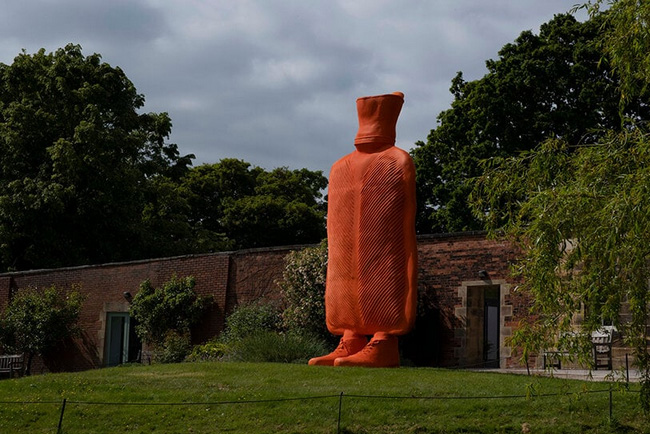 Outdoors, 19 sculptures occupy the Yorkshire Sculpture Park's heritage landscape, including new and never-before-seen works. Three sculptures from Wurm's Bags series explore consumer culture and objects of status. They include the five-meter-tall, pastel blue Big Step (2021), which takes the form of the Hermès Birkin bag, a contemporary symbol of prestige and wealth, and is personified with long elegant legs appearing to be walking purposefully. Dance (2021) and Trip (2021) – a briefcase and suitcase, respectively – complete the series, with their long, dynamic legs giving a sense of human life within the landscape.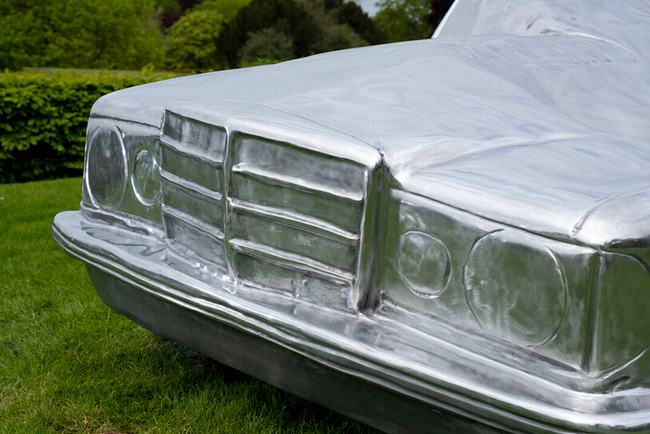 Big Kastenmann (2012), which translates as 'big box man,' stands at five meters tall, with a large box for a torso wearing a formal pink and grey suit jacket. This was Wurm's first large-scale public art project, displayed outside The Standard Hotel in New York City in 2012. His 3.2-meter-tall bronze Balzac (2023) will be shown for the first time – the majestic human form created by elaborate layers of robes reminiscent of ancient classical statuary and referencing Rodin's sculpture of the same name.
Drawing on his nation's historical and cultural identity, Wurm interprets popular Austrian food items, the most iconic of which is the gherkin, or pickled cucumber, with which he has a longstanding fascination. It is presented here with the four-meter-high bronze Der Gurk (2016), while three of Wurm's Giants from the Abstract Sculptures series (2014-18), are anthropomorphized bronze sausages that reference the wiener hot dog, which takes its name from Austria's capital, Vienna. Both foodstuffs lend themselves to being monumentalized as sculpture and propose contemporary readings of totems, idols, obelisks, and other ancient sculptural forms.