Inflated organ sculptures by eva fàbregas grow out of metal beams at hamburger bahnhof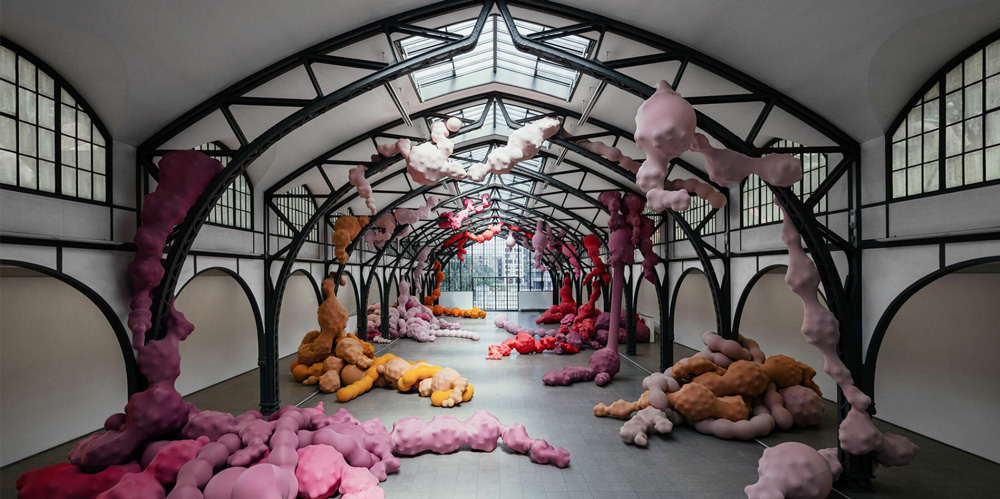 Designboom_ Following her exhibition at Centro Botín, Eva Fàbregas brings her inflated fleshlike sculptures to the Hamburger Bahnhof – Nationalgalerie der Gegenwart in Berlin. Titled Devouring Lovers, the vibrant showcase marks the artist's largest solo exhibition to date and transforms the museum's architecture, characterized by industrial iron girders, with her mesmerizing biomorphic installations. These works intertwine with the hall's beams, evoking a surreal impression of organs growing from the metallic framework, converting the space into a 'breathing organism'. The exhibition is on view until January 4th, 2024.
Expanding the boundaries of sculpture, Eva Fàbregas' latest show at Hamburger Bahnhof – Nationalgalerie der Gegenwart invites visitors to a sensual, spatial experience. With this new commission, the Barcelona-based artist responds to the passage-like architecture of the museum's main historical hall, by weaving 70 inflatable objects made of elastic fabrics and inflatable balls throughout the entire space. Soft and organic, these sculptures gracefully emerge from the sides, ceiling, and metal structures, emitting subtle vibrations that blur the line between the human and non-human worlds.
Eva Fàbregas employs soft and malleable materials to embrace tactile engagement, fostering physical intimacy and sensorial connections, where touch becomes a primary source of knowledge. Her sculptures, evocative of body organs and lush glands, extend beyond human anatomy to explore prosthetics and natural life forms like corals, polyps, and plant reproductive elements. Through her art, Fàbregas seeks to immerse herself in the world of the senses, crafting sculptures that evoke a pre-linguistic realm, allowing viewers to envision alternative embodiments, new emotional experiences, and diverse ways of caring and existing within the world.