Barbie inspired glamour hotel "B MANSION" by Veliz Arquitecto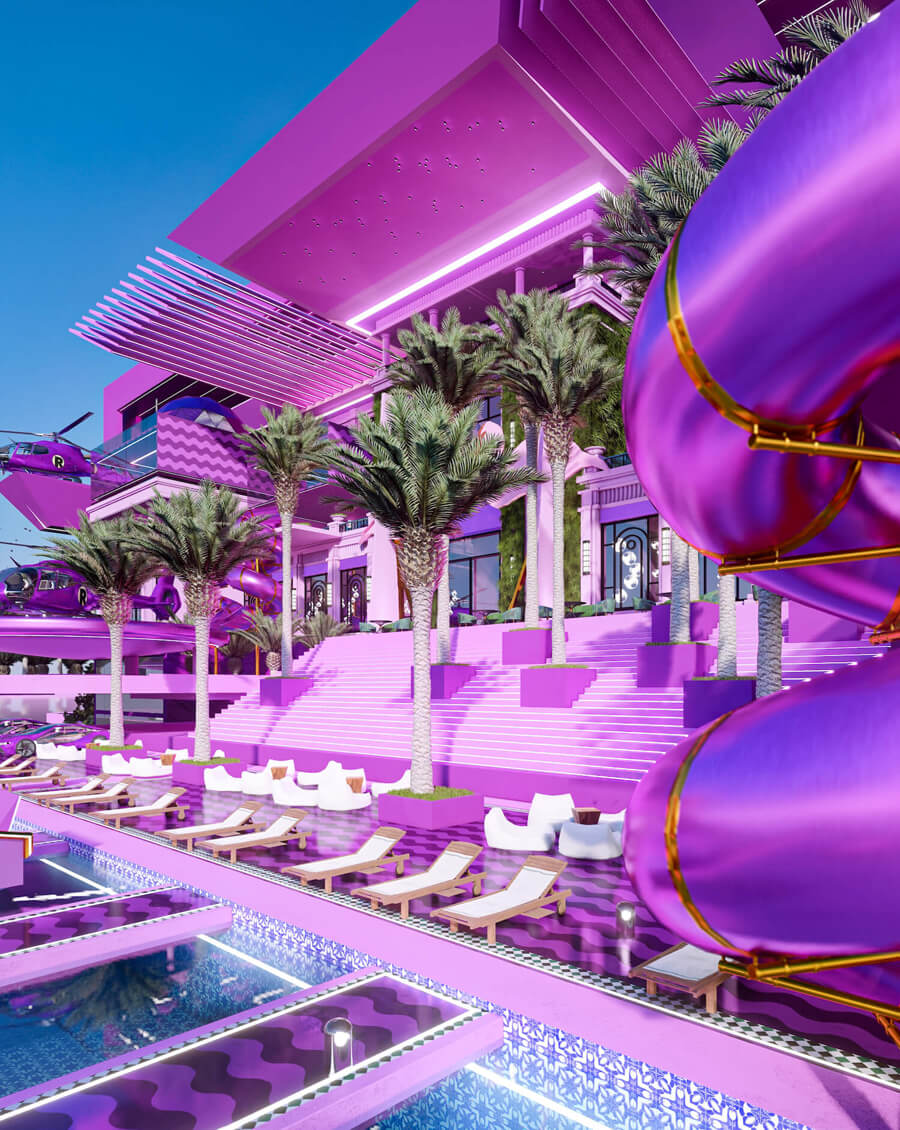 Beautifullife_ There's an undeniable magic to Barbie that transcends generations. Her recent cinematic venture has not only rekindled this magic but taken it to soaring new heights. The blockbuster "Barbie" movie has captured hearts worldwide, marking a triumphant return of the beloved doll to popular culture and reigniting Barbie fever in an extraordinary fashion. One such manifestation of this renewed passion is the Barbie Miami Mansion.
Veliz Arquitecto has created this unique reinterpretation of the iconic Barbie mansion, merging the charm and fun of the Barbie universe with the vibrant Miami style. The result is an enchanting blend of whimsy and glamour, a physical embodiment of the joy that the Barbie movie has sparked in audiences globally.
Much like Barbie's vibrant on-screen presence, the mansion's exterior is a vision to behold. Drawing inspiration from Barbie's fashion-forward style, the facade is an elegant mix of pastel hues – pink, turquoise, lavender – punctuated with shimmering gold accents. The mansion's surroundings, with lush gardens and towering palm trees, echo the tropical allure of Miami, creating a paradisical ambiance.
On entering the mansion, visitors are welcomed by a grand foyer, designed to reflect Barbie's universal appeal. The interior decor, a stylish mix of classic and modern elements, is showcased through mirrored walls adorned with heart-shaped decorations. The ethereal blend of white and pink marble floors further accentuates the atmosphere of sophistication and elegance.
The playroom is a riot of colors and an ode to Barbie's multifaceted career. On display is a collection of Barbie dolls donned in various outfits representing diverse professions, a real-life representation of the movie's celebration of Barbie's versatility. Additionally, a home theatre equipped with luxurious pink seats and a state-of-the-art projector invites guests to relive Barbie's cinematic adventures.
The mansion's backyard is designed to provide both entertainment and relaxation, much like Barbie's movie's spirit. The centerpiece is an infinity-style pool, surrounded by whimsical sun loungers and flower-shaped parasols. The poolside bar, offering a wide selection of refreshing tropical cocktails, captures Miami's vibrant atmosphere perfectly.
Emulating Barbie's penchant for celebration as portrayed in her movie, the mansion boasts a sophisticated event room. With a sleek design and an expansive dance floor, this space is perfect for hosting glamorous events that Barbie herself would approve of.
The Barbie Miami Mansion stands as a tribute to the iconic doll and the phenomenal success of her recent blockbuster movie. It's a space where Barbie's charm intertwines with Miami's lively spirit, offering a unique blend of fun, style, and luxury.
Visitors can immerse themselves in this vibrant, colorful universe, an embodiment of Barbie's spirit. The Barbie Miami Mansion is a testament to the enduring appeal of Barbie, a place that welcomes all to step into Barbie's world and experience the magic under Miami's sun-soaked skies.