Baptiste debombourg carves granite into jet ski and all-terrain vehicle sculptures in quebec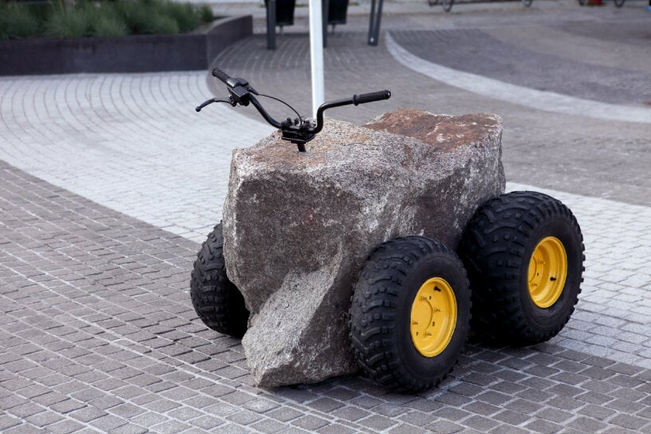 Designboom_ In his recent public art installation, Baptiste Debombourg carves out a four-wheeler, an all-terrain vehicle, and a jet ski from street boulders in Quebec, Canada, creating interactive sculptures that visitors can hop on and sit. This engaging installation serves as both street furniture and an invitation for the public to enjoy a playful and imaginative experience with these recreated excursion vehicles.
This is not the first time Baptiste Debombourg has crafted such expansive and unconventional art installations. He previously designed an immobile rollercoaster in Nantes, France, constructed from stacks of chairs, and a raggedy, fragmented caravan just outside the castle in Örebro, Sweden.For his latest art stunt, Baptiste Debombourg scatters the four-wheeler, personal watercraft, and all-terrain vehicle throughout the neighborhood of Quebec in Canada.
Dubbed 'Radical Nature,' this series of boulder sculptures is meticulously crafted using raw granite sourced from Polycor, combined with chemical sealing, discarded car and motorcycle parts, repainted elements, and epoxy resin to achieve a striking realism. Debombourg's intention is to make his artworks appear as authentic as possible, and a glance at the jet ski alone is a testament to his accomplished goal.
Baptiste Debombourg delves into human relationships between individuals and objects through his sculptures. In 'Radical Nature,' this artistic philosophy is evident in how he designed the granite vehicles so that people can interact with them.'You're free to climb on, but achieving forward movement might be a challenge: the Flintstones-style quad, personal watercraft, and all-terrain vehicle are quite literally set in stone,'he shares with a touch of humor.
These playful vehicle sculptures, crafted with and onto boulders, convey a sense of recreational leisure and pleasure amidst the hustle and bustle of daily life, all while using raw and inert mineral materials. The boulders' edges could symbolize the arduous routine of everyday life, softened by the incorporation of car and watercraft parts and accessories, which lend a whimsical touch to the sculptures.
Baptiste Debombourg's 'Radical Nature' is a project brought to life for PASSAGES INSOLITES 2023. This public art trail is conceived by EXMURO Arts Public under the guidance of Vincent Roy and the City of Quebec. Held annually since 2014 in the historic districts of Quebec City, this 10th-anniversary edition runs from June 22nd to October 9th, 2023, as part of the International Public Art Circuit in Quebec. With over 40 participating artists, including Baptiste Debombourg, the aim is to surprise and engage the public through art.